It's time for Apple to get back to making external displays for the Mac and MacBook Pro. Apple hasn't been making its own standalone displays for a year now. It left that market to third-party manufacturers, and that hasn't gone well.
When Apple exited the standalone display market by discontinuing the Thunderbolt Display, quite a few people were intimidated and dismayed. They were stuck trying to find a viable alternative on the third-party market. Granted, the Thunderbolt Display was long in the tooth and ready to be retired.
Still, many (myself included) thought for certain Cupertino would refresh the product with better specifications. That didn't happen, unfortunately. Consumers were left with a bewildering array of third-party choices to sort through until a successor came in the form of the LG UltraFine 5K.
Rather than updating a dated product, Apple discontinued it and left the standalone display market. I think this was a big mistake. Worse, the company didn't provide a clear-cut suggestion for which display consumers should purchase, at least not at first. Manufacturers scrambled to release a product vying to become Apple's favored child.
Apple pegged the LG UltraFine 5K as the crème de la crème
Several months later, LG released an Apple-endorsed display, the UltraFine 5K. Cupertino touted the 27-inch 5K display as being "perfect for photo and video editing." It bore all of the features professional Mac users could ask for, including built-in stereo speakers, a camera, a microphone, three USB-C ports, and a Thunderbolt 3 cable with 85 watts of charging power for the MacBook Pro.
Problems quickly ensued
The UltraFine turned out to not be quite so fine. A number of purchasers discovered serious usability problems right away, with the display consistently disconnecting and sometimes even freezing the connected MacBook Pro. The problem was quickly narrowed down to a lack of sufficient shielding. The monitor wasn't protected from interference from Wi-Fi routers placed too close to the monitor.
LG won the battle to become Cupertino's favored child, but we are now learning that the South Korean corporation failed to devote the amount of product testing and evaluation that we've come to expect from Apple's own hardware. While not everyone has their wireless router within two feet of their monitor, such a workaround to get your display working properly is astoundingly asinine.
Most recently, we've noticed that Apple's shipping time for the LG UltraFine 5K has slipped to five to six weeks.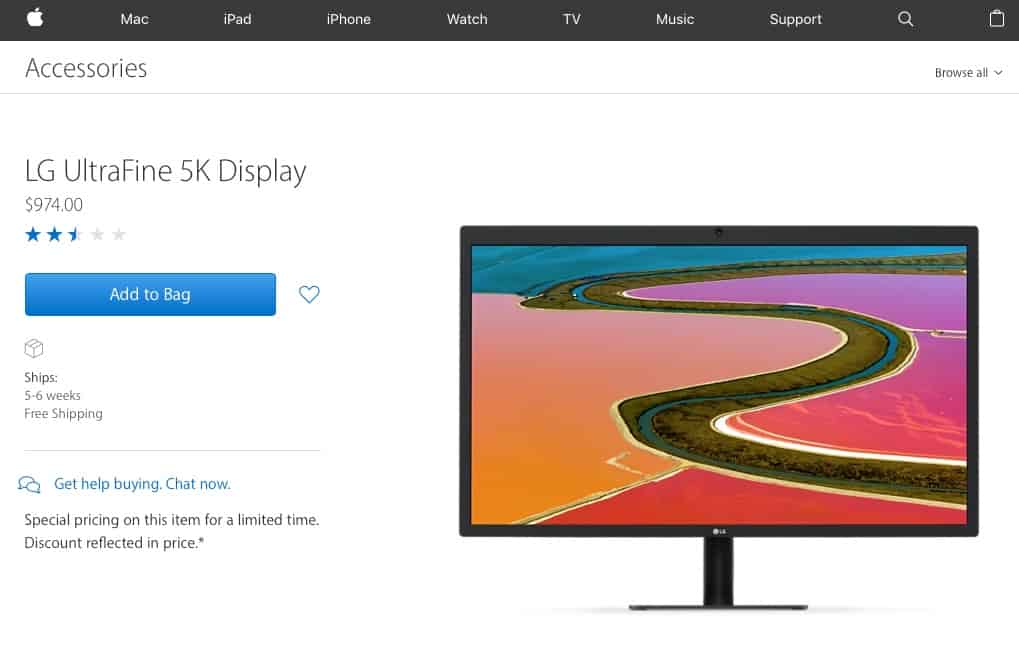 Apple should have just refreshed the Thunderbolt Display
It all boils down to this: Apple should have released its own updated display as a successor to the Thunderbolt Display rather than relying on the third-party market to fill the void. This débâcle has sown doubt in the minds of many Apple aficionados. Professional Mac users need a reliable external display, and Apple already has the 5K technology in play.
Surely, developing a suitable enclosure for the 27-inch iMac's display with the appropriate connectivity and built-in accessories would be better than ceding this market to third parties like LG. Relying on other manufacturers to provide this crucial piece of hardware is silly, Apple. Revive the Thunderbolt Display with all of the bells and whistles of the LG UltraFine 5K.