Page 2 – News Debris For The Week Of June 26th
AR is Coming
Augmented Reality can be hard to get one's head around. It can be challenging to appreciate its value and equally challenging to understand the technical aspects. I tried to assist with that this week when I wrote: "10 Technologies That Reveal Augmented Reality's Potential." If you'd like to dig deeper, I strongly recommend this very extensive overview of AR at Seeking Alpha by J. M. Manness. It'll give you a terrific technical overview of why Apple is so enthusiastic about AR. See: "Augmented Reality: Apple's Revolutionary Offering."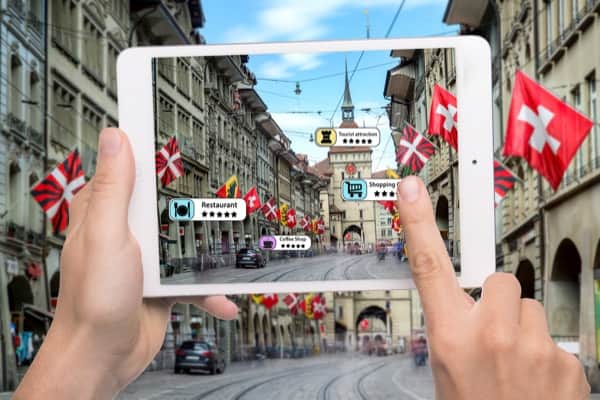 Apple's vice-president of product marketing Greg "Joz" Joswiak has been about the business of explaining Apple's enthusiasm. And for good reason.
___________________________
Sometimes, we forget how the modern internet came to be. For example, twenty years ago, in a Supreme Court ruling … "The justices ruled that the same censorship standards being applied to broadcast radio and television could not be applied to the Internet." Here's the intriguing story behind that decision. "How 7 words unfit for TV fostered an open Internet 20 years ago today."
Question: where are people getting their news? It turns out, according to a survey by the Reuters Institute, that it depends on age. For those 18-24, 64 percent use social media. For those over 55, 51 percent use traditional TV sources. Here's the chart published by Business Insider.
Again, understanding how various news sources came to be and how they work is important as young people are confronted with new sources on the internet. Assuming everything read on the internet is true is not one of the more respected approaches and can lead to serious social and political problems. As we have recently seen.
Are you in the market for a new iMac. Apple is shipping a new generation of Kaby Lake-based iMacs, and a solid review is always welcome. Here's a good one from Roman Loyola at Macworld. "iMac Kaby Lake (2017) review: The iMac's excellence continues on."
The macOS High Sierra public beta was released this week. This excellent overview by Andrew Cunningham explains what's not so obvious about this formidable upgrade. "macOS High Sierra tech preview: A quick look at the stuff you can't see."
Finally, here's something from awhile back that I just found. Have you ever wondered what cities Apple is using for its tvOS screen saver videos? I did a little digging and found this from last year "Apple Adds 21 New Aerial Screen Savers to Apple TV." How did I miss that?
---
Particle Debris is a generally a mix of John Martellaro's observations and opinions about a standout event or article of the week (preamble on page one) followed on page two by a discussion of articles that didn't make the TMO headlines, the technical news debris. The column is published most every Friday except for holiday weekends.