Apple recently acquired popular iOS utility Workflow, according to TechCrunch. The deal includes both the app and its developers. While many apps get pulled by Apple after an acquisition, Workflow remains on the App Store, and is now free.
Terms of the deal haven't been disclosed or uncovered.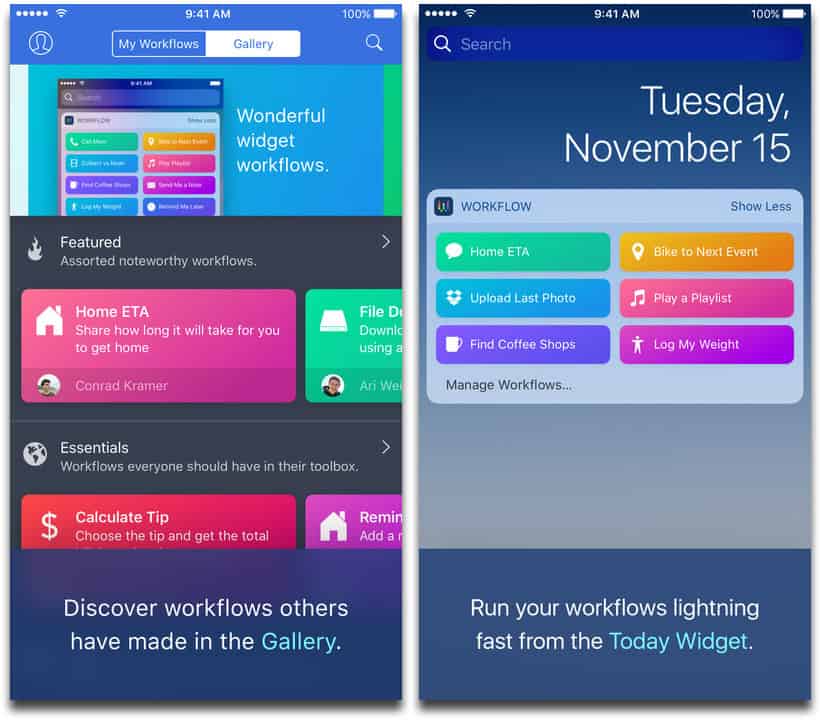 Workflow App
Workflow's developers describe the app as, "your personal automation tool, enabling you to drag and drop any combination of actions to create powerful workflows for your iPhone, iPad, and Apple Watch."
Apple confirmed the deal in a statement to TechCrunch, saying:
The Workflow app was selected for an Apple Design Award in 2015 because of its outstanding use of iOS accessibility features, in particular an outstanding implementation for VoiceOver with clearly labeled items, thoughtful hints, and drag/drop announcements, making the app usable and quickly accessible to those who are blind or low-vision.
Workflow's lead developer is Ari Weinstein, who got his start in the iOS world as a jailbreaker. Developers Conrad Kramer, Ayaka Nonaka, and Nick Frey will also be joining Apple.
"We are thrilled to be joining Apple," Mr. Weinstein said in a statement. "We've worked closely with Apple from the very beginning, from kickstarting our company as students attending WWDC to developing and launching Workflow and seeing its amazing success on the App Store. We can't wait to take our work to the next level at Apple and contribute to products that touch people across the world."
Echo Chamber Reaction
A lot of Apple's acquisitions are met with mixed reactions from the echo chamber. A lot of small acquisitions are acquihires, meaning Apple is buying the company or the app to get the people. Oftentimes, independent products get pulled, especially in acquihire situations.
In this case, Workflow went from a $2.99 app to a free download. That has people excited about both the legacy app and its future as a built-in technology. TechCrunch, for instance, speculated that Workflow's technology could be used to dramatically increase Siri's functionality.
Whatever the case, Ari Weinstein and his team are highly respected. Having them join Apple will probably bring more good things to iOS.