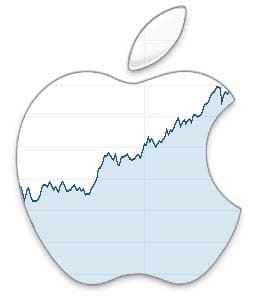 Apple reported a record June quarter on Tuesday, with record revenues of $53.3 billion, up 17% year over year, and record earnings per share of $2.34, up 40% year over year. The company attributed those results to, "continued strong sales of iPhone, Services and Wearables."
Apple's results beat Wall Street consensus estimates of $52.34 billion in revenue and earnings per share of $2.18. Apple had provided guidance of revenue between $51.5 billion and $53.5 billion, with gross margins between 38 and 38.5 percent.
Shares of $AAPL closed at US$190.29 during the regular trading session, up $0.380 (+0.20%), on heavy volume of 31.7 million shares trading hands. The company's stock jumped in after hours trading to $194.59, a gain of $4.30 (+2.26%).
Share Buybacks
Apple CFO Luca Maestri said that Apple returned $25 billion to investors in the form of $20 billion in stock buybacks. That's down slightly from last quarter's record of $22.8 billion in share buybacks. The company retuned another $5 billion in dividends, for $25 billion total being shipped to shareholders.
The Numbers
iPhone unit sales clocked in at 41.3 million units sold. That's up from last year's 41 million units, but down from Wall Street's expectation of 42 million units. Apple sold 11.5 million units, up from last year's 11.4 million units. Wall Street was expecting just 11.2 million iPads sold.
Mac sales were disappointing, with just 3.7 million units sold. That's down from last year's 4.3 million units. Wall Street was expecting 4.3 million Macs to be sold.
Services, on the other hand, came in at $9.55 billion, up from $9.2 billion that Wall Street was looking for.
Apple offered guidance of revenues between $60 and $60.2 billion for the September quarter, the company's 4th fiscal quarter. Gross margins are expected between 38% and 38.5%. Operating expenses (opex, in industry parlance) will be between $7.95 billion and $8.05 billion.