Apple dropped iOS 11.0.3 Wednesday. The unexpected update is a maintenance release intended to squash two specific issues. The first is with audio and haptic feedback on some iPhone 7 and iPhone 7 Plus devices. The second is an issue with touch input not working on some iPhone 6s displays.
The later was specifically aimed at iPhone 62 owners who have repaired screens with non-genuine Apple service parts. Apple went so far as to include a reminder to use Apple-certified screen repair services in the update notes, something I haven't seen before.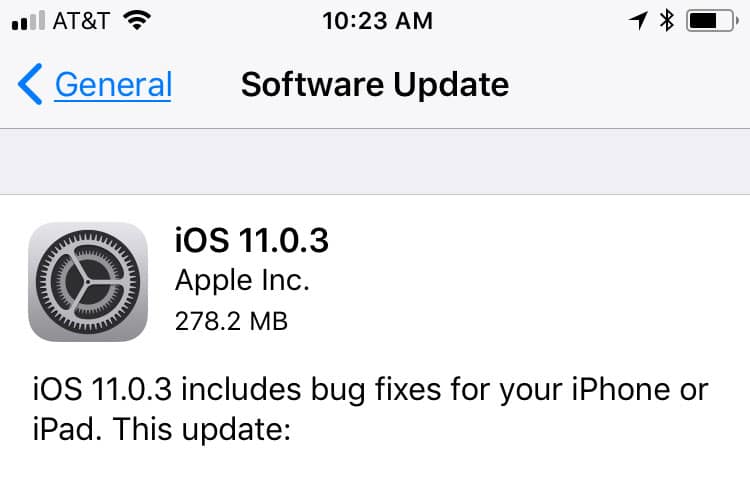 Apple's patch notes for iOS 11.0.3:
iOS 11.0.3 includes bug fixes for your iPhone or iPad. This update:

Fixes an issue where audio and haptic feedback would not work on some iPhone 7 and 7 Plus devices
Addresses an issue where touch input was unresponsive on some iPhone 6s displays because they were not serviced with genuine Apple parts

Note: Non-genuine replacement displays may have compromised visual quality and may fail to work correctly. Apple-certified screen repairs are performed by trusted experts who use genuine Apple parts. See support.apple.com for more information.

For information on the security content of Apple software updates, please visit this website:
https://support.apple.com/kb/HT201222
The update was a 278.2MB download as an over-the-air (OTA) update on iPhone 7. Please drop your download sizes for other devices—and through iTunes—in the comments.