Delivery times for iPhone XS Max and Apple Watch Series 4 quickly slipped after the first hour or so of early-morning pre-orders. As of this writing, many iPhone XS configurations can be delivered or picked up on September 21st, whereas most iPhone XS Mac configurations are available as early as September 28th, and as late as October 12th. Apple Watch Series 4 slipped to the middle and end of October.
While the Apple Store was a few minutes later than the 12:00 AM Pacific scheduled for pre-orders of these devices, the ordering experience was smooth once it launched, at least as far as the servers were able to handle the spiked demand. TMO staff saw minor issues, such as some AT&T orders not able to complete and some Apple Pay transactions failing to complete. Overall, through, it appeared to be a much smoother pre-order event for most customers.
Slipping Delivery Times
Apple rarely announces how many devices they have available for launch, but the company clearly sold out of available inventory. Within an hour, delivery times were slipping. Two and a half hour into preorders, we found the following delivery estimates to be representative of all the new products. Spot checks with help from Australian contacts found similar delivery estimates, with an extra week or two here and there.
Note that in some cases pick up times were still available for September 21st, even if delivery times had slipped.
iPhone XS Delivery Times
iPhone XS appears to be the most readily available device. This is likely due in part to pent up demand for a Plus/Max-sized iPhone X form factor. Apple also often has less of its larger devices available at launch when it's selling two sizes of its flagship device. Silver, Space Gray, and Gold iPhone XS models for AT&T were still available for pickup and delivery on September 21st, with some models showing September 28th – October 5th.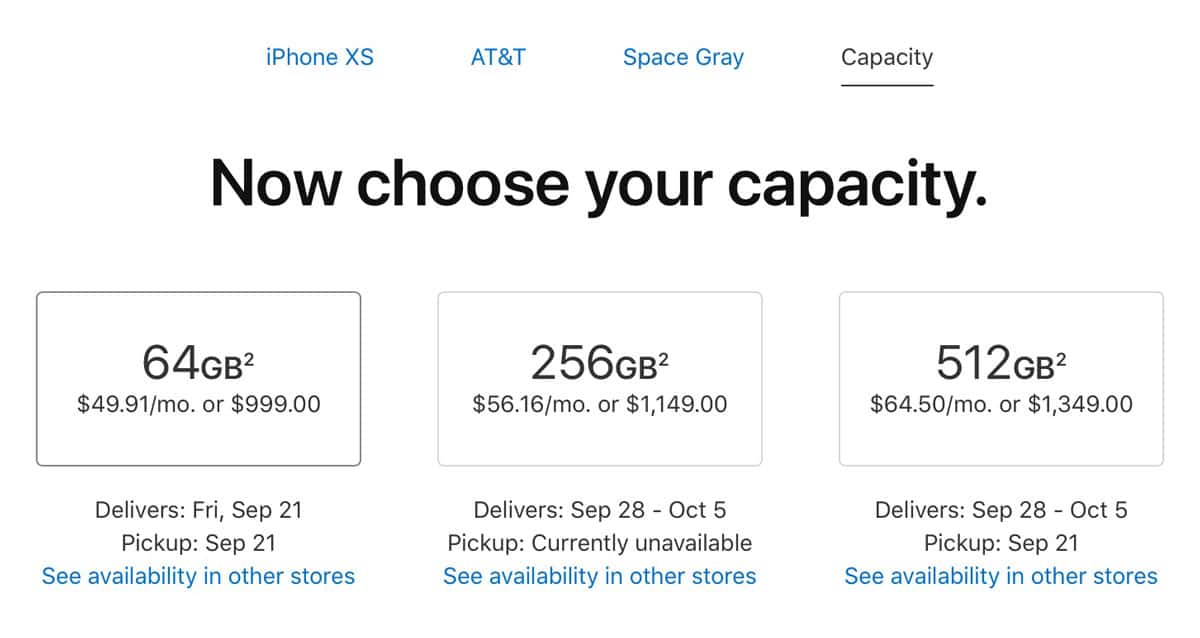 Verizon and Sprint availability was similar, while T-Mobile devices were showing a week later.
iPhone XS Max
The iPhone XS Max has slipped to as late as the middle of October for deliveries, though pickups were still available for the 21st. The same was true for most carriers and finishes.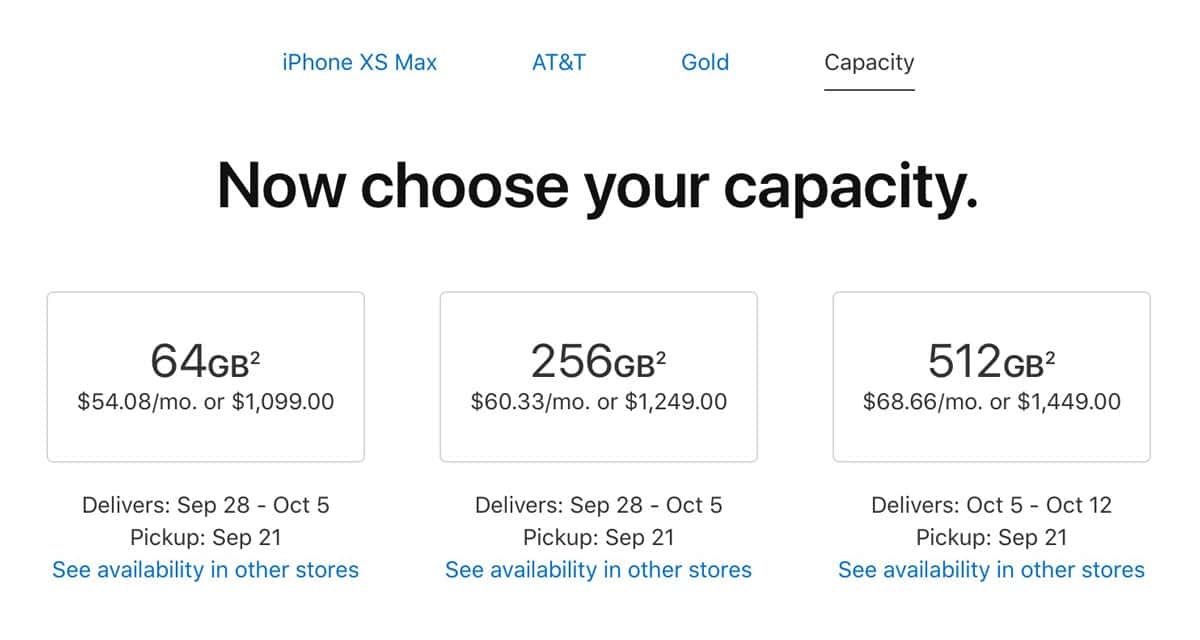 Apple Watch Series 4
Apple bragged that Apple Watch is the number one watch on the planet (by volume, and probably by revenues, too), and demand for Apple Watch Series 4 is off to a brisk start. All the models we checked has delivery times in the middle of October. Yours truly was able to order one in the opening minutes for delivery on September 21st.
We expect all of these delivery times to slip throughout the day. Last year, Apple tended to hit the early part of their date range, and in many cases, beat the expected delivery estimates. We expect the same to be the case this year.