Google Reverse Image Search is a handy tool that allows you to search images on the internet. It functions exactly like a normal Google search. Just instead of words, you enter an image in the search box. Image search can help you find more images like the one you uploaded and even help you define the various elements in the image.
In this article, we will learn how to do a Google Reverse Image Search on iPhone. Then we will see how to do the same using Safari.
Reverse Image Search on iPhone
Usually, people use laptops or computers to search for an image on Google using the Reverse Image Search feature. But, you can do it on your iPhone too. This feature is really useful in spotting fake photos or learning the details of a photo. You can also find tons of similar photos online if you are looking for them.
Let us understand with the help of some examples. Suppose you went to a relative's place and they served you a really tasty dish. If you do not know its name, you can just click a picture and look up online to know everything about the dish available on the internet.
Suppose you see a shirt that you really want to buy. So you click a picture and do a reverse image search to find it online. Or, if you see anything online, you can copy the image URL. Then you can paste image link on any search engine to do a reverse search image.
How To Google Search Using Image on iPhone?
You can reverse search an image using Safari browser on iPhone. We will now show you how.
Time needed: 2 minutes
Learn to do Reverse Image Searches using Safari.
Open Safari on your iPhone. 

Go to the Search bar of a new tab and type what image you are looking for. 

Now select the photo that you wish to use from the search results.

You will see a Shutter button on the bottom left of the image. Tap on the Shutter Button. 

Now select the element from the image that you wish to search for. And then scroll down and go through the results. 
Do you want to learn more about Safari? Learn how to set up and use multiple profiles on Safari. If you are facing issues on Safari and wish to fix the image not loading on Safari issue, follow our guide.
Reverse Image Search Through Chrome
Now, we will learn how to search using an image on Chrome.
1. Open Photos on your iPhone and select a photo from your photo library. You can also use Google Photos for this step.
2. Now press on the Share option in the bottom left corner.
3. Select Copy Photo from the pop-up menu.
4. Now open Chrome on your mobile device and go to the search bar.
5. Double-tap on the search bar to reveal the pop-up menu. Press on the small arrow beside the options. Now select Search for copied image to copy the image file.
6. You will find a prompt asking whether you want to allow Google to paste from Photos. Select Allow Paste.
7. Behold for your search results.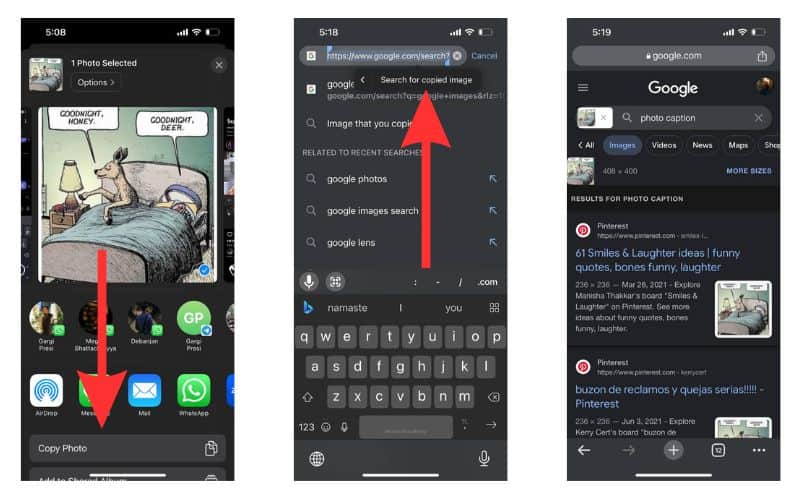 What is Google Lens?
Google Lens is a reverse image search app by Google. You can use Google Lens to search for anything that you see by just clicking a picture. This feature is really useful for online shopping.
With Google Lens, you can just click a picture of something that you wish to know about and search for it online. You can also access Google Photos images and upload them via Lens to search for them.
How To Use Google Lens To Reverse Search Images?
We will now learn how to use Google Lens to search for anything.
1. Open Google and tap on the Google Lens icon.
2. If you are using it for the first time, you will need to allow permission for Google to access your Camera. Once the Camera is open, point it to what you want to search for and tap the Shutter button to click a picture.
3. Scroll down and go through the results.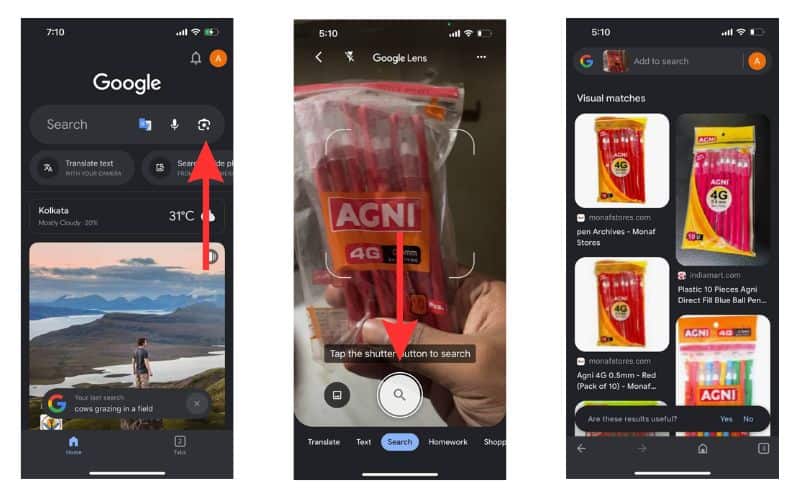 Why Doesn't Reverse Image Search Work at Times?
Sometimes you might enter an image in your search engine and see that it comes up with no responses. There are a few reasons why this can happen.
The website you are searching doesn't allow images to be indexed.
Out-of-sync data centers can also cause this issue.
The file format or dimensions that you specified can be incompatible.
Tips To Improve Your Google Reverse Image Search
Searching for something specific on Google Reverse Image Search might prove difficult. Here are some tips to improve your Google Image Search.
Choose the right format for the image.
Set image dimensions according to your specification.
Specify the alt text of the image properly.
Name and compress image files properly.
Search for Anything Visual With Click of a Button
Remember the times when you saw something exciting and couldn't figure out where you could buy it? Well, it is a thing of the past. Just use Google reverse image search to instantly find it online by clicking a picture.
If you have any more queries regarding Google reverse image search, please reach out to us in the comments. We will try our level best to answer your questions and help solve any issues with your iPhone. 
FAQs
How do I do a Reverse Image Search other than the Google app?
There are a number of search engines that you can use in place of Google for your Reverse Image Search. You can use Pinterest, Bing, Yahoo, TinEye, Google Images, etc.
How long are the images uploaded for reverse image search stored on Google?
Google policies state that the images are stored for 7 days and will only be used to improve its products and/or services during that time.
What are some uses of Google Reverse Image Search?
Google Reverse Image Search allows you to gauge the authenticity of a photo, find similar images, trace its origin, and identify the elements of the image.
Can I reverse search without Google Lens?
Yes, you can. You can use Google Images instead for Reverse Image Search.