The recent advancements in Microsoft's Outlook for Mac have led to a more optimized and feature-rich experience for Mac users. With the application now being available for free, it offers Mac users an excellent alternative to Apple Mail. This article provides a comprehensive guide on downloading the new Outlook for Mac, highlighting its features, and getting started with this enhanced email client.
What Happened to the New Outlook on Mac?
The latest iteration of Outlook for Mac heralds an era of improved performance and synchronization, especially for Macs with Apple Silicon. With a complete redesign, the interface is reminiscent of the Outlook app for iPhone and iPad, ensuring a seamless experience across devices.
The application is now optimized for M1 and M2 chips and includes native notification center support and a macOS widget for calendar entries. Furthermore, it allows for task handoff between iOS and Mac devices. Note that the new Outlook will require macOS version 10.14 (Mojave) or later.
By the way, did you know that macOS Sonoma supports Desktop Widgets? Refer to our guide to learn how to download macOS 14 Sonoma and how to use Desktop Widgets to optimize your workflow.
How To Download Outlook for Mac
Time needed: 1 minute
You can download the new Outlook for Mac from the Apple App Store or via direct download from Microsoft's website. However, it's important to note that if you want to utilize the Handoff feature between Apple devices, you must download the app through the App Store:
A new Add your account prompt will pop up. You can enter the email address for your Microsoft 365, Outlook.com, Google, iCloud, Yahoo, IMAP, or POP account.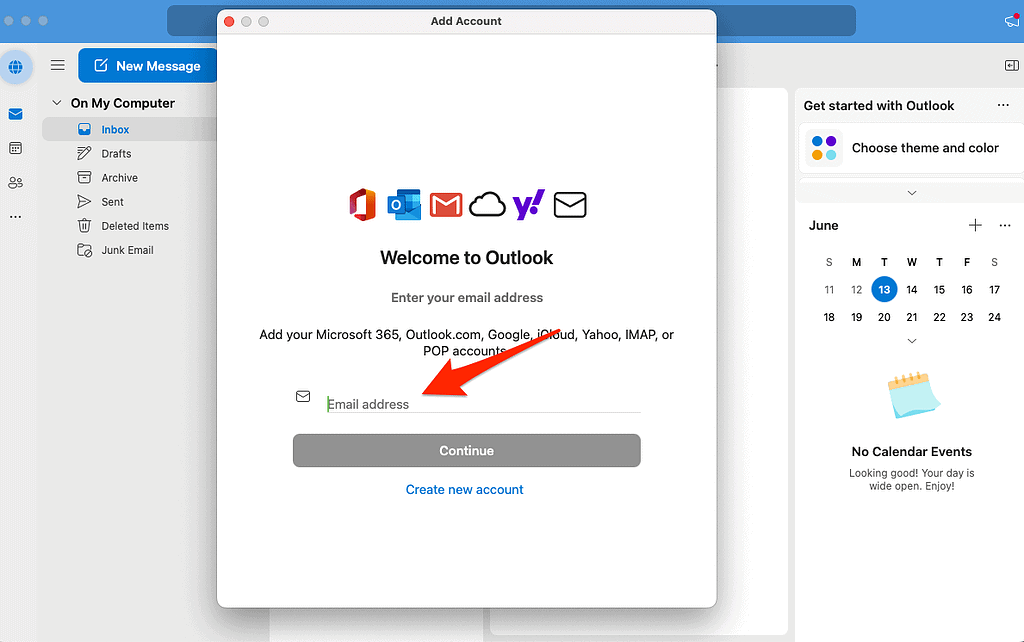 Once you've added your account, you'll have the option to personalize your Outlook interface, simply click the Personalize Now button.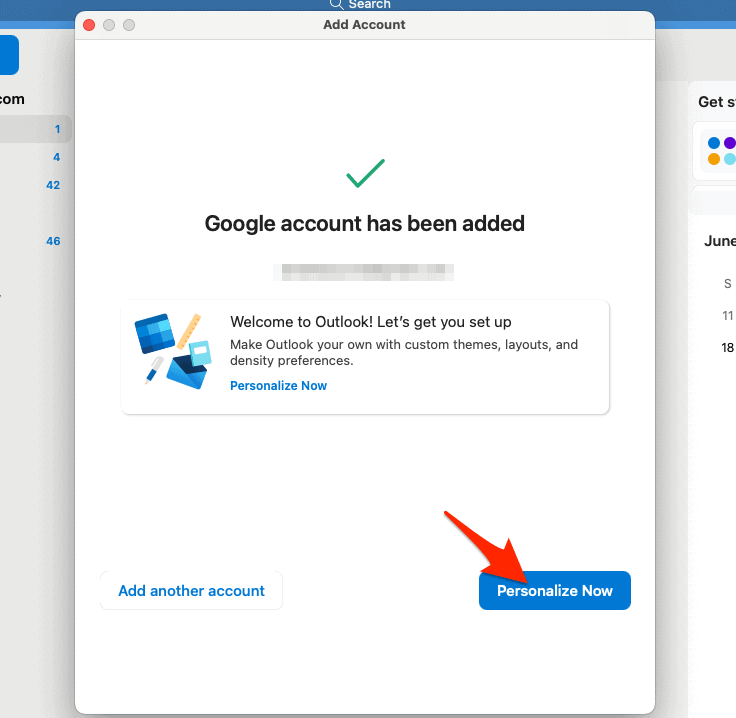 Once you've set up your account, you can opt to sync your iCloud Calendar to Outlook. Take a look at our detailed guide to learn how to do it.
What Is the Difference Between Legacy and New Outlook for Mac?
The new Outlook for Mac boasts a redesigned user interface that aligns with the modern look of macOS. It also includes new features like a customizable toolbar, improved search, My Day task pane, and more. Additionally, it's optimized for Apple Silicon, ensuring enhanced performance and synchronization. Here are some of the notable new features:
Customizable Toolbar: You can now personalize the toolbar by adding commands that you frequently use.
Improved Search: Outlook has incorporated Microsoft Search, yielding better search results and suggestions.
Suggested Times: The app suggests meeting times based on recipients' availability, facilitating hassle-free scheduling.
Improved Meeting Responses: You can RSVP to meeting invites directly from the reading pane.
Microsoft 365 Groups: Access all your Microsoft 365 Groups directly within the Mail and Calendar views.
Improved Event Scheduling: Creating events is now more intuitive, allowing you to select time blocks and add detailed information, including attendee availability.
Snooze: Temporarily remove emails from your inbox and schedule them to reappear later when you are ready to respond.
Nested Compose: Reply to messages without opening a new compose window, streamlining your workflow.
3-day Calendar View: This feature enables a more detailed view of your upcoming meetings and events.
Mail Tips: Avoid common mistakes with MailTips, which provide alerts for various actions, such as replying to a large recipient list or sending sensitive information outside your organization.
My Day: View your daily calendar agenda with a new task pane in the main mail window.
Integration with Apple's Focus Mode
One of the exciting updates in the pipeline is integration with Apple's notification modes feature for Focus users. Outlook Profiles will be integrated with Focus modes, allowing users to gain granular control over their separate work and personal inboxes. This means that you can manage notifications more effectively, minimizing distractions while maximizing productivity.
A Native App Experience
There have been inquiries about the possibility of Outlook for Mac transitioning to a Progressive Web App (PWA). However, Microsoft has clarified its position on this. Michael Palermiti, a partner product group manager for Outlook, emphasized that Outlook for Mac is a native macOS app and that Microsoft is committed to continuing the development and maintenance of native apps on macOS and iOS. This commitment ensures that users can expect an experience that is tightly integrated with the Apple ecosystem.
Continuous Improvement
Jeremy Perdue, a product manager for Outlook for Mac, has expressed that the journey doesn't end here. The team at Microsoft is ready to rebuild Outlook for Mac to be faster, more reliable, and inclusive for everyone. Users can anticipate regular updates and new features that aim to enhance the overall experience. For further reading, check out how to set up iCloud email in Microsoft Outlook for Mac.
Conclusion
The revamped Outlook for Mac stands as a testament to Microsoft's commitment to providing a sophisticated and efficient mail client for Mac users. With its plethora of new features, enhanced performance, and free availability, it's an attractive alternative for anyone seeking to optimize their email experience on macOS. Whether you are an existing Outlook user or new to the platform, it's worth giving this revamped application a try.
Is the new Outlook free?
Yes, the new Outlook for Mac is available for free. You no longer need a Microsoft 365 subscription or Office license to use it.
Can you change Outlook back to the classic view?
Yes, you can revert to the classic view. To do this, launch Outlook, click on the "Help" menu, and select "Revert to Legacy Outlook".
Is the new Outlook for Mac any good?
Yes, the new Outlook for Mac is considered a significant improvement over its predecessor. With optimization for Apple Silicon, a redesigned interface, and new features, it provides a more efficient and feature-rich email experience for Mac users.