Some Apple Card users may be unsure how to actually apply their Daily Cash back. Worry not, as I'm going to show you how. Apple Card provides users with Daily Cash back, which they can then use in a multitude of different ways. I'm going to go a bit into how to setup Apple Cash, as well as take a look at some different ways users can actually apply their Daily Cash.
When using an Apple Card, a certain percentage of what you spend goes back onto your card as Daily Cash. I'm going to explain this a bit more throughout the article as well. There's a variety of different ways users are able to implement this Daily Cash, so long as they meet a few requirements.
Where Does Apple Card Daily Cash Go?
For those that don't know, Daily Cash is a percentage back on any purchase that you make with your Apple Card. Anytime you purchase something using your card, you will get a percentage back within your Apple Cash account. The amount you get back depends on the type of purchase you make. For example, Apple products and services from an official Apple Store or iPhone upgrade program will net you three percent back. You can also get one percent back on any purchases made with the physical Apple Card.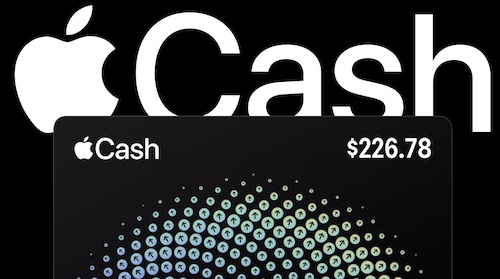 If you have an Apple Card and need to setup your Daily Cash, there's a couple of things you will need to do.
Ensure that you are at least 18 years old and live in the U.S.
Have a compatible device that has the latest iOS, iPad OS or watchOS software.
Ensure that two-factor authentication is setup for your Apple ID.
Make sure that you are signed into iCloud using the same Apple ID on any device that you want to send or receive money.
Make sure that you have an eligible debit card linked to your Wallet app.
From here, you can now setup Apple Cash.
Time needed: 1 minute
How to set up Apple Cash.
Go to Settings on your iPhone or iPad.
Find Wallet & Apple Pay.
Ensure that the Apple Cash setting is set to On.
Under the Payment Cards section, select Apple Cash.
Choose continue and follow the onscreen instructions.
View Your Daily Cash Balance
Your Daily Cash is going to go directly into your Apple Cash account. Anything that you have earned by using your Card is going to go into a single place, and viewing this balance is rather easy.
From your iPhone, go to the Wallet App and select your Apple Card.
Tap the More Button (three dots).
Select Daily Cash.
You can also select Weekly Activity, Monthly Activity or Yearly Activity to view settled purchases. Selecting Week, Month or Year can change the time period. You can swipe side-to-side to view previous dates.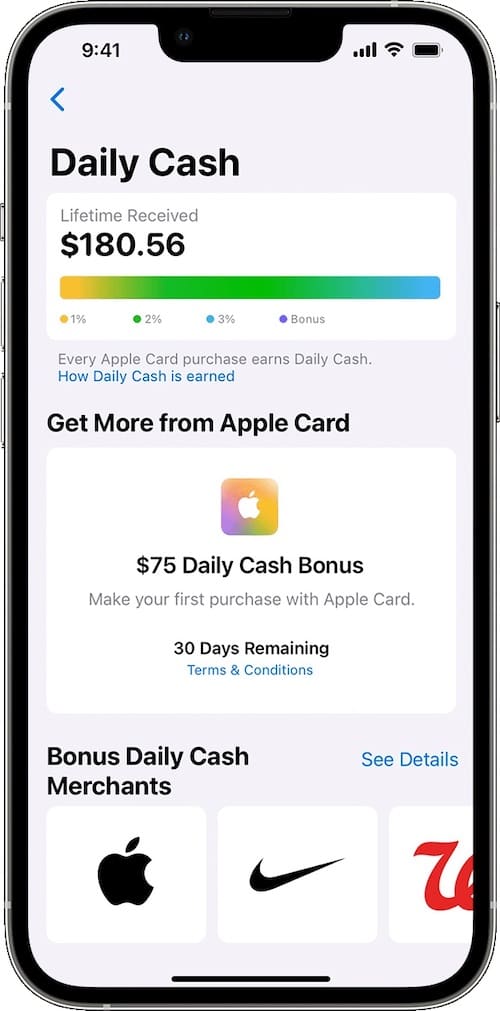 Within this section, you are able to view the lifetime amount of Daily Cash that you have received. Additionally, you can also discover what merchants have Bonus Daily Cash, as well as track your progress toward special offers. If you're a user that is eligible to participate in a particular offer, you will also see this offer within your Daily Cash Hub. You are also able to see how much Daily Cash has earned if they are in your Apple Card Family and are the account owner or co-owner.
Furthermore, you might be also interested in how to add your Apple Account Card to Wallet.
How Do You Use Daily Cash on Apple Card?
Naturally, once you have Apple Cash setup, you may want to know how to actually take advantage of your Daily Cash. The good news is that you can use Daily Cash through Apple Pay, or you can transfer it to your bank. You can also use your Daily Cash to pay your Apple Card balance. The only real downside is that cardholders need to remember that they only earn cash back on completed purchases. If you return an item, for example, you will get the Daily Cash amount charged back to your card.
I'm going to take a look at how you can implement any or all of these options.
Apply Your Daily Cash to Apple Pay
Of course, one of the easiest ways to use your Daily Cash is by spending it through Apple Pay. This allows you to use your Daily Cash on your Apple Cash Card as you would any other payment method in your Wallet. When you're out in the real world, for example, you can use Tap to Pay just like your Apple Wallet anywhere that accepts Apple Pay. You can also send money to friends through the Messages app by selecting the pay icon in a Messages window.
Send Your Daily Cash to Your Bank Account
If you want to transfer your Daily Cash to your bank account, simply follow these steps:
Go to the Wallet app on your iPhone.
Select Your Apple Cash card.
Select the More button (the three dots).
Select Transfer to Bank.
Choose the amount you would like to transfer and select next.
You will then choose the speed of the transfer. You can get it instantly by paying a $0.25 fee, or you can do it for free and wait one to three business days.
Hit Transfer and then select Confirm. You will then get your money in a certain time depending on how you to transfer it.
Use Daily Cash to Pay Your Apple Card Balance
Some users may also want to use their Daily Cash to pay the balance on their Apple Card. This can be a good way to recycle the money you're using with your Card. While this may take a good amount of Daily Cash rewards, it's still an option for those that want to do it.
Launch the Wallet app on your iPhone.
Select Your Apple Card.
Go to Pay.
Select the amount you would like to pay. Note that you can only make immediate payments with your Apple Cash, you cannot schedule payments or make recurring payments.
Select your bank account.
You will see a toggle for Apple Cash, ensure that it is set to On.
Confirm your payment.
From here, your Apple Cash will go toward your payment, and the remainder will go on your bank account.
Why Can't I Use My Daily Apple Cash?
If you're having issues using your Apple Cash, there may be a number of reasons. Your account may see a restriction if identity verification fails multiple times, or if there are multiple accounts tied to the same social security number. There may also be a suspicion of fraud. Your account may also be locked if you are missing security checks, or there is a suspicion of fraud. In any of these cases, it may be a good idea to talk to Apple Card Support to see what the issue is.
You may also want to ensure that Apple Cash is set up.
Getting the Most out of Your Apple Card
For those with an Apple Card, being able to receive Daily Cash back can be extremely useful, especially if you find yourself using your card constantly to reach a better credit score. With a variety of ways to apply Apple Cash, you can use this cash to pay for a multitude of goods and services. Of course, it's also great to know how to get money off Apple Pay without a card.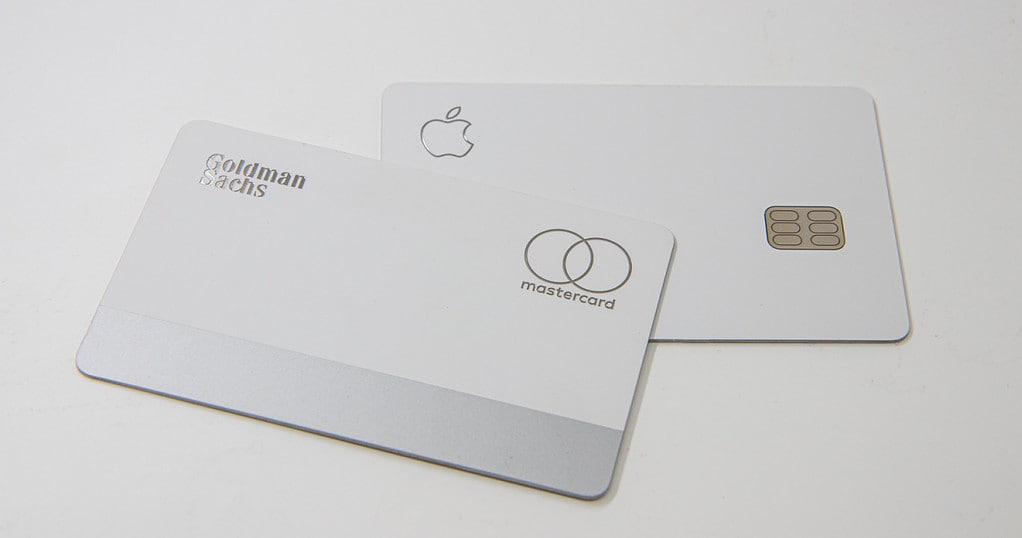 Following these steps, applying your Apple Cash can be incredibly easy. However, you may need to talk to Apple Support if you are having serious issues, especially with fraud. Nonetheless, keeping your account protected through some additional security measures can also be rather handy. There's also steps you can take if you find that your Apple Card balance isn't updating. With that in mind, enjoy getting Daily Cash back using your Apple Card.