Fingerprint scanning offers a secure and user-friendly method to unlock your MacBook, confirm transactions, autofill passwords, and alternate between users. If your MacBook or Magic Keyboard is equipped with Touch ID, you can easily set up the fingerprint functionality on your device. In this article, I will demonstrate how to accomplish this and address some questions concerning Touch ID and common issues with it.
Which MacBook Has Fingerprint Scanning?
Keep in mind that not all MacBook models have fingerprint-scanning capabilities. Only those with a Touch ID sensor can use this feature. The Touch ID sensor is situated in the upper right corner of the keyboard, adjacent to the Touch Bar (if your MacBook possesses one). The following MacBook models have a Touch ID sensor:
MacBook Air (2018 or later)
MacBook Pro (2016 or later)
However, you can also use fingerprint scanning functionality if you have a Magic Keyboard with Touch ID.
How Do I Set Up Fingerprint on MacBook Pro?
Time needed: 1 minute
Follow these steps to set up your fingerprint on MacBook Pro and Air.
Go to Apple menu > System Settings.

Click Add Fingerprint, input your password, and follow the onscreen directions. Repeatedly rest and lift your finger on the Touch ID sensor (top right corner of your keyboard) until the system captures your fingerprint.

You can set up to three fingerprints per user account, while your Mac can store up to five fingerprints in total.
Select all the options that you want to use your Touch ID for, from unlocking your Mac to fast user switching.
Furthermore, you might be interested in how to enable Touch ID authentication for sudo in your terminal.
How Do I Set Up Fingerprint Unlock on My MacBook?
To set up fingerprint unlock on your MacBook, enable the Use Touch ID to unlock your Mac option in the Touch ID & Password settings. This allows you to unlock your Mac with any fingerprint added to your user account. For security purposes, you will still need to enter your password when starting up your Mac.
In case you forgot both your Apple ID and device password and on top of this you didn't have a fingerprint set up, you can check out a few workarounds to unlock your MacBook.
How Do I Enable Touch ID?
To activate Touch ID, add a minimum of one fingerprint to your user account in the Touch ID & Password settings as we have shown above. You can then choose how you want to use Touch ID for various tasks, including unlocking your device or confirming Apple Pay, iTunes Store, App Store, and Apple Books purchases. Moreover, you have the option to use autofill passwords for Safari and other apps or fast user switching between accounts.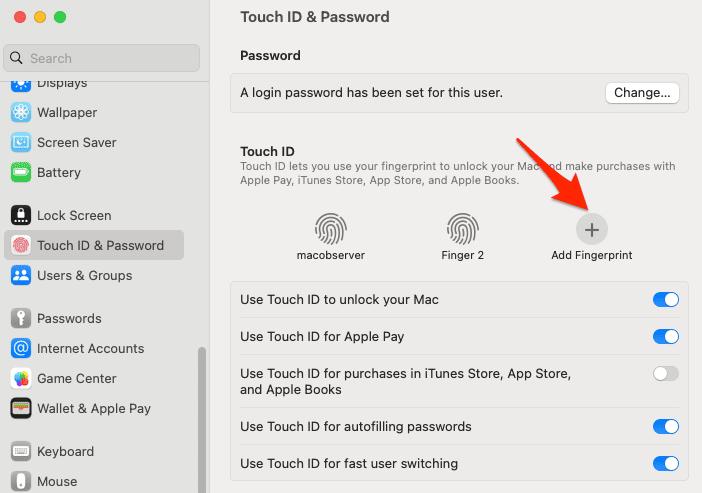 Why Can't I Set up Touch ID on My Macbook Air?
If you cannot set up Touch ID on your MacBook Air, consider these potential reasons:
Your MacBook Air lacks a Touch ID sensor. Only MacBook Air models from 2018 or later have this feature.
Your MacBook Air does not run macOS Sierra 10.12.4 or later. Update your macOS to use Touch ID.
Your finger is not clean or dry. Moisture, lotions, cuts, or dry skin can impact fingerprint recognition. Ensure your finger is clean and dry before scanning.
Your finger is improperly positioned on the sensor. Place your finger flat on the sensor, covering it completely. Avoid pressing too hard or moving your finger around.
Why Is My Touch ID Not Working?
If your Touch ID is malfunctioning, consider these possible explanations:
Your Mac is not awake or unlocked. Wake up or unlock your Mac before using Touch ID.
Your Mac requires a password for security reasons. Occasionally, your Mac may request a password instead of a Touch ID for enhanced security. This can occur if you have not used your Mac for over 48 hours, have just enrolled a new fingerprint, or have recently changed your password.
Your finger is not recognized by the sensor. Attempt using a different finger or rescan your finger in the Touch ID & Password settings.
Your Mac has a hardware issue with the sensor. Contact Apple Support for assistance.
By now, you should be able to set up a fingerprint on your MacBook Pro or Air, as well as troubleshoot the most common Touch ID problems. Fingerprint scanning is an excellent method to augment security and convenience on your Mac. However, you can never be too sure.
Furthermore, we recommend that you check out our article on whether your M1 Mac needs an antivirus or not, so you can add an extra layer of protection for your data.