Imagine you're curled up on your couch with your iPad, managing your health information with the same ease you browse through your favorite social media app. With iPadOS 17, this is no longer a distant dream but an accessible reality. Today, we'll dive into the new Health app, now available on iPad, and its expansive features that bring your health data to life in unprecedented detail.
iPadOS 17: A Catalyst for the Health App
iPadOS 17 marks a significant milestone in Apple's journey, extending the Health app's reach to iPad users. Not only does this give users an enhanced scope to monitor their health, but the app has been meticulously optimized to suit the iPad's larger display.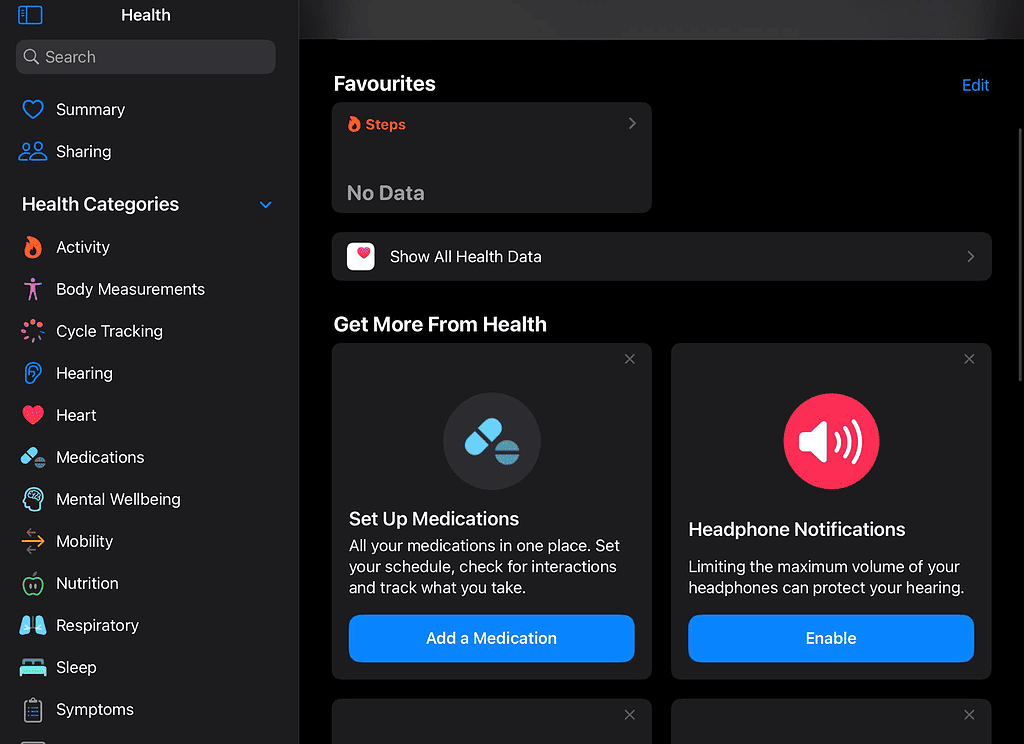 At the heart of the new design is the revamped "Favorites" feature that brings a novel, visually appealing way to access your most critical data. The comprehensive display encourages users to interact more deeply with their health data, offering insights through "Trends", "Highlights", and interactive charts. But this is just the tip of the iceberg.
All-Inclusive Health Tracking
From daily emotional states and moods to managing and tracking medications or following your menstrual cycle, this app intends to be your all-encompassing health companion. The Health app allows users to compile and view their health records from multiple institutions, providing a holistic view of their health status from one centralized, secure, and private location.
For more details about the new features added to the Health app, check out our dedicated article.
How To Use the Health App on Your iPad?
Time needed: 1 minute
As soon as you update your iPad to iPadOS 17, the Health app will be displayed on your Home Screen. Here's how to further use it and set it up:
For more information, check out how to use Interactive Widgets on your iPhone and iPad.
Widgets: Making the Health App More Accessible
Another great iPadOS 17 feature is the new widget system that brings interactivity right to your Home Screen. These interactive widgets help users perform tasks easier than ever. Like switching on lights, playing a song, or even marking a reminder complete – all at a tap of the widget.
What's more, developers can add interactive elements to their widgets using the updated WidgetKit, making health tracking even more accessible and engaging. These widgets can be added to both the Lock Screen and Home Screen. WidgetKit offers users a chance to take immediate action or access necessary information without even unlocking their devices. Further enhancing readability, these widgets on the Lock Screen seamlessly adapt to the color of your wallpaper.
In conclusion, the integration of the Health app in iPadOS 17 marks an era of health and wellness integration into our digital lives. As we embrace these advancements, managing our health data is likely to become an effortless part of our daily routine. For further reading, don't miss out on the top new features coming to iPadOS 17. Thanks for reading!