For those that may have missed it, Apple is adding improvements to their Health app, including more features focusing on mental health. A slew of new health features are arriving to several Apple operating systems, including iOS 17, iPadOS 17 and watchOS 10. These new features primarily focus on mental health, while some additions also focus on vision health, including certain elements focusing on reducing the potential risk of Myopia. Even better, the Health app is also arriving on iPad. Let's explore everything that's going on with this round of updates from Apple.
Apple's WWDC 2023 brought about a wealth of new information and facts concerning what's going on within their ecosystem. From a new version of macOS, to new updates for Apple TV, there's plenty going around that's worth taking a look at. Of course, there's also the new Vision Pro, which is going to be Apple's flagship AR headset. However, we're going to focus on the features concerning Health, as Apple is bringing a lot to the table this time around. This includes features to help improve mental health within Apple's Health app.
What Benefits Are There for Mental Health in Apple's App?
In an official Apple press release, Apple's vice president of health Sumbul Desai, M.D. stated,
Mental health and vision health are important, but often overlooked, and we're excited to introduce features that offer valuable new insights to provide users with an even better understanding of their health. These insights help support users in their daily decisions and offer more informed conversations with their doctors.
On the topic of Mental Health, Apple shares research that people who reflect on their own mental state are able to build their emotional resilience and awareness better than those who do not. That's why the new Health app within iPadOS 17 and iOS 17, as well as the Mindfulness app within watchOS 10 helps deliver an "engaging and intuitive" way for users to focus on their own mental wellbeing.
Within these new apps, users will be able to navigate their way through different multidimensional shapes to select how they are feeling. These feelings range from Very Pleasant to Very Unpleasant. Users will then be able to associate what is having the largest effect on their feelings, such as Family, while also being able to describe their feelings.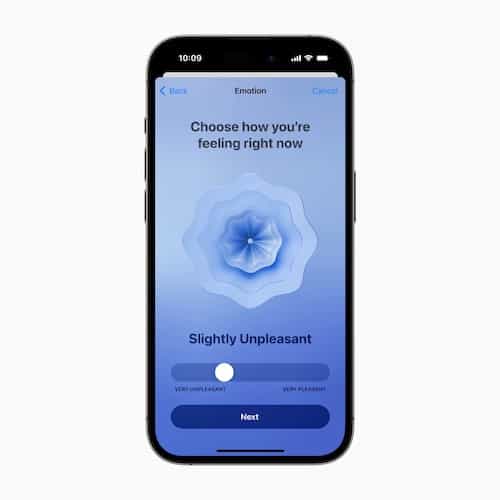 Taking a Look at Apple's Health App
For the Health app, users will be able to gain information concerning contributing factors regarding their mental states. Things such as sleep, exercise or lifestyle factors can have an impact on a user's mental health, and the Health app can help users gain better insights into their own well-being. Additionally, the Health app also offers anxiety and depression assessments–the same often found in clinics–that can help users determine their levels of risk, connect with resources available in their area and make and share a PDF of this information with their primary care physician.
A Focus on Your Eyes
Along with overall improvements to mental health features, Apple is also focusing on myopia, or nearsightedness. One of the leading causes of global vision impairment, Myopia affects over 30 percent of the population. Taking into account that the International Myopia Institute encourages children spending at least 80-120 minutes a day outdoors to help promote good eyesight, watchOS 10 and Apple Watch will be able to monitor a user's time spent outdoors thanks to the ambient light sensor. 
For Apple Watch users, they will now be able to view how much time they spend outdoors by monitoring the information through their Watch and then viewing the information through the Health app on iPadOS 17 and iOS 17. If a child does not have their own iPhone, they will be able to pair their Apple Watch to a parent's iPhone thanks to Family Setup.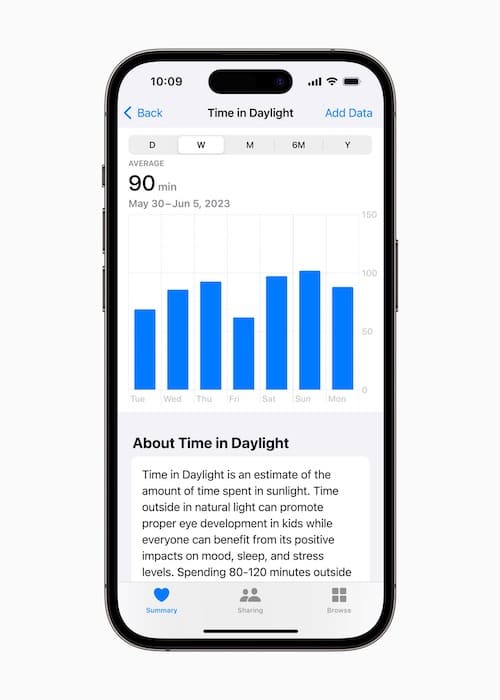 Going the Distance
Along with making sure your eyes see daylight from time to time, making sure that a device or reading material isn't too close to your vision is also incredibly important. Reading text on a screen that is too close to your face can be a risk factor for Myopia. That's why Apple is implementing its True Depth Camera–the same one that aids Face ID–for its new Screen Distance feature. 
The new Screen Distance feature will help younger iPad and iPhone users know if the screen is too close to their face. Users will receive a message if they are keeping their device closer than 12 inches from their face for an extended period of time. In addition to helping younger users, this can also help with eye strain in adults.
Apple's Health App Arrives to iPad
For those that need it, the Health app is now arriving on the iPad. Built specifically for the larger screen, users will be able to gain information from their iPhone, Apple Watch and iPad. They will also be able to retrieve information from third-party devices and apps. Now, users will be able to implement Cycle Tracking, log their moods and emotions, manage medications and view their health records directly on their iPad. Thanks to Health Sharing, iPad users will also be able to share this information with caregivers and those that are close to them.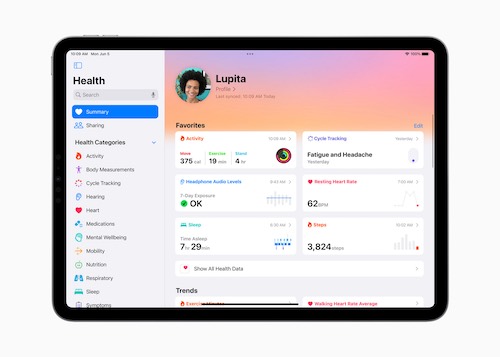 Even better, the new Health app for iPad is specifically designed for a larger screen, giving users a new look for their Favorites and interactive charts. Additionally, thanks to Trends and Highlights, users can get better insights concerning their health data. Developers in fitness and health will also be able to take advantage of HealthKit, which allows for creating third-party health and fitness experiences. Of course, these developments also come with strict data and privacy security that adheres to Apple's high standards. 
Will Apple Keep My Health History Private?
When it comes to health and privacy, Apple knows users want to keep their health records secure, which is why these new health features within apps also offer users both transparency and control over their privacy. Anytime an iPad or an iPhone is locked with a passcode, Face ID or Touch ID, all medical information save for Medical ID is encrypted within the device. Additionally, health information synced to iCloud will be encrypted within Apple servers while in transit to said server. Those using the default two-factor authentication can also know that their information is stored in a way that is unreadable to Apple. 
Lastly, on the topic of privacy, Apple never shares Health data with third-party companies without user consent, not even Apple Watch HRV measurement information. Even then, users are able to decide for themselves what they will share. Users are able to manage and review permissions whenever they like. 
Additional new Health features also include Medications for iOS 17, watchOS 10 and iPadOS 17. Users have the option to receive reminders about scheduled medications if they haven't logged in. Users can also set health reminders as critical alerts, overriding Focus and mutes. A new Journal app within iOS 17 also allows users to "reflect and practice gratitude" as they write. Apple Fitness+ is also introducing Custom Plans, which can generate custom workouts for fitness enthusiasts. Fitness+ also has Stacks and Audio Focus. Stacks allows users to create multiple workouts they can perform back-to-back, whereas Audio Focus allows users to focus either on their music or a trainer. 
Coming to a Device Near You
If you're looking for more information on watchOS 10, you can check out our article here. We've also got plenty of coverage on iOS 17 and iPadOS 17. Currently, all three operating systems have developer betas available, though the official release won't reach the general public until the fall. The expectation also is that public betas will begin rolling out in July. Concerning this wave of updates, there's certainly plenty for Apple fans to anticipate. For those that like to focus on their mental health, the new improvements to Apple's Health app are sure to be incredibly useful. Naturally, we'll be here to keep you up to date and ensure that things are running smoothly.