Now that you've preordered your iPhone X, it's time to start thinking about cases. If you want protection for your iPhone, but still appreciate the beauty of its design, you're probably considering a clear case. We've scoured the internet to bring you our recommendations for clear iPhone X cases.
Spigen Ultra Hybrid
Spigen is a well-known brand in the smartphone accessory industry. The Ultra Hybrid case comes in five colors, one of which is Crystal Clear. It's has a hard polycarbonate backing, with a TPU bumper around the edge for a good grip. The raised bezels of the case will make sure the iPhone X screen and camera don't lay flat against surfaces. The case includes buttons, instead of cutouts. It gives you drop protection and is only 0.3 inches (0.76cm). The Spigen Ultra Hybrid case is on sale for US$13.99 on Amazon.
TOZO Clear Case
TOZO's clear iPhone X case is thin and flexible, so it might not offer as much drop protection as other cases. But if you frequently change cases, or need to quickly take it off, this one will be perfect. It's 1mm thin, so it won't add bulk to your iPhone X. It's made of a soft TPU shell, and the edge plating comes in different colors. It has cutouts instead of buttons, and it has a raised bezel. The TOZO case is also on sale, but it won't be available until November 5. Find it on Amazon for US$8.99.
Speck Presidio Clear Case
Speck has a clear, two-layer case specifically made to withstand drops. It had a third-party laboratory test the shock absorption, and it can withstand drops from up to 8 feet. The outer layer of the case is hard polycarbonate, while the inner layer is clear rubber. Speck says that the case resists UV yellowing from sunlight. The Presidio Clear case is US$39.95 on Amazon.
Otterbox Symmetry Clear Series
Otterbox is another recognizable brand, known for tough iPhone cases. The Symmetry series case offers drop protection, raised beveled edges, and sturdy construction like the other cases. That drop protection mention is Otterbox's certified Drop+ Protection. The company performs over 24 tests and 238 hours of testing. Some of the tests are meaningless, like the Purse Test. But the company makes sure the case resists different materials, like sweat, rubbing alcohol, Purell wipes, and hand lotion. The Symmetry Clear Series case is US$39.95 on Amazon.
X-Doria Defense Clear Case
The X-Doria Defense Clear case is another rugged entry. It has three layers to protect your iPhone X. The outermost layer is hard polycarbonate, followed by a TPU layer, and finally a DropShield shock absorbing polymer inside. X-Doria offers a lifetime warranty, free shipping, and 30 days hassle-free returns. Despite being a rugged case, it's only 0.8 inches (2.03 cm). X-Doria Defense is US$24.95 on Amazon.
Seidio Optik Case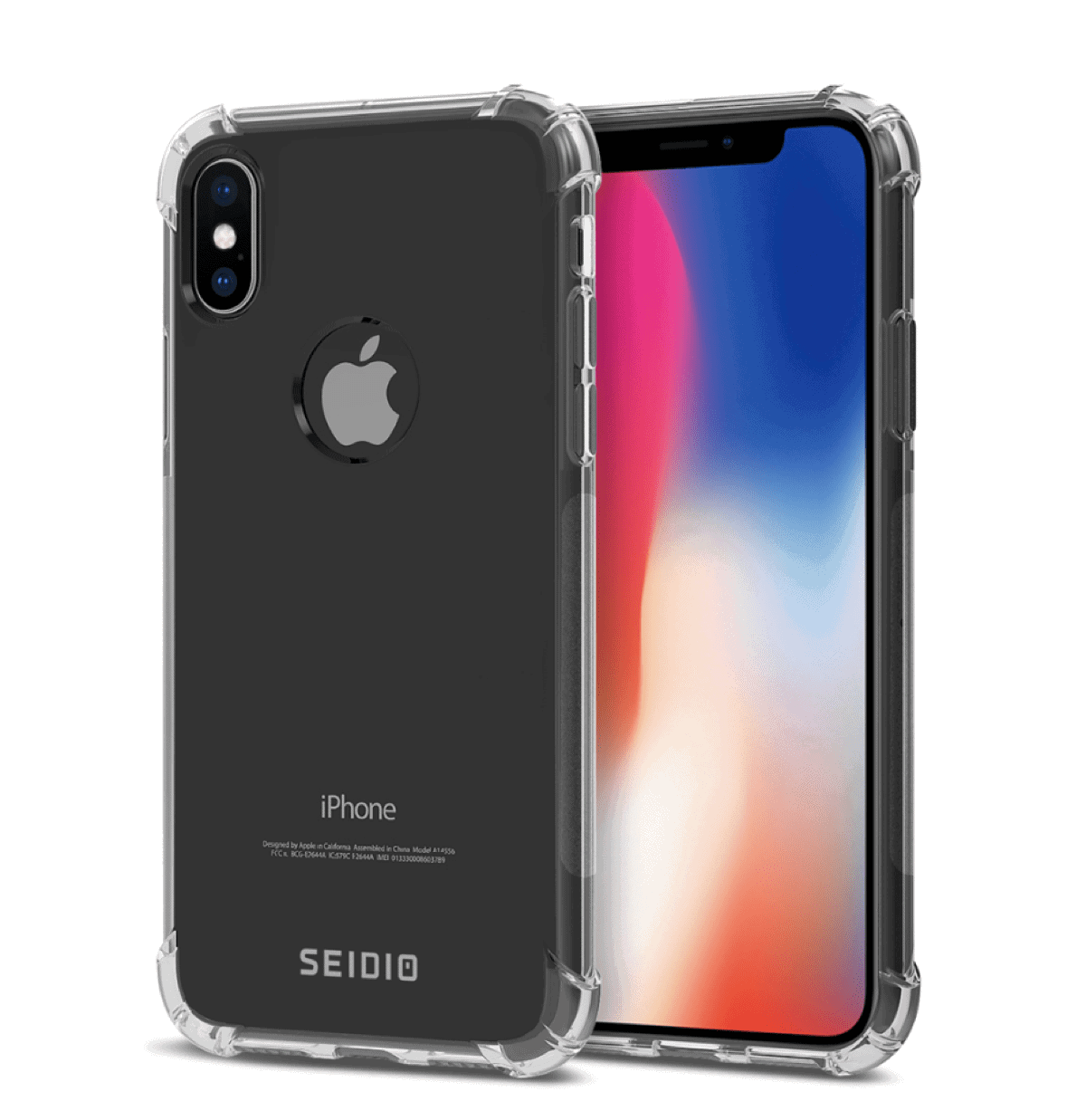 A reader uses the Seidio Optik case on his iPhone X. It's a flexible TPU case with reinforced corners, to offer extra support if you drop it. It's a slim case at 2mm, and has raised edges to lift your screen and camera lens away from surfaces. Right now the company has a limited time offer: Buy an Optik case and get a free Vitreo screen protector. Buy the case on Seidio's website for US$14.95 and use the coupon code IXVITREO.