Some apps, like social media apps, call blocking apps, and email apps require access to your contacts list. This is for practical reasons, like finding your friends on a social network. But unscrupulous companies might end up selling that information to data brokers or advertisers. Suddenly, your friends' contact information has been sold without anyone the wiser. You can stop third-party apps from accessing iOS contacts.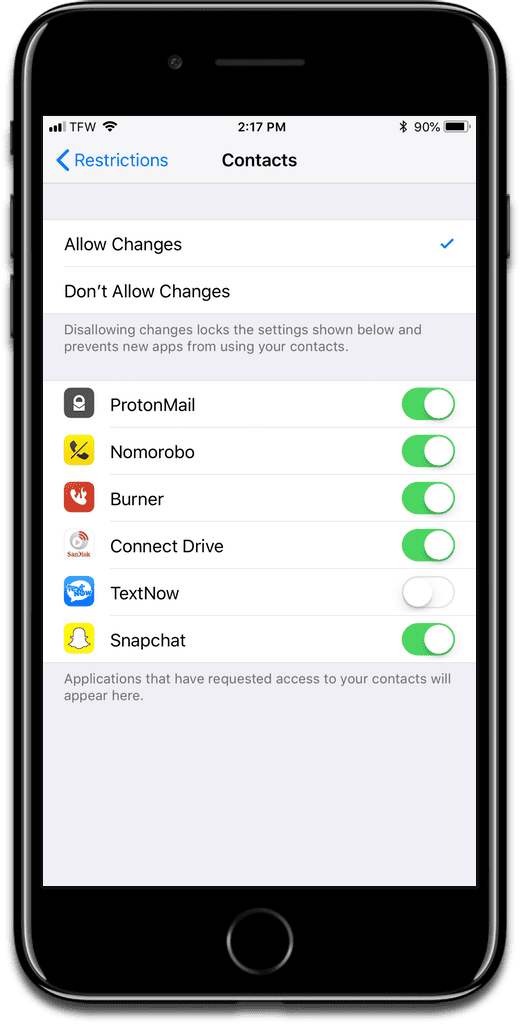 [How to Fix iCloud Contacts Syncing With the Nuclear Option]
Restrictions
Last week I wrote a guide that mentioned using iOS Restrictions. It's a way to lock down your iPhone. iOS does let you revoke app permissions, so if you don't want an app to access your contacts anymore, just turn that switch off. But what about the contacts they already accessed?
Go to

Settings > General > Restrictions

.
When you enable Restrictions, you'll be asked to

create a passcode

.
Scroll down to the

Privacy

section and tap on

Contacts

.
Two options you'll see:

Allow Changes

and

Don't Allow Changes

.
Tap

Don't Allow Changes

.
This will stop new apps you install from accessing iOS contacts, and lock the current app settings. Or, you know, you could just tap Don't Allow when an app asks permission.
But using Restrictions can give you extra peace of mind. And since Restrictions act as parental controls, you can use it to stop apps from asking to access your kids' contacts.