When it comes to password managers for Mac, there are a lot of available options. Contrary to what others may think, using password managers is not only meant for technical people. It is also essential for us mere mortals, especially if you use dozens of apps, websites, or online services that require passwords.
So, the question now is, how do you choose the best password manager for you? I've rounded up seven of the best password managers for Mac to help you decide which one to use in case you are not using one yet or if you're planning to replace what you're currently using.
But First, How Did We Come Up With the List?
The first thing that you need to consider when choosing a password manager is certainly security. Ideally, the password manager should use the best, strongest standards together with other features that enhance its encryption capability.
A good password manager should also be compatible with various platforms. This is especially true if you're not just using the Apple ecosystem. You should be able to use the password manager for all your passwords, no matter what platform you're using them. Related to that, the password manager should, as much as possible, provide support for unlimited passwords and devices.
Finally, when you choose a password manager, you must ensure that it has other features such as a good random password generator, and sharing features, and last but certainly not least, it should be available at a competitive price. This is important if you're not too keen on using a free password manager.
So now, it's time to move to our seven best password managers for Mac.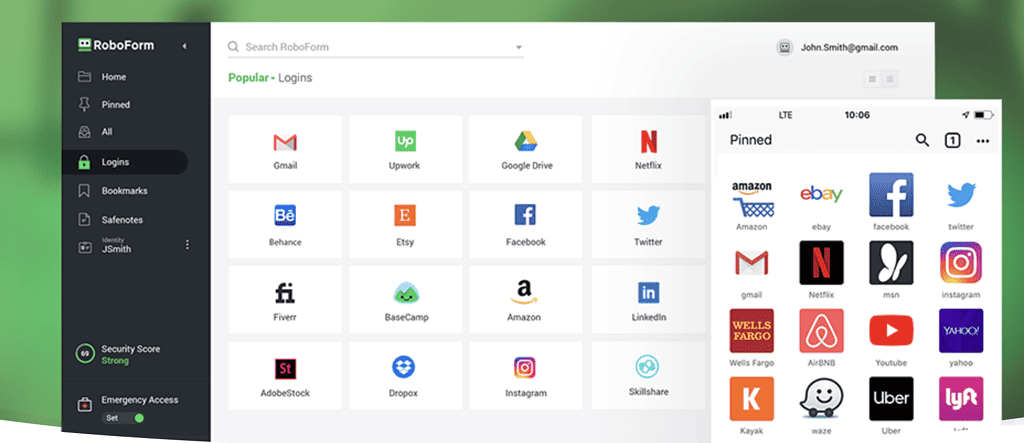 RoboForm is a good password manager for users who are on a budget. It may offer fewer add-on features than its competitors, but when it comes to the basic password manager features, Roboform certainly is not lacking. RoboForm supports 256-bit AES encryption, two-factor authentication, and password auditing. One notable feature of RoboForm is that it supports third-party 2FA apps such as Google Authenticator. Hence, you can easily sync those with RoboForm. When it comes to sharing passwords and notes between users, Roboform also does this pretty well.
When it comes to security features, you can pretty much rest assured that RoboForm keeps your passwords safe and secure on its highly encrypted servers. RoboForm keeps your data private with local and end-to-end 256-bit AES encryption.
Availability: Free plan available with unlimited passwords, and one device. Paid plan price starts at $17.90/year for individual accounts.
Pros
Offers a variety of subscription plans.
Multiplatform compatibility.
Cons
Incompatibility with USB security keys.
Lack of support for importing data.
The desktop app needs improvement.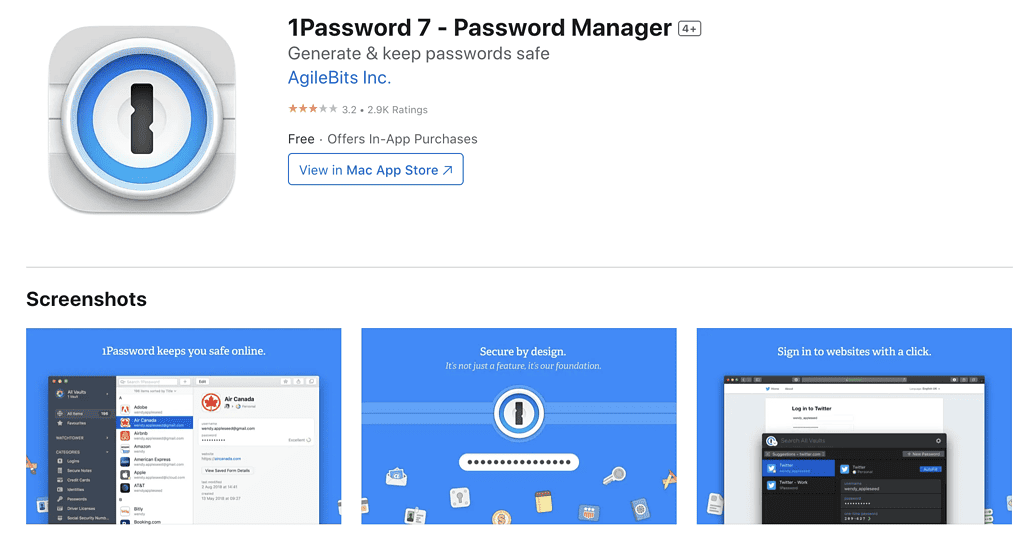 I have a long history with 1Password, having tried and used it during its infancy stage. Several years after its launch, 1Password has become one of the most popular password managers for Mac and other platforms. 1Password is an all-in-one password manager for your Mac. It can store your passwords, automatically fill in your login details, and even alert you if any of your passwords have been subject to a security breach.
As mentioned, 1Password supports multi-platforms but its password manager for Mac stands out for such special features as the sidebar, dark and mini mode. 1Password also allows you to customize icons so that you can easily distinguish your password vaults from one another. It also lets you share passwords with your family members through the 1Password family plan.
Availability: Free trial for 14 days is available. Premium plans start at $2.99/month.
Pros
The automatic password generator is very good.
No security breach reported so far.
Easily syncs passwords across devices.
Cons
Additional Security Key layers can get too cumbersome to use.
Lack of support via chat or phone calls, only email.
Lackluster import feature.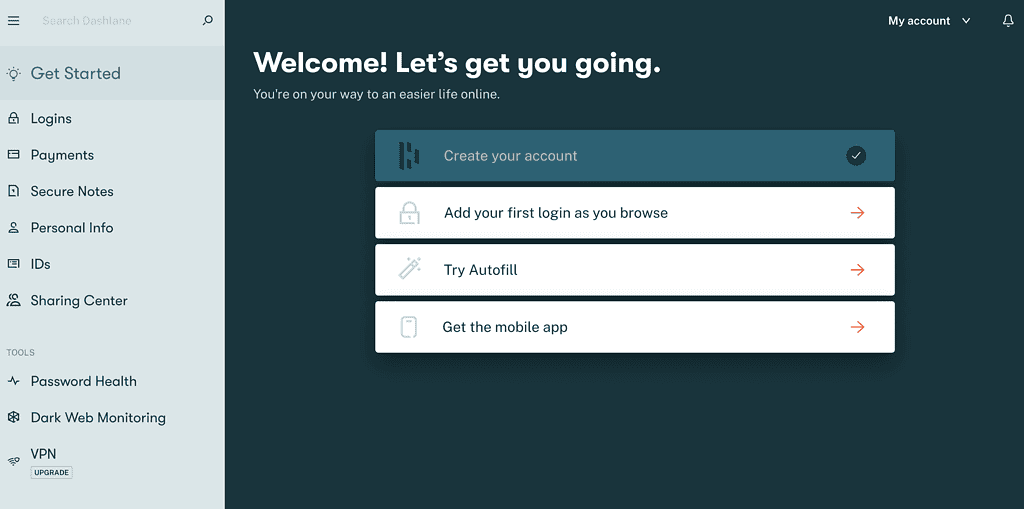 Another good option for a password manager for Mac is Dashlane. It provides the same features as other major players in the password management market. One thing that makes Dashlane stand out from the rest, though, is its slick and intuitive interface. The makers of Dashlane boast of the fact that their password manager could simplify your online life.
As such Dashlane lets you store usernames, passwords, credit card numbers, and more. Dashlane also automatically fills out your forms and login details. Other features of Dashlane include dark web monitoring and VPN service. Dashlane doesn't have a native Mac app yet, so to use it on your Mac you would need to install a Dashlane extension in your Mac's browser.
Availability: Free version is available. The paid starter plan is priced at $2/month.
Pros
The advanced tier for both free and premium plans is unique.
No security breach reported so far.
Free trial version for 30 days.
Cons
The free version has limited features.
Lack of flexibility when it comes to customization.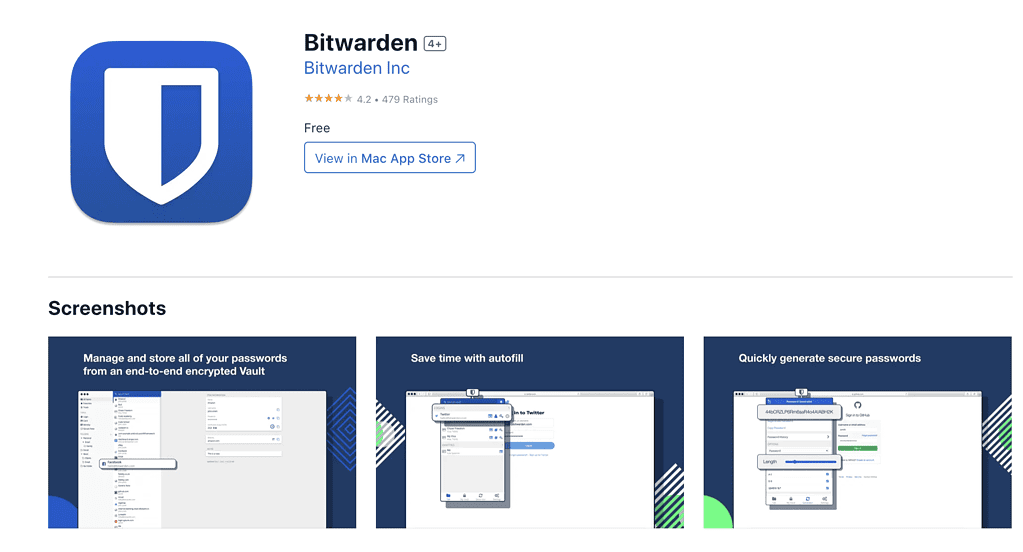 BitWarden is an open-source and yet very secure password manager for Mac. It has soared in popularity since its free version is unlimited. And when the features of the free version are not enough for you, you can always get the paid version, priced much lower than other paid password managers.
What's great about BitWarden is the fact that the full-featured version offers the standard features of many paid password managers. These include multi-platform support, two-factor authentication, form filling, and biometric login (such as Face ID and Touch ID).
One notable feature of BitWarden is that it allows you to use your own server to sync your passwords. This should please users who value total privacy. Another stand-out feature is called Send, a highly secure information-sharing tool.
Other features of BitWarden include an authenticator app that verifies your identity on accounts using 2FA or time-based one-time passwords (TOTPS) and an emergency access feature that grants vault access to another user in case of emergency with the primary account owner. Plus, the premium version comes with 1 GB of secure storage.
Availability: Free version is available, Premium version is available for $10/year for a personal account and $40/year for a family account.
Pros
Unlimited passwords and devices for the free version.
The design interface across platforms is consistent.
Open source and yet very secure.
Cons
Simple and overly simplistic interface.
Using some of the features tends to be counterintuitive.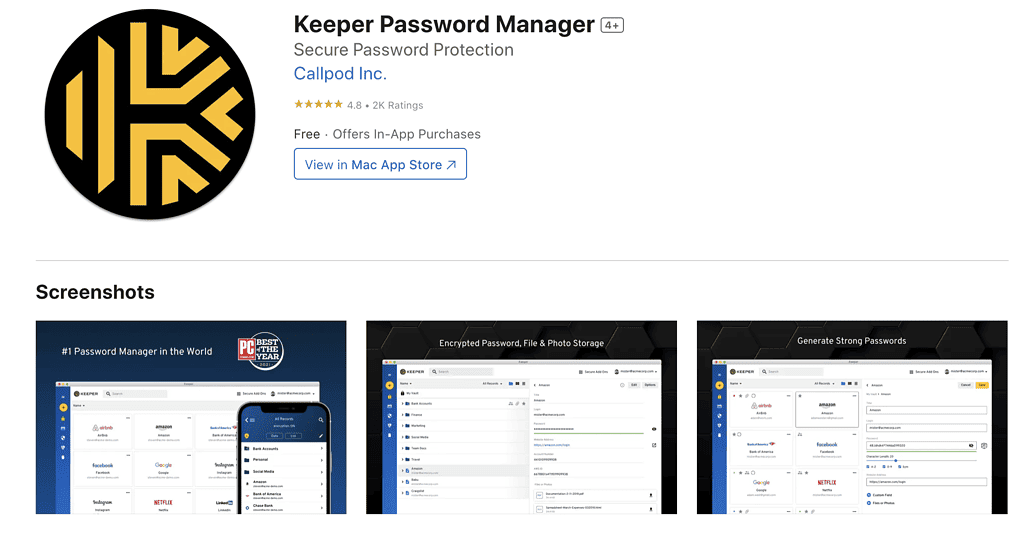 Keeper is another multi-platform password manager with basically all the standard features that you would look for in such a tool. One outstanding feature of Keeper is its zero-knowledge model. What this simply means is that Keeper has no way of knowing the user's master passwords or encryption keys.
Another notable feature of Keeper is KeeperChat, an encrypted private messenger. Plus, Keeper also has BreachWatch which sends you notifications whenever it finds any of your data on the Dark Web. Keeper also provides a secure file storage service called Cloud Security Vault.
Other features of Keeper include password importing from a CSV file, a new password generator, and detailed user guides that compliments its 24/7 customer support.
Availability: Keeper Unlimited Base Plan is available for a $34.99 one-time fee.
Pros
Boasts of military-grade encryption which has not had any security breaches to date.
Highly customizable password vault.
User-friendly interface.
Cons
Some features may require additional subscription fees.
The Autofill feature is a bit clunky.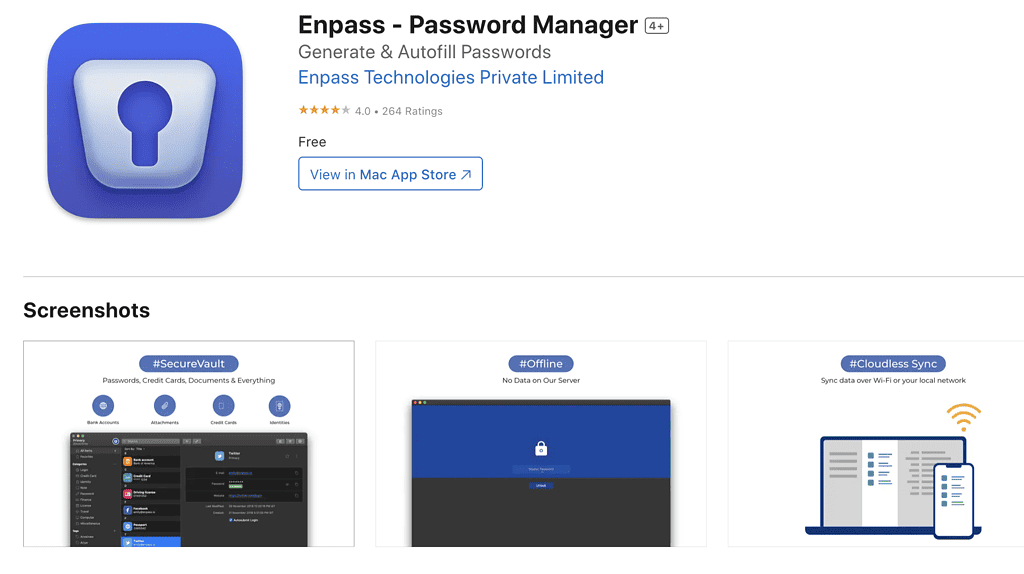 Enpass is quite different from the rest of the password managers included in this list. That's because it is an offline password manager. As such, Enpass does not store your passwords on its servers. When you first create your Enpass vault, you have the option to store it offline, that is, device-only, or sync via Wi-Fi. You can also opt to use cloud services such as iCloud to store your password vaults. This adds an extra layer of security to your Enpass password vaults. What's good about this feature is that these multiple vaults sync together seamlessly through the Enpass app. Enpass also supports multi-platform and has apps for Mac, Windows, Linux, Android, and more.
Enpass also features password audit, password generator, and password sharing. One feature it lacks, though, is a password inheritance feature that could be useful during the untimely demise of the account holder.
Availability: Free version is available Individual paid plan available for $1.99/month.
Pros
Free for desktop users.
Syncing options do not require you to upload your data to cloud servers.
The free version is packed with enough features.
No security breaches since day 1.
Cons
No trial version of the premium tier plan but since the paid plan is relatively inexpensive, you can get it right away.
Sharing options has some room for improvement.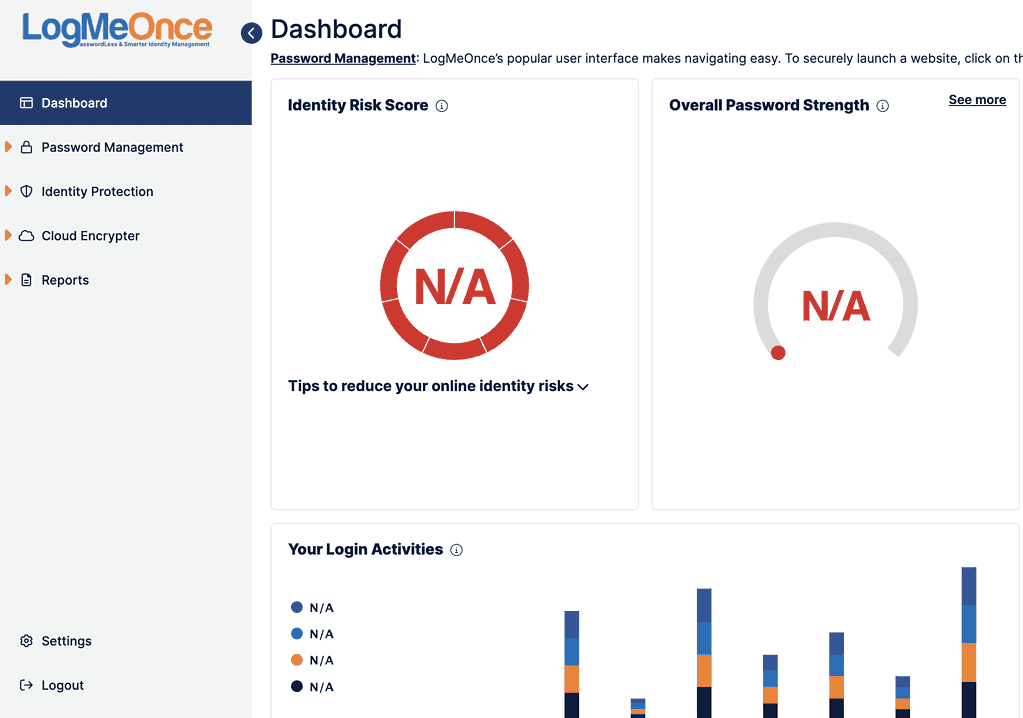 LogMeOnce's business model is quite confusing. For one thing, its premium version is freely available, which practically gives you the standard features of a password manager. But to get more advanced features, you just need to pay $2.50/month. For that, you'll get multi-factor authentication, 1 GB of encrypted storage, secure notes, and credit cards.
LogMeOnce also boasts of a unique feature that sets it apart from other password managers. This feature is called PhotoLogin and it helps you confirm your identity without facial recognition technology.
Once you've set up LogMeOnce on your Mac, it will take a picture of you and send it to your trusted devices. Then, when you're logging in, you can just click your photo to confirm that it's you. With that, the login attempt will be completed. It's unique but could be a less secure option than other biometric measures.
Other features of LogMeOnce include a password generator and password audit
Availability: Free version is available. Professional available for $2.99/month.
Pros
Outstanding multi-platform compatibility.
Security features are pretty impressive.
Security options and login methods are commendable.
Cons
Lack of desktop app.
Unavailability of customer support.
Final Words: Choosing the Best Password Managers for Mac?
The answer to the question would depend on what you need from a password manager. If you're just looking for a tool to securely store your passwords and sync them across your other devices, then you have several options available from the list above. The same holds true if you want other advanced features such as unlimited passwords and device syncing, encrypted storage, etc
Our list above provides you with several viable options. The bottom line is, carefully read through the fine print of these password managers to find out which one suits your needs. If it's a paid password manager, you can also narrow down your cost based on the pricing of the options included in this list.