It's still early 2023, so there's still time to start your fitness journey. And what better way to do it than by ensuring that you achieve your goals no matter what type of exercise you're going to focus on? Thankfully, reaching fitness goals is much easier now than in the old days. Credit that to the iPhone, Apple Watch and the plethora of fitness apps available. If you're one of our male readers who want to begin your fitness journey this year, we've rounded up the best fitness apps for men available from the App Store. These apps will either inspire you to move on and work your way toward becoming a fitter and better you. (Not to worry, a similar list for females will be next!)
Best App for Men Who Run
Runkeeper (aka Asics Runkeeper)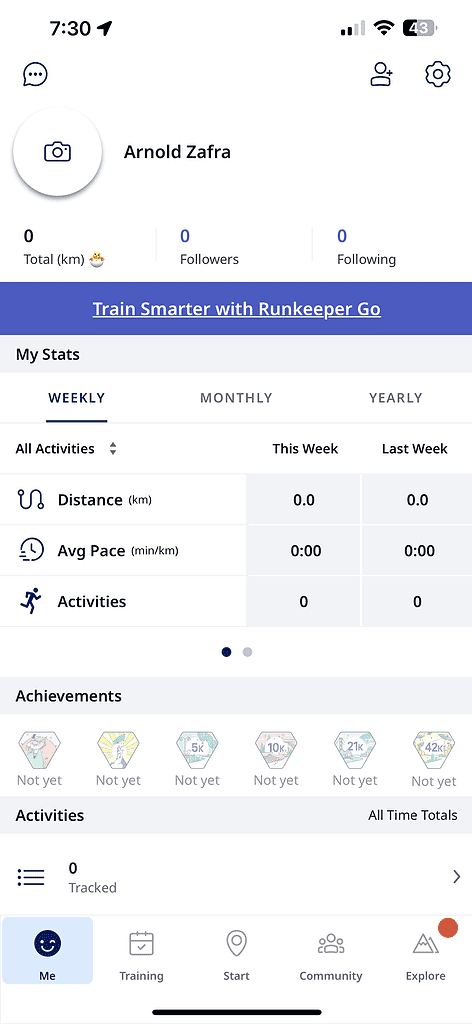 In case you're wondering why I put a running app on top of the list of best fitness apps for men, that's because running is the most inexpensive way of staying fit. All you need is a decent pair of running shoes, a shirt, and shorts and you're good to go, or run. Of course, don't forget your iPhone or Apple Watch, and together with the best and the original running app, you might even end up running a full marathon in a few months.
What makes Runkeeper the best running app aside from being one of the oldest is that it has always had a user-friendly interface. From the moment you fire up the app for the first time on your iPhone or Apple Watch, you can do either of two things. Tap a button to start running, or check out its other functionality, including viewing your running goals and statistics. You can also check in on your friends' running progress to get some inspiration. Another feature that you will appreciate from Runkeeper is its seamless integration with Apple Music. Yes, music is essential to beat the boredom that most people encounter when running.
Availability: Free, Offers premium version via In-App Purchases
Pros
With more than 30 million users, it's easier to get running inspiration by following hard-core runners on Runkeeper Community.
Highly customizable interface.
Recommended for all levels of runners.
Cons
Other useful features, such as advanced metrics, live tracking, and training, are available only in the paid version.
Runner Up: Strava
I listed Strava here simply because it's a popular fitness tracker with running components widely used by many. This includes both enthusiasts and professionals. However, that doesn't mean that Strava is not as good as Runkeeper. It is much better in some ways for the simple reason that it's a multi-sports tracker. That's why it belongs to another category of fitness apps.
Best App for Multi-Sports Tracking
Strava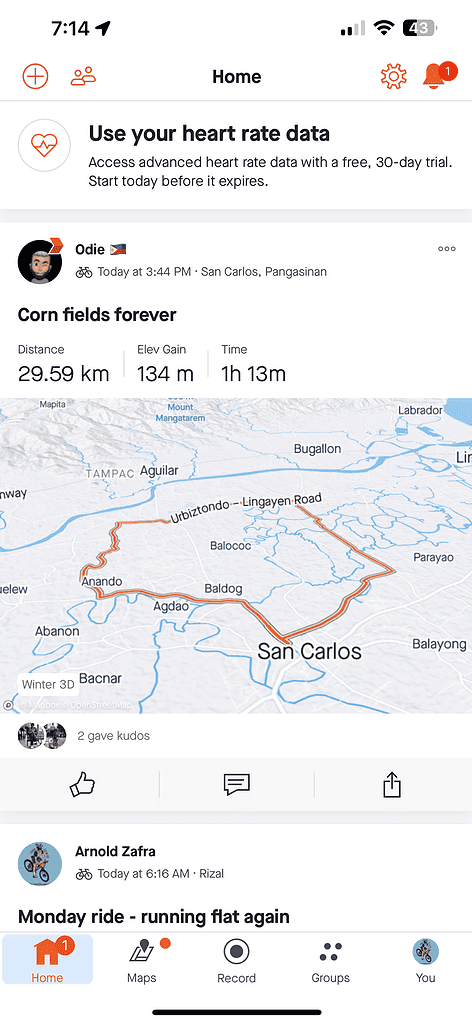 What app could be the best when it comes to multi-sports tracking but Strava? Originally, Strava only tracked runs and bicycle rides. Since its launch, though, the power of connectivity with other fitness trackers and devices such as the Apple Watch has allowed it to also record and track other sports activities. This includes swimming and even weight training. What sets Strava apart and elevates it to the top of the fitness apps industry is its user base, comprised of both running and cycling enthusiasts as well as the more serious and professional athletes. If you want to follow and be inspired by your running or cycling gurus, chances are you'll find them on Strava.
Another noteworthy feature of Strava is the fact that it records your achievements, such as Personal Records (PR), when running or cycling a particular segment. Hence, you can use that as a benchmark the next time you run or cycle in that segment. In short, it slowly trains you to perform better every time you exercise.
Availability: Free, Offers Premium Version via In-App Purchases
Pros
For runners, the apps offer new running routes to explore.
With more than 76 million users, it's easy enough to follow and get inspiration from other athletes.
Gradually expanding workouts it can track aside from running and cycling.
Cons
Not meant for those who prefer more privacy, since Strava is a fitness app meant to build a community of athletes.
No music app integration.
Connects seamlessly with Apple Watch and Health and Fitness App on your iPhone.
Runner Up: Apple Fitness App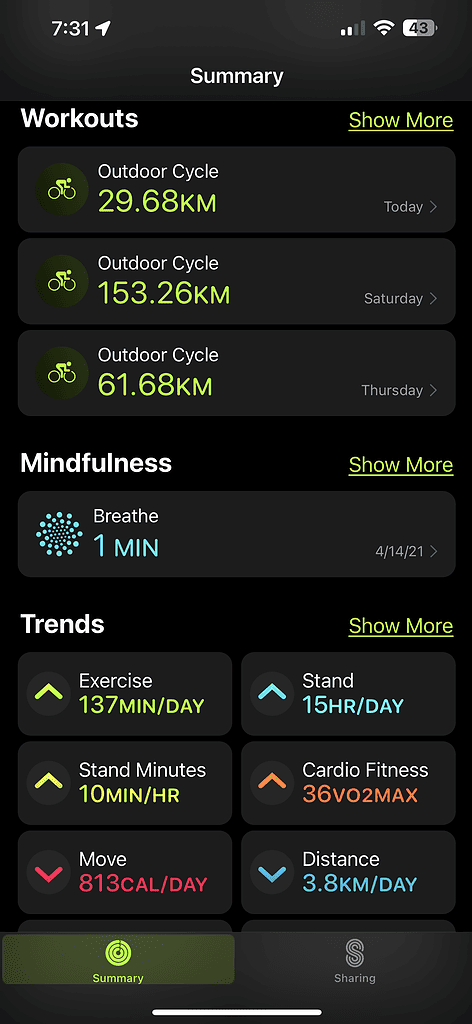 It's a no-brainer that if you're looking for a good fitness app for men that is readily available, this is your best choice. The good thing about the iPhone Fitness app is that Apple continuously expands the workout coverage that it can track. You'd be surprised at the variety of workouts that this app can recognize, much more so if you use it with your Apple Watch. So far, I've used it to track my running, swimming, weight training, and even yoga sessions. Right now, it's my go-to tracking app during my bike rides. With the Apple Fitness app on my Apple Watch Ultra running, I don't worry about losing my battery, even if it takes me the whole day to complete my rides.
Availability: Free for Apple Users
Best App for Those Who Workout at the Gym
Train Fitness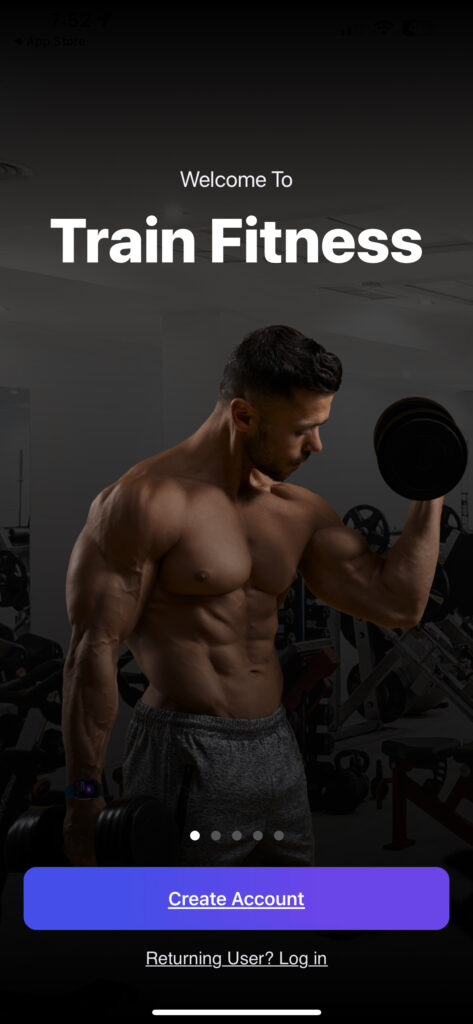 If your choice of exercise to get fit is doing functional or traditional exercises that involve repetitions, chances are you'll get annoyed by the idea of counting reps over and over again. Hence, you need a good app, such as the Train Fitness app. Developed specifically to help you focus on your form rather than counting reps while you exercise, this app automatically recognizes 82 exercise movements. This means you don't need to jot down what exercise you're doing, since the app will do it for you and start counting your reps and recording them. Once you're done with a workout session, you can view your data by exercise time, and the muscle group hit by the workout you've completed.
Availability: Free, Offers premium version via In-App Purchases
Pros
Option to enter more than 400 other exercises manually.
Recognizes 82 exercises automatically using Apple Watch sensors.
Cons
Doesn't recognize the weight you've used, so you have to enter it manually.
No workout or training plans.
Only available for Apple Watch.
Runner Up: Centr, by Chris Hemsworth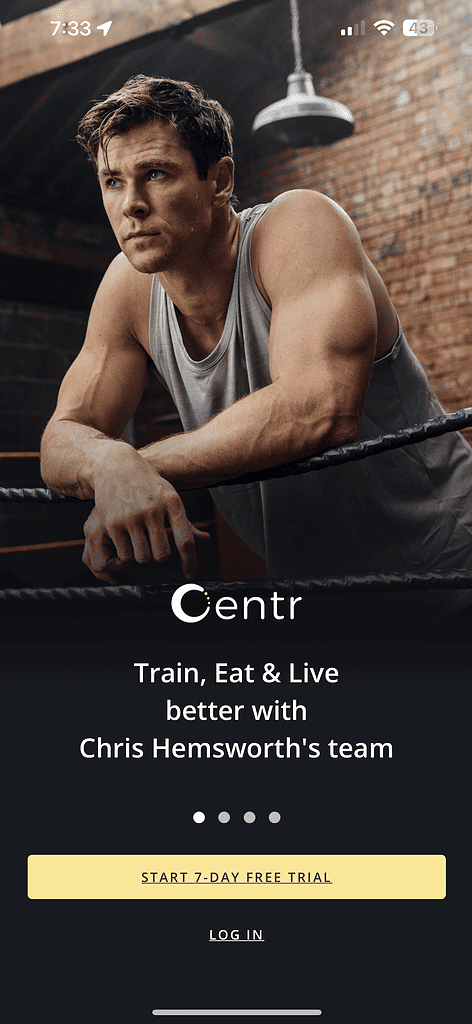 I'm not a fan, but I would have to admit that he has a great body, which is a result of a dedicated hard workout regimen. And the guy put a lot of effort into building this app. What's good about this fitness app is that it combines exercise, meal planning, and even mindfulness to achieve a great body like the god of thunder. Whether you believe him or not, there's no harm in trying out the Centr app. It offers daily video exercises that you can follow along and these videos cover various exercise disciplines such as HIIT (High-Intensity Interval Training), Boxing, Strength Training, Yoga, and Pilates (that might help you achieve those six-pack abs!)
Availability: Free, Offers premium version via In-App Purchases)
Best App For Those Who Count Their Calorie Intake
MyFitnessPal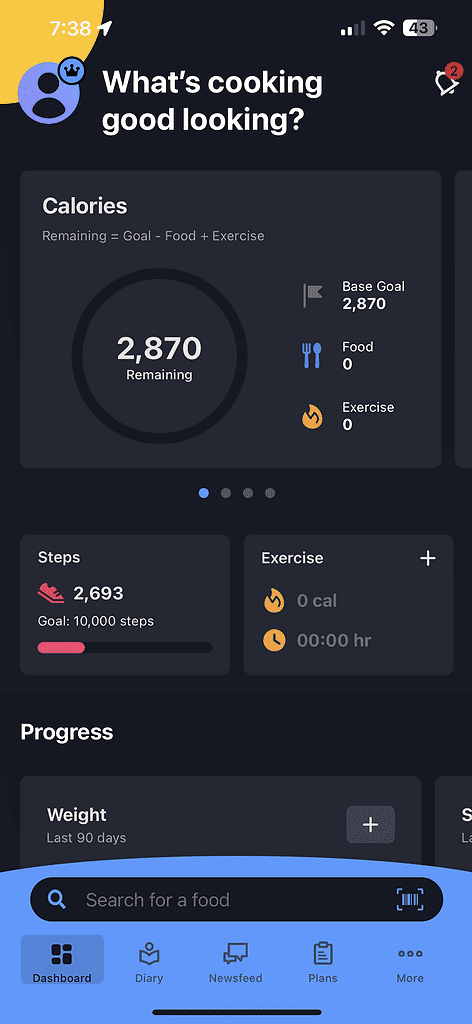 When it comes to getting fit and maintaining a healthy lifestyle, knowing about calorie intake is a must for most men and (most important for women). Thankfully, many fitness apps were made for the task of counting calories. One of the best if not the best fitness app for men for counting calorie intake is MyFitnessPal. I've installed and uninstalled this app several times now. There are times when I would want to monitor my calorie intake, so I used the app, but there were times when I don't mind it at all, so I uninstall the app.
But yes, MyFitnessPal is a great app for tracking your weight and recommending your daily calorie intake. It also has a vast nutrition database to guide you with your diet. Another good feature of MyFitnessPal is the fact that it integrates with other fitness trackers so that you can include its data in your exercise log.
Availability: Free, Offers premium version via In-App Purchases
Pros
The nutrition database includes many restaurant foods so that you'll know what to order.
Allows you to download recipes online and calculate calorie content.
The "Quick Add" feature allows you to quickly log calorie intake.
Cons
May not always be accurate, since any user can upload nutrition information by themselves.
Multiple entries may exist for the same food products.
Runner Up: Calory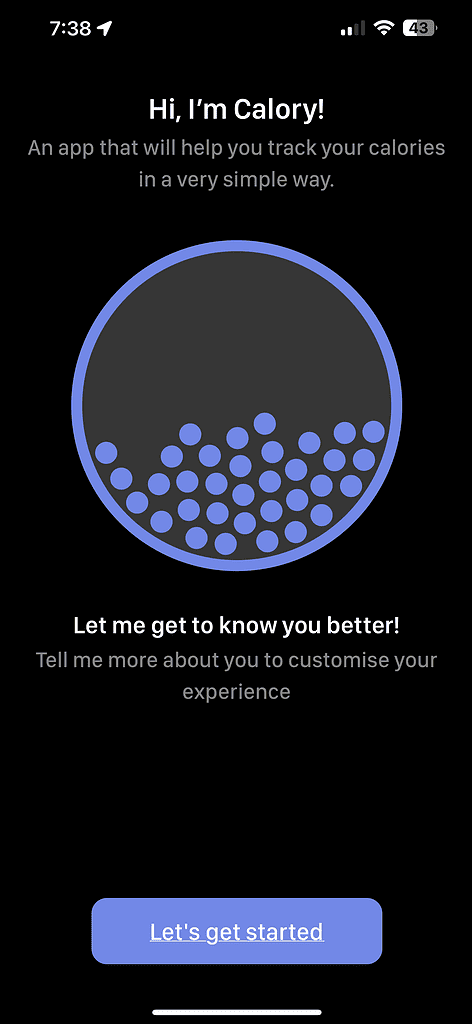 Calory is a simple calorie tracker that lets you log either calories or foods. However, it only tracks calorie intake. The app's food database is linked with the U.S. Department of Agriculture (USDA) Foods Database, so you can log your food easily. The app gives you the percentage of calories you consumed and the remaining calories you need if you've set your daily calorie intake target. The premium version includes other features such as macro and water tracking and access to recipe and food databases.
Availability: Free, Offers Premium version via In-App Purchases)
Best App For Men Who Want to Join a Branded Sports Club
NRC (Nike Running Club)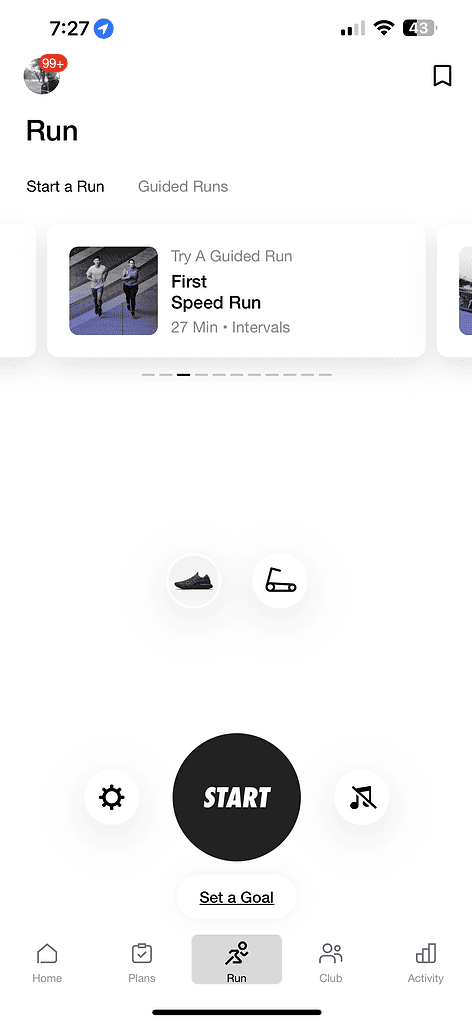 The last category in our list of best iPhone fitness apps for men is for those who want to use apps fully supported by brand-owned clubs. I'm talking here about popular sports brands such as Nike, Adidas, Under Armor, and more. You'll be surprised at how many of the sporting brands have their apps on the App Store. Take the Runkeeper for instance which is now owned by Asics. But aside from that, one of the Brand-Sponsored iPhone fitness apps that I would recommend is the Nike Running Club (NRC) app. I used the app during the pandemic when I ran almost every day.
The NRC app is a pretty straightforward running app that lets you start running with a tap of a button on your iPhone or Apple Watch. One of its outstanding features is Guided Runs. It's like listening to a podcast while you run. Only this time, the app guides you through your running sessions, advising you of your current pace, whether you are lagging behind your running goal and more. And for a running club, NRC has a wide user base that you can connect with. And did I mention that NRC members get some exclusive Nike online store perks from time to time? The app is free as well.
Availability: Free
Pros
Supports Spotify.
Tracks distance using GPS.
Running sessions include guided warm-ups and cool-downs.
Cons
Metrics may not necessarily be accurate at all times.
Occasional glitches when using the app.
Runner Up: Adidas Running App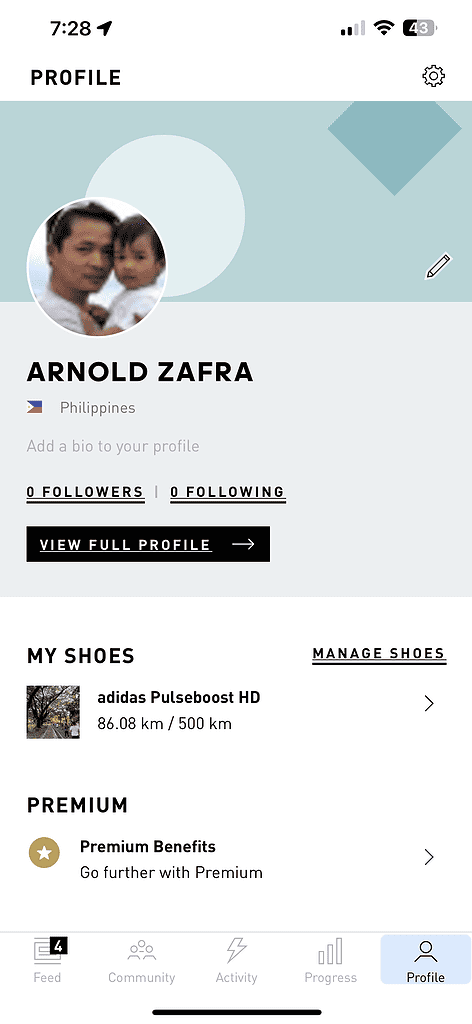 Despite being one of the front-runners in providing the best running shoes, it's ironic that the Adidas Running app is not as popular as Nike Running Club when it comes to its user base. Still, it's a great app with a user-friendly interface. As soon as you install the app on your iPhone or Apple Watch, you can quickly set your weekly mileage goal and works your way towards achieving that goal. The app has a clean and straightforward interface that will not confuse you the first time you use it. However, to fully maximize the app, you need to get the premium version with its many more advanced features.
Availability: Free, Offers premium version via In-App Purchases)
Final Words: How to Choose the Best Fitness App for You
If you want to know the best fitness app for you, it's the one that supports the sports and exercise that you enjoy doing. If you're going into a sports activity that you don't enjoy doing, chances are you'll end up stopping after a few weeks or months. So, if you enjoy waking up early and pounding pavements while other people are still asleep, then use Strava or Nike Running Club to track your running activities. If you enjoy the company of friends inside the gym romancing steels, then get a workout app and get a membership to the nearest gym.
One last thing that you should remember if you're serious about achieving your fitness goal this year, or any time, is that achieving a healthy lifestyle does not only involve doing regular exercise routines. You should also be mindful of your daily nutrition, so a combination of a running or workout app along with a nutrition-geared app might be the answer.