Were you looking for the best online file converters for Mac? You have come to the right place. In this rapidly evolving digital age, numerous file types exist – documents, images, videos, audio files, etc. And each has multiple formats like PDF, JPEG, AVI, MP3, etc.
I have prepared a list of the best online file converters for Mac. We are going to have a look at their functionality, pros, and cons. So, by the end of the article, you will have all the information you need to convert files online on your Mac.
Why Do You Need an Online File Converter on Mac?
Downloading file converters is a messy affair and you can face storage issues. Online file converters, however, require no additional downloads on your Mac. You can upload a file, convert it, and then download it without any added software. You can even choose the file format in which you wish to download the converted file.
With the help of an online converter, you can effortlessly convert files of any format to your desired output format with minimum hassle. The workings of most online file converters are pretty simple. You need to upload your file and ask it to convert it. Some of these converters offer the option of batch conversion. This is useful when you are looking to convert a large number of audio, document, or video files.
Let us take a look at the list of best online file converters for Mac.
1. CloudConvert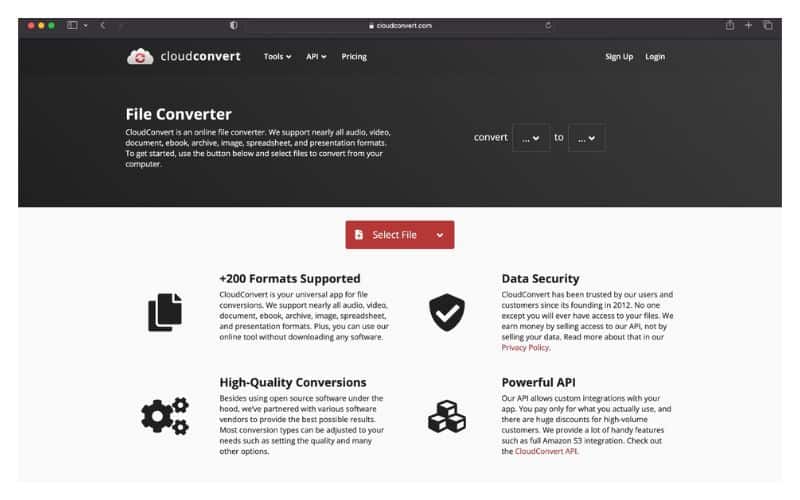 First on the list is CloudConvert. It has a simple, user-friendly interface that does not require too much technical know-how to operate. This converter offers a number of features to helpful in file conversion.
The advanced features of this video converter let you control the customization process too. You can select specific parameters like bit rate, resolution, level of compression, etc.
The issue with online file converters is security. CloudConvert deletes the files that you uploaded after the conversion is over. Users who are looking to convert a wide range of files (audio formats, video formats, image formats, etc.) online, can rely on the privacy that CloudConvert provides.
Pros
It is a free online file converter and requires no subscription plans.
A simple interface ensures that it can be used even by users with little to no technical knowledge.
The conversion happens at a very fast pace.
This online tool supports a wide range of file formats.
Cons
You will not be able to integrate watermarks in your video conversions and other file conversions.
The tools of this online file converter for Mac can glitch occasionally.
2. FileZigZag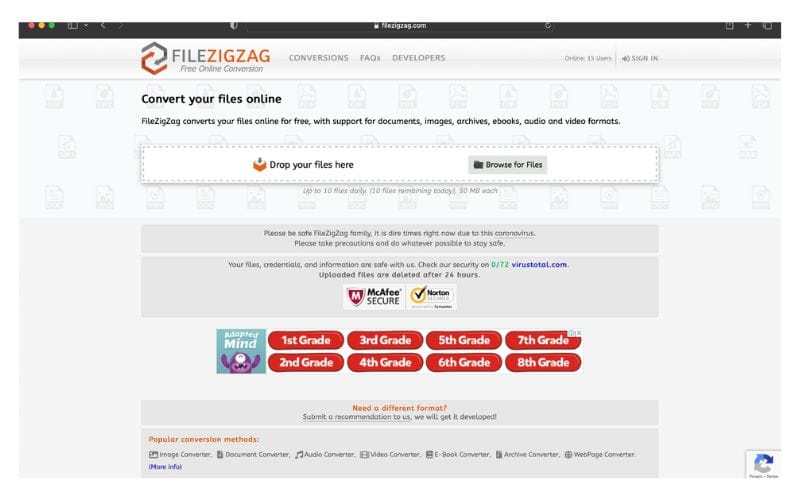 FileZigZag comes second on the list of online file converters for Mac because of its powerful features. Along with its intuitive interface, this online video converter is a compact solution for all your online file conversion needs.
This online conversion tool allows you to convert a wide range of audio files, video files, image files, documents, ebooks, etc. to any format that you want.
It has encryption protocols in place to protect the privacy of its users. There are advanced data protection measures too that help bolster the security of the users.
Pros
You are free to convert between 180+ file formats. So, you can essentially convert just about any file format into the video format or audio format of your choice.
It allows batch conversion so you can convert a large number of files at once.
This online tool is integrated with the leading CPUs in the industry.
Once you upload a file for conversion, it is deleted within the next 24 hours to protect your privacy.
Cons
If you are an unregistered user, you will only be able to use this tool 10 times per day.
A select handful of very common file formats are not supported.
3. Online ConVert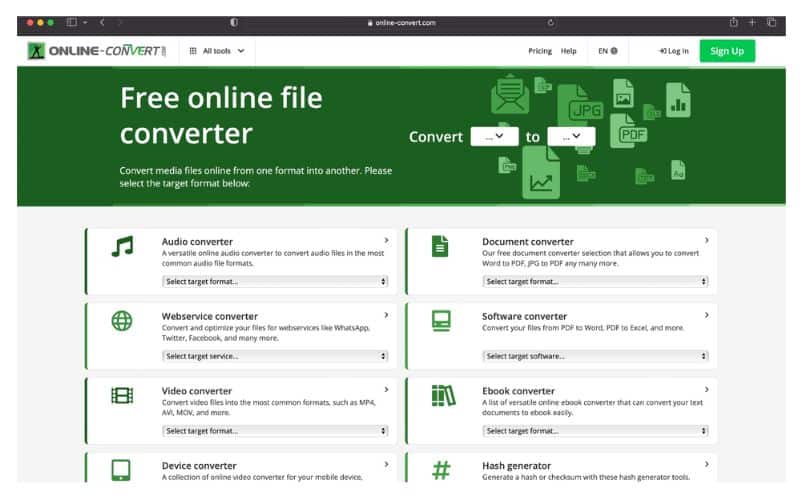 Online ConVert is a highly popular online file converter for Mac users. With a few clicks, you can convert documents, pdf files, images, videos, and a variety of other files. Almost all popular file formats are supported. And it supports a few additional formats too. Apart from its easy accessibility, Online ConVert is also very safe.
This conversion tool offers compelling features with a simple interface and premium security. In some cases, it is a bit lacking in the conversion time of video files.
Pros
It is really easy to use and does not require any additional software.
This video converter is trusted by a number of popular bands which speaks for its credibility.
Describes the tasks while carrying them out for a better understanding of the user.
Has good functionality and focuses on user satisfaction.
Cons
Sometimes the file conversions might take some time, especially in the case of video conversions where the file size is large. These slow conversion speeds are the major drawback of this online video converter.
Being a free tool, it does not have enough features for advanced users.
4. FreeFileConvert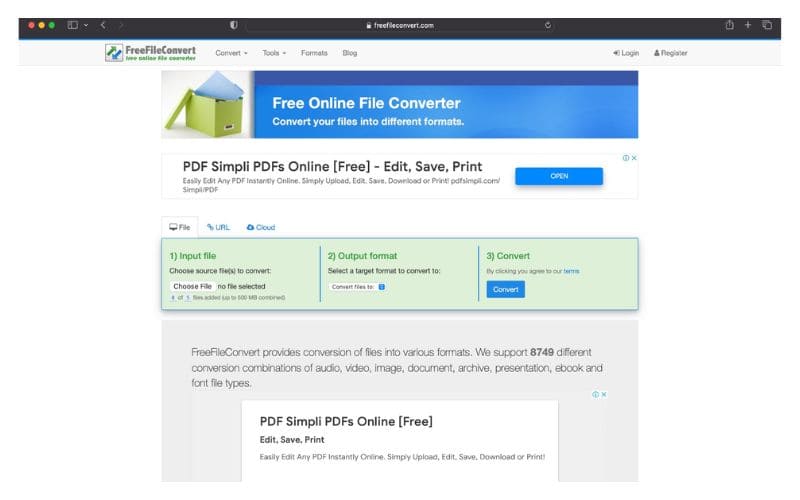 FreeFileConvert is another deserving entry in the list of best online converters for Macs. With its simple and holistic approach to conversion, FreeFileConvert lets you transform files by just dropping them in it.
The smart converter allows you to convert videos, audio, images, documents, and a lot more in little to no time. It also has elite security protocols to safeguard your data online.
It works as an excellent online PDF converter and is quite good as an audio converter as well.
Pros
Support import of files for iCloud and URLs. This is one of the very few online video converters that allow this. And you can do this for all types of files like audio formats, image files, PDF files, etc.
It has an estimated 8749 conversion combinations available for you to try out.
This video converter offers your live analytics report of your actions.
This online service supports multiple conversion types.
Cons
The acceptable file size varies across various file formats.
5. OnlineConvertFree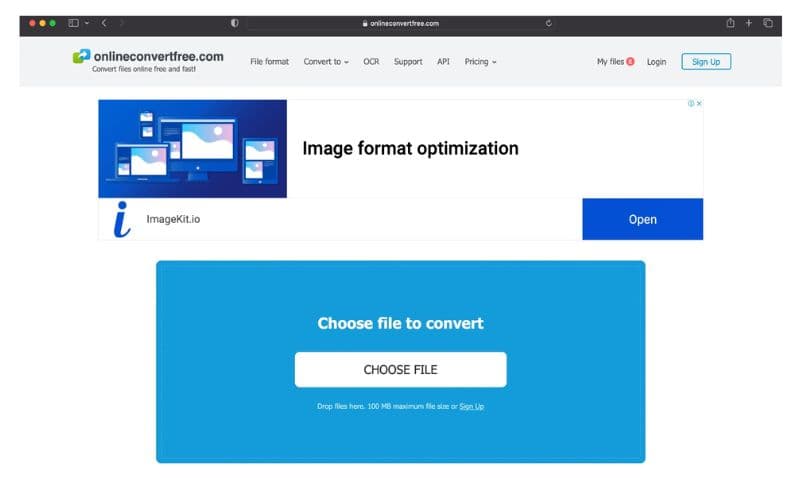 If you are looking for free online file converters for Mac, you absolutely cannot ignore OnlineConvertFree. As its name suggests, this smart converter lets you convert a wide range of file types across a host of formats.
This is a cloud-based software and protects the privacy of its users by providing secure file conversions. It maintains the integrity of the original file and at the same time gives you high-quality conversion output.
Pros
File Conversion API is available with this online file converter for Mac.
You can generate texts from an image or a scanned document.
Is compatible with almost every format out there.
Cons
It has a file size limit of a maximum of 100 MB.
6. Zamzar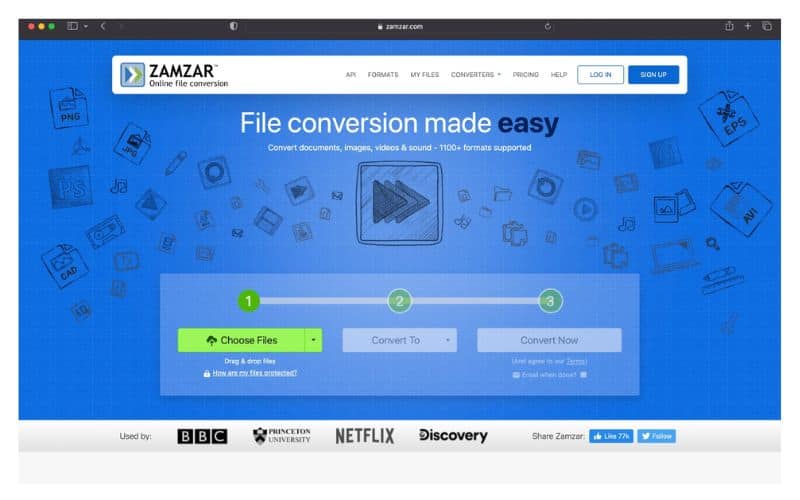 Mac users who are looking for an online file converter to help with their diverse conversion needs should definitely try out Zamzar. It has a comprehensive collection of conversion tools that will help you convert video files, PDF files, audio files, and much more. Its advanced features allow for fast conversions without compromising the quality of the conversions.
However, it is a tad bit pricey compared to the other video converters, audio converters, and file converters on this list.
Pros
This video converter supports over 1200 file formats.
Ever since its advent in 2008, it has been a user favorite due to its sleek features.
The conversions are extremely fast with none of them taking over ten minutes.
Cons
You can only have one free demo.
It is a bit steeply priced compared to the other online file converters for Mac.
7. ConvertFiles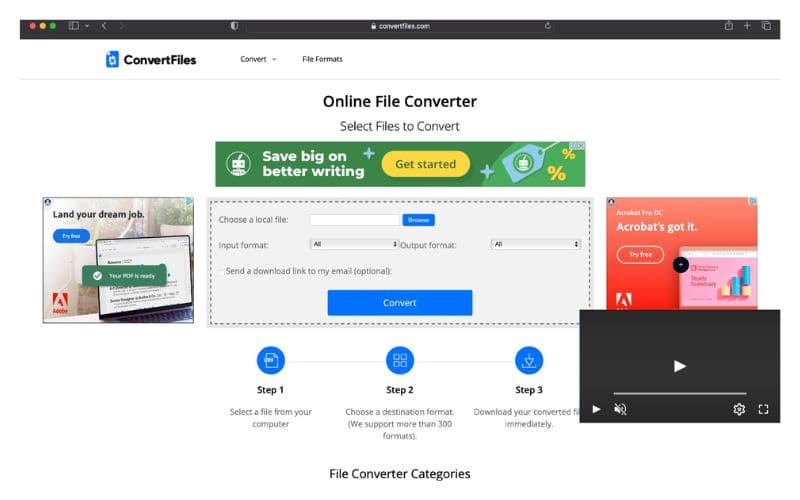 With a user-friendly interface and high functionality, ConvertFiles is a pretty good online file converter. You can convert video files, images, documents, etc., and also works as a pretty good audio converter.
To convert a file using this online converter, you will need to follow a simple process. Browse the file that you need to convert, select the output format, and initiate the process. That's it. Your file will now be converted without any further delay.
ConvertFiles is secure and allows you to convert files in batches. Its commitment to data protection makes it a viable choice for Mac users looking for the best online file converters.
Pros
It has no hidden charges involved in its usage.
Allows for conversion of files in batches.
Support a large list of file formats.
The interface is simple and easy to use.
Cons
The converter might occasionally crash.
What To Consider When Choosing an Online File Converter To Use on Mac?
Now that we know about the best online file converters for Mac, we will look at the features that set apart the best file converters from others in the business.
Security: Security is of great importance for an online video converter, file converter, or audio converter. Users upload their files into these tools to convert. So, if an online file converter cannot guarantee the integrity of the files, then you should not use it.
Conversion time: Nobody has all day, especially in this fast-paced, digital age. So, if a certain converter takes hours to convert a file, no matter how good a job the converter does, it cannot be a good fit for anybody.
The simplicity of use: The user experience and user interface of these online converters matter a lot. If the interface is clunky and confusing, nobody is going to like using it.
Supported file formats: If a specific online file editor supports a select handful of formats, then it would be useless in case of the conversion of other file formats. So, it would not be a good choice for anybody who is looking to convert a wide variety of files and file formats.
If you wish to know whether your Mac is 64-bit or 32, follow our guide to do so.
Convert Files Easily
Hopefully, you will no longer face any issues while converting files online on your Mac. You can use any one of the online file converters from the list for your use. If have any more questions regarding online file converters for Mac, do reach out to us in the comments and we will try our best to help you out.
FAQs
Is there a file converter for Mac?
Yes. There are plenty of online file converters for Macs available on the internet.
How do you convert a document on a Mac?
To convert a document on your Mac, open a browser and go to any online document converter. Then follow the on-screen instructions to convert your document.
Can you trust online file converters?
You can trust online file converters but not all of them. So, before you use any online file converter, perform your due diligence.
Can you change a size and type of a file on Mac?
Yes. You can change the size and type of files on your Mac with these online converter tools. Just choose the tool that works best for you and get started.