AI suggestions for new Siri Shortcuts won't be available on iPhone 6 and iPhone 6 Plus. Apple senior vice president Craig Federighi confirmed the news to Redditor federicotrevisani1, but it will most likely be little more than a minor inconvenience to Siri Shortcut users on these older devices.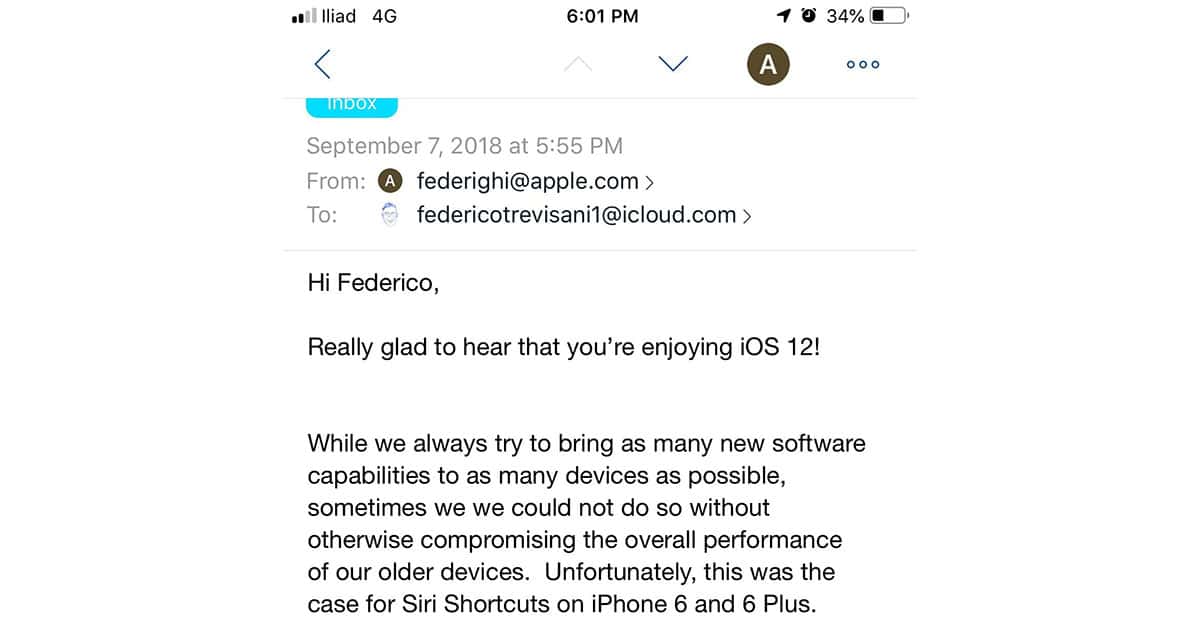 Here's the full text from that email from Craig Federighi:
Really glad to hear that you're enjoying iOS 12!

While we always try to bring as many new software capabilities to as many devices as possible, sometimes we could not to so without otherwise compromising the overall performance of our older devices. Unfortunately this was the case for Siri Shortcuts on iPhone 6 and 6 Plus.

I hope you successfully pursue your passion and learn to code. Software development is a wonderful creative career, and the kind of problem[-] solving skills you build through coding apply to many other areas as well!
Firstly, I think it's really awesome that Mr. Federighi took the time to both answer Ferderico's question and to then take the added time to encourage him to learn how to code.
Siri Shortcuts
As I noted at iOS 12's introduction at WWDC 2018, Siri Shortcuts allow users to set up their own Siri triggers tied to Siri actions. This is better than straight training-the-user in that it's users doing the doing, rather than developers doing the doing and customers having to train themselves.
Siri Suggestions for Siri Shortcuts
While Mr. Federighi's response appears to reference Siri Shortcuts, in reality he was responding to a question about Suggestions. Suggestions are AI-based suggestions for new Shortcuts determined locally on your device. The A8 processor on iPhone 6 and 6 Plus apparently can't handle the task, at least not when it's also handling everything an iPhone needs to do.
The Siri Shortcuts app itself will be on iPhone 6 and 6 Plus. Users will be able to add their own Shortcuts and Shortcuts they themselves find, but they won't be able to get Suggestions provided to you on these devices.