Apple announced the latest iteration of the Apple Watch operating system, watchOS 10. By now, you're probably excited to try out many new features that watchOS 10 will bring to your Apple wearable. Unfortunately, watchOS 10 will only be released this coming fall but that doesn't mean that you can try out the beta version of watchOS 10.

For those who enrolled in the Apple Developer Program, you're in luck. Apple made the developer beta available as soon as the announcement was made at the WWDC. Those who enrolled in the Public Beta Software Program though will have to wait until July to download and install watchOS 10 on their Apple Watch. But the more basic question is, which are the watchOS 10 compatible devices? Is the model of your Apple Watch included? Read along to find out.
New Features of watchOS 10 Worth Waiting For
We've already covered the top new features coming with watchOS 10. But as a review, Apple's latest updates for watchOS 10 promise to bring the following major new features:
Redesigned apps and better navigation with Smart Stack
2 New Apple Watch Faces
More features for cycling and hiking
New tool to support mental health
Vision health features
Namedrop
What Are the watchOS 10 Compatible Apple Watch Models?
When it comes to the question of which Apple Watch models are included in the list of Apple Watch that can run watchOS 10, well, you can check the list below. The good news here is that if you were able to install watchOS 9 on your Apple Watch, then you can download and install watchOS 10 when it comes available to the public later this fall.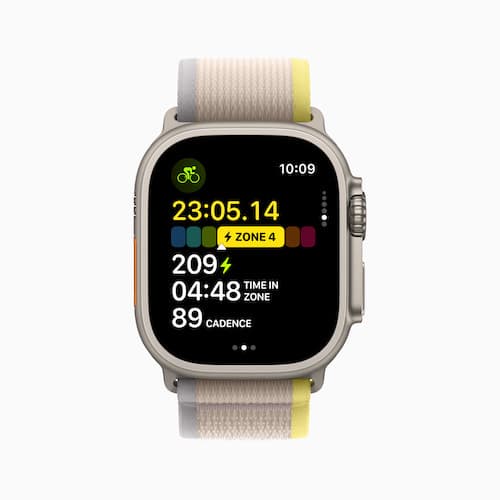 Here is the list of Apple Watch Models that are compatible with watchOS 10:
Apple Watch Series 4
Apple Watch Series 5
Apple Watch Series 6
Apple Watch Series 7
Apple Watch Series 8
However, do note that some features of watchOS 10 might not be able to function properly on some Apple Watch models with older processors. This is due to the fact that some of the new features are system-intensive to function properly. Apple did not specifically identify which features will be available to less powerful Apple Watch models, so you can only find out what these features are once watchOS 10 is already running on your Apple Watch.

But as far as we know, there will be some features of watchOS 10 that are going to be exclusive to newer Apple Watch models specifically those with always-on displays, newer health sensors, and bigger displays such as the Apple Watch Ultra.
Finally, it's important to know that since the Apple Watch needs to be paired with an iPhone, your device should likewise be supported by iOS 17. During the WWDC 2023, Apple announced that iOS 17 will run on iPhone XS or later and iPhone XR or later. Furthermore, check out how to download and install iOS 17 on your iPhone right now!