Here's my three word review of the Azio Retro Classic BT keyboard: Loud, Glorious, Backlit. I'm going to tell you more, of course, but those three words sum up the most important things about this keyboard.
Azio got its start on Indiegogo, one of crowdfunding's success stories. The Retro Classic Bluetooth keyboard is one of the company's newer mechanical keyboard, featuring a long throw and a retro look. It has a sort of Steampunk sensibility with copper and leather and keys that might have come off a 100 year old typewriter. I love that look, but the company has other designs in this series for different tastes.

Azio Retro Classic BT Keyboard
Inside the $219.99 keyboard ($214.56 – Amazon) is a 6,000mAh battery you recharge with an included USB-C cable (that plugs into any USB port for use or charging). Azio says that battery will last a full year with backlighting off, though I can't imagine why you'd do that. With backlighting on, the charge lasts from 1-3 months, depending on the intensity.
After five minutes of inactivity, the keyboard goes into battery-saver mode, which turns off the backlighting and puts the device to sleep. It takes a second or two to wake up. In general practice, I've only noticed that delay after the device was off all night.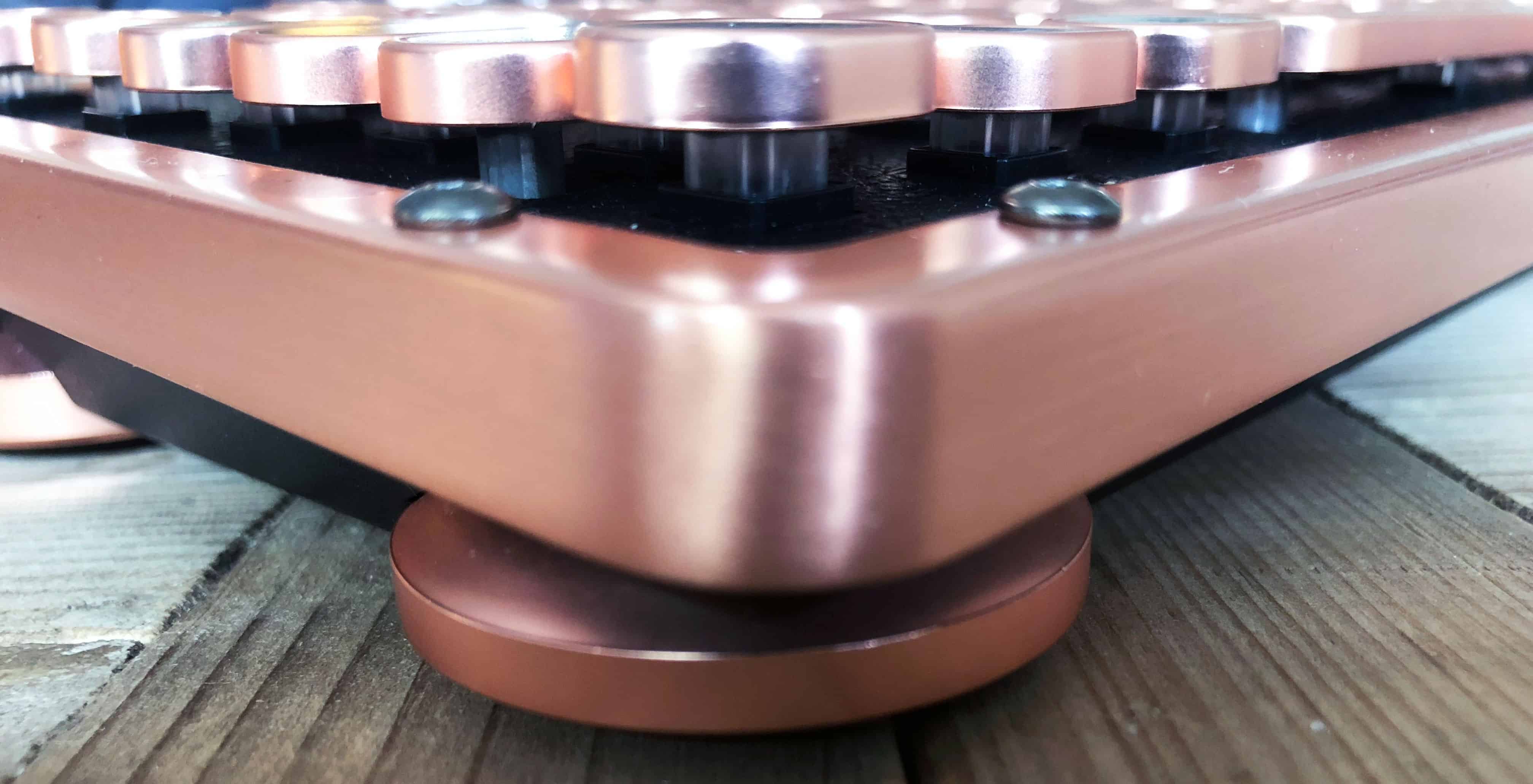 You can also use it in USB-mode, which not only charges the internal battery, it keeps the device from going into battery-saver mode. Note that the USB-only version of this keyboard has no Mac support—Mac user will need to purchase the Bluetooth version to work with their Macs. The Azio Bluetooth keyboard also pairs with iOS devices, though there's no official iOS support. I didn't try with Android, but it is a Bluetooth keyboard and likely works.
The above-mentioned battery, the heavy-duty feet, and general construction of the device makes it heavy. I mean, very heavy. On the one hand, that makes it incredibly steady and sturdy. On the other, you aren't likely to want to haul it around.
Loud
This keyboard is loud. So loud. Back in the day, we might have called it a "clicky" keyboard, but it is a thunderous clicky that might well be setting off seismographs the world over. Forget being able to type in secret while you're on the phone—or recording a podcast—but man, it's so satisfying. I've been using Apple's ever-so-slim short throw Aluminum Keyboards for years, and the difference is astounding, almost alarming.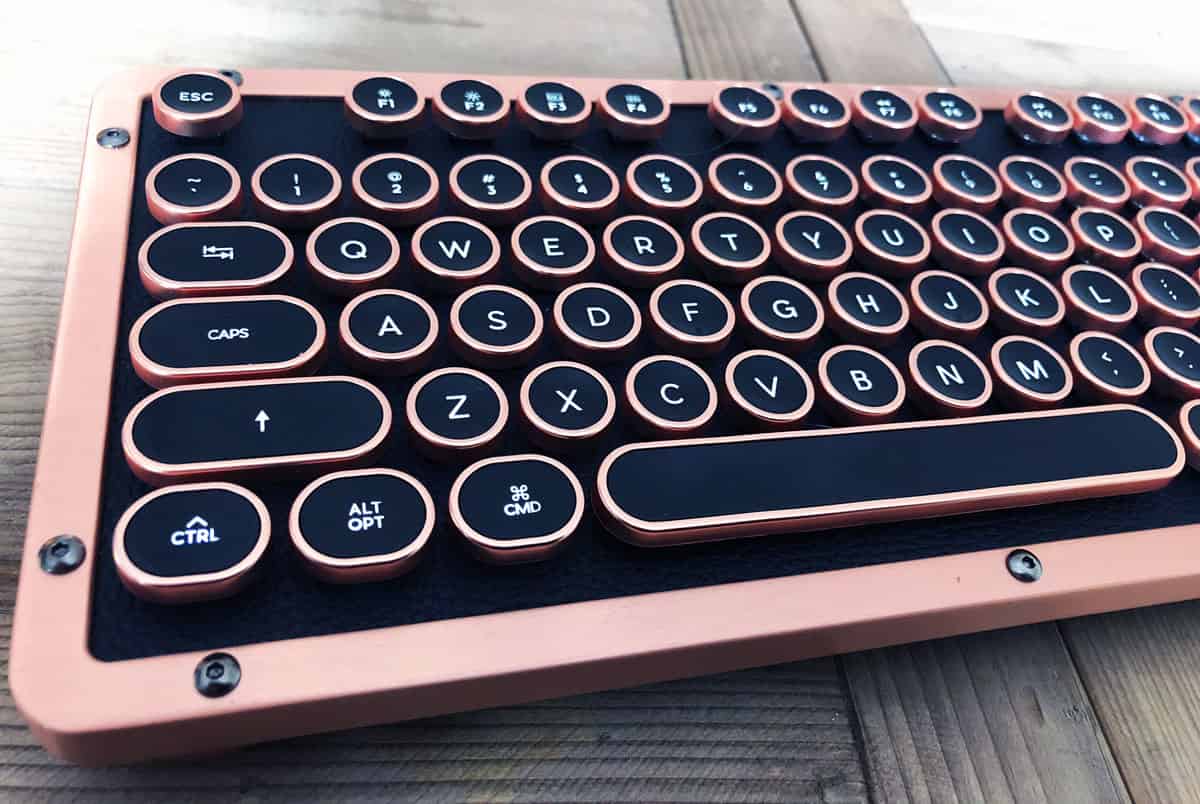 In fact, it reminds me a whole lot of the Apple Extended Keyboard II, the so-called Aircraft Carrier from the mid 1990s. I loved that keyboard, too, so judge my review with that in mind. If you hated that keyboard, you're not going to like the Azio Retro Classic Bluetooth keyboard. If you loved it, you might greet this puppy like a long lost lover you can't wait to pound away at for hours at a time.
Wait, that sounds…wrong, but I think you know what I mean.
The keys have a very long throw. Each key registers before the throw hits bottom, but it still requires a lot more effort than modern short-throw mechanisms, especially Apple's various modern keyboards. Whether this is the bee's knees or a sign of hipsterism run amuck is up to you.
Glorious
I so love the look of this keyboard. It is truly glorious. I sat on that word all weekend, and it is precisely the right word. All that copper…and the leather. I don't know how hard it's going to clean in the long run, but for now, it's amazing.
Speaking of copper, it's copper-anodized aluminum, not actual copper. And the keys—while they exactly match the look of the copper-anodized frame—are made of plastic. So closely do they match that I assumed the keys were also made of metal until I went to change them out. By default, this keyboard ships with a Windows layout, including a Windows key.
It comes, however, with a bag of Mac-specific keys for Command, the proper F-keys, and other Apple-specific keys. It took me about 5 minutes to change them all out while I was watching TV. They're easy to pull off and easy to push into place.
There's a switch on the back that controls Mac/PC functionality, as shown in the image below.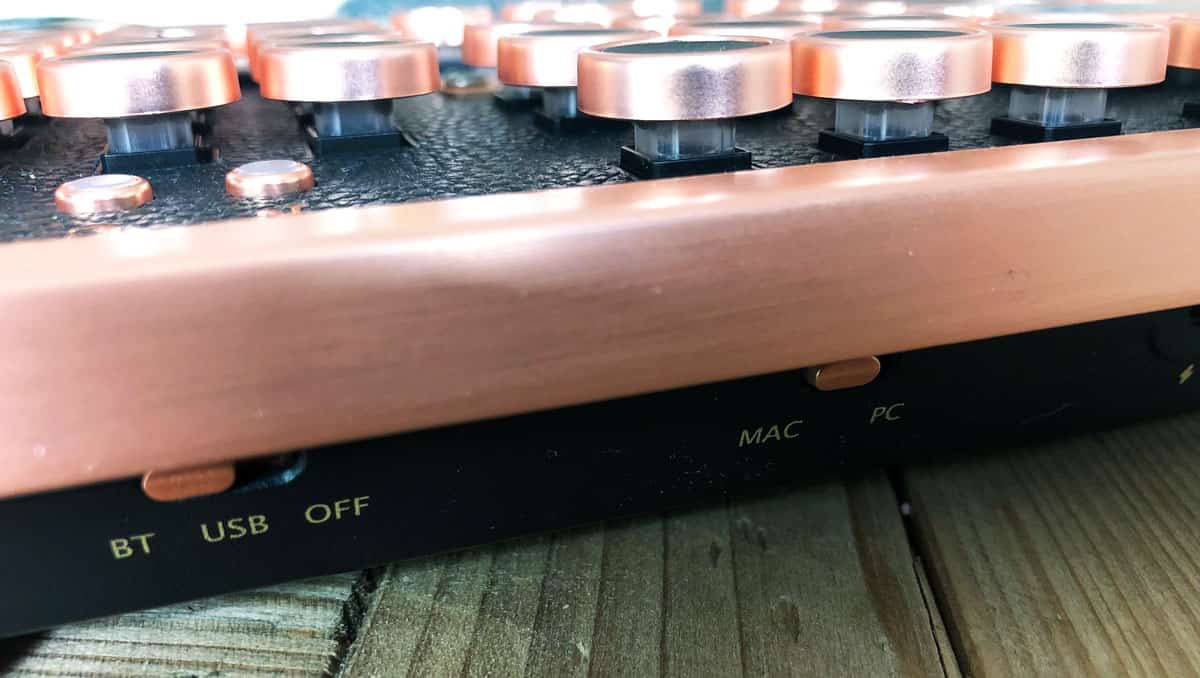 Backlit
I love the backlighting on this keyboard, and it makes me cranky my Apple Aluminum Keyboards aren't backlit. Each key has its own LED providing the backlighting, rather than some kind of keyboard-wide arrangement. That allows each key to be uniform and bright, though not so bright as to be distracting.
Conclusions
I love this keyboard, as this review makes clear—but this is a subjective call. It's the best clicky, long-throw keyboard I've used in many years, probably since the Apple Extended Keyboard II. And in most ways I like it a lot more than even that lovely. This look of copper and leather speaks to me, even though it matches none of my Apple gear, and I love the backlit keys.
If all that resonates with you, the Azio Retro Classic BT is well worth the money. However, this is not the keyboard for anyone looking for a quiet or short-throw keyboard, and make zero mistake about that.