Finding where to get the latest MacBook Pro can often be a challenge, but I'm going to show where you can go to make finding your next device a bit easier. When shopping for a new MacBook Pro, not every store is going to be equal. Some retailers can provide better deals than others, while some can also offer features that other retailers simply can't. Whatever the case, here's a few ideas for where to find the latest MacBook Pro.
Using this guide, determine for yourself what is the best place for you to pick up the latest and greatest. Whether you're looking for the best deal, or simply trying to find the retailer closest to you, follow these suggestions to see what works best for your availability and budget.
The Latest MacBook Pro
At the time of this writing, many may be deciding between getting an M1 series MacBook, or going with the M2 Pro or M2 Max chipsets. Of course, the new M2 series of MacBooks arrives with better performance, battery life and speed, while also providing up to 96GB of ram, 38-Core GPU, 12-core CPU, 8K HDMI and more in thanks to the M2 Max and M2 Pro. Users can also view this handy comparison guide to note all of the differences between the M1 and M2 series of MacBooks.
Finding the Latest MacBook Through Apple
When it comes to finding the latest MacBook Pro, looking through Apple's supply is typically the safest option. While this route is the least likely to offer a major deal, going directly through Apple does ensure that the least amount of hands has touched your device.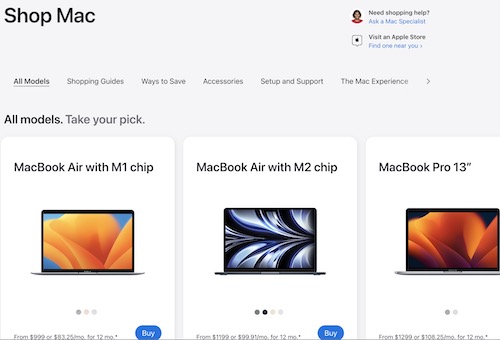 Additionally, through the Apple website, you can view the closest Apple Store near you. Even if the closest store near you is out of available stock, you can easily order anything off of Apple's website for in-store pickup. Furthermore, going the Apple route also gives you the option of trading your old device in for additional credit. Apple also allows customers to recycle their old device for free. While this may not get you the best deal, it will more than likely provide the best availability.
If the MacBook you're looking for isn't available directly through Apple, you still have additional options. When it comes to resellers, there are plenty of Apple Authorized Providers to choose from.
You can check Mac availability through Apple's official website here.
Finding Your MacBook Pro on Amazon
One retailer you may want to consider would be Amazon. Not only do they typically have the latest and greatest MacBooks available, but they are often more likely to offer discounts on certain devices. Additionally, Amazon typically also offers free delivery as well as free returns. This means that not only is getting the device easy, but should there be anything wrong with it, making a return also won't hurt a customer's wallet.
Thanks to Amazon, customers can find a variety of the latest MacBooks, be sure to checkout Amazon's website and search for MacBook Pro.
Best Buy and Walmart
Other official retailers may also be a big help when it comes to buying the latest MacBook Pro. In addition to checking Amazon, users may also want to keep an eye on Best Buy, who can also offer a discount on the latest devices. Additionally, those that use Best Buy can also take advantage of the Upgrade+ program, which allows users to make payments on their device while they use it.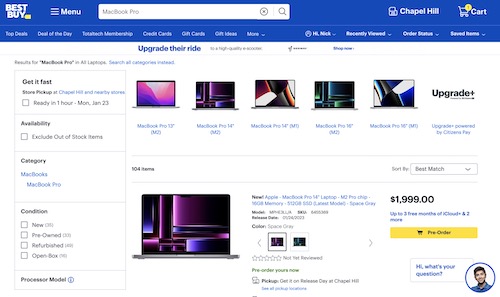 Of course, Best Buy also offers in-store pickup, alongside Best Buy Totaltech, which can be a good alternative to AppleCare+. If you do not live near a Best Buy, be sure to check online to see if there are any deals available.
If Best Buy isn't your thing, however, users can of course also take a look at Walmart to see what is available. Just like Best Buy, Walmart also provides deals from time-to-time, while also offering in-store pickup. Either one of these can be a great alternative to shopping directly with Apple.
Checkout Best Buy here.
Find Walmart here.
Other U.S. Options
While these are some of the major retailers that offer the MacBook Pro, this doesn't mean customers still don't have options. If all of these sites are out of stock on the MacBook Pro you're looking for, or if you're trying to find the best deal, there's still plenty of places to look.
If you're still looking for options when it comes to buying the latest MacBook Pro, check out these options as well. They may provide better deals than the major-retailers, though you may not get the option of in-store pickup. These retailers also may not offer additional protection plans, though remember there is alway AppleCare+.
Buying the Latest MacBook in the U.K.
For those in the United Kingdom, you also have several options. While being able to purchase directly from Apple is still on the table, those in the UK may also try shopping through Amazon as well.
If you're across the pond and looking for a deal on your MacBook Pro, there's also some other options as well. Keep in mind that while sellers outside of the major retailers may provide discounts on the MacBook Pro you're looking for, you may lose out on in-store pickup or other select offers.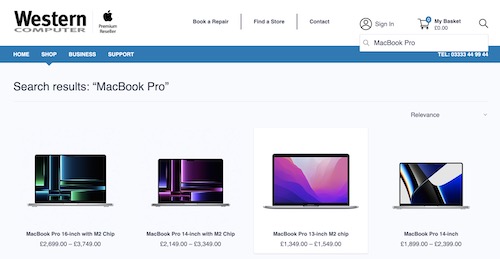 With that in mind, those in the UK can check the following websites for the latest MacBook Pro.
Conclusion
Owning a MacBook Pro can be a pretty great feeling. From the advanced computing power, to the sleek design, there's a reason many simply won't settle for less. However, finding a new Mac to purchase can often be a headache. While shopping for a new laptop can be a hassle, that doesn't mean it has to be.

Using this information, find the best MacBook Pro at a price that works for you. With so many retailers to choose from, there's plenty of options for customers to explore, with different options and prices based on availability. Using this information, find the device that is the best fit for you and your budget.