Apple added a new App Shortcuts feature to Spotlight on iOS 17. When you type an app name in Spotlight search, Spotlight will access your app usage history. And then along with the app icon, will show you some sub-options that you can jump directly to. If you tap on an App Shortcut, you will be taken directly into the app and to the option that you chose.
What Is Spotlight Search?
The search option you can access by swiping down on the home screen on your iPhone is called the Spotlight Search feature. You can also access it from the Search button on your home screen. The Spotlight Search on iOS 17 heralds with a bunch of improvements. The App Shortcuts feature is one of the new features introduced to enhance the user experience.
For example, if you type Notes on the Search Bar, along with the Notes app icon, you will also be able to see an option to start a New Note. iOS 17 is currently available in its Beta version. If you wish to install iOS 17, please follow our comprehensive guide.
iOS 17 is currently in its public Beta testing phase. Ideally, you should not update your primary Apple device to a public Beta version. If you wish to downgrade to iOS 16, please follow this guide.
How To Use App Shortcuts in Spotlight Search?
To use App Shortcuts in Spotlight Search, you just have to type the name of the app in the Search bar of Spotlight Search. Let us see how to use App Shortcuts properly. We will use the Voice Memos app in Spotlight Search for the demonstration.
Time needed: 1 minute
Use App Shortcuts through Spotlight Research.
Swipe down or tap the Search option on your iPhone home screen.

Type 'voice memos' on the Search bar and then DO NOT press return or enter. 

You will see the Voice Memo icon. And beside it, you will find some Shortcuts. 

Select the Record shortcut to start a recording.
Use Settings App Shortcuts
There are several Shortcuts available on the Settings app. Now we will learn how to access them through Spotlight.
1. Open Spotlight and go to the Search bar.
2. Now type in 'Settings' but DO NOT press enter.
3. Scroll down and select Shortcuts.
4. Now you will see all of the Settings shortcuts available.
5. If you search for Do Not Disturb or Focus Mode, you will find direct shortcuts to them.
See All Shortcuts in the Shortcuts App
You can see all the available App Shortcuts in the Shortcuts App. Let us quickly see how to do it.
1. Open Shortcuts App on your iPhone.
2. Now scroll down and have a look at the list of shortcuts of all the different apps on there.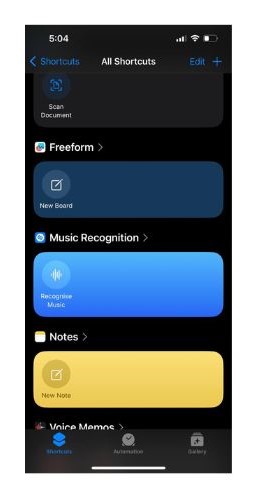 List of Apps That Support App Shortcuts in Spotlight Search
Not all apps support App Shortcuts yet as it is a new feature and is yet to be officially released by Apple. However, there are quite a few apps that support the feature. Let us have a look at a list of those apps.
Voice memos (Lets you start a recording and play the last played)
Facetime (Shows the option to call a suggested person with one tap)
Fitness (Gives you the choice to turn on Fitness Focus)
Apple Music (Shows some song recommendations and a shortcut to Shazam to recognize new movies)
Notes (Lets you start a new note)
Files (Gives you the option to scan the document)
Shortcuts (Some iOS shortcuts appear here)
Not Able To See Spotlight Shortcuts? Here's How To Fix
Not able to see Spotlight Shortcuts on your iPhone? Here is a list of simple ways to fix the problem.
Update your iPhone to iOS 17.  
If an app is supposed to have Shortcuts but isn't showing, then you should check for app updates in the App Store. Go to App Store > Search > Type the name of the app > Update (Beside the app icon)
If you haven't used an app, then you will need to open the app and go past the introductory screens.
Open Settings > Siri & Search > Check if Show Content is Search, Show App in Search, and Learn From This App are turned on.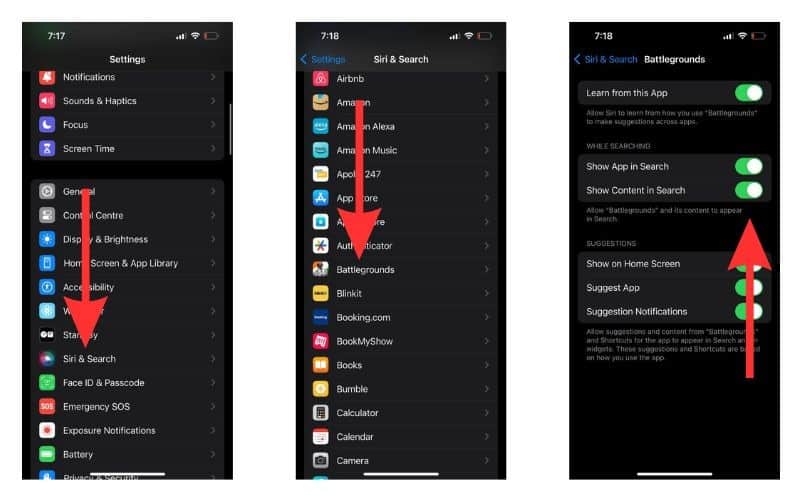 Did You Spot All the App Shortcuts in Spotlight Search?
Did you discover all of the Shortcuts of various apps from Spotlight Search? Go to the Shortcuts app and find all the Shortcuts for yourself.
Spotlight Search provides you with a lot of functionalities. You can perform a Google search, image search, and even set an alarm or timer. You can access your built-in shortcuts like (Custom Keyboard Shortcut etc.) too through Spotlight.