Recently on Mac Geek Gab the topic of phantom app data has come up, mostly in the context of how one can remove it. This data can be from deleted apps, temp files from existing apps, or sometimes even data that iTunes has downloaded for temporary storage.
Over the course of the past few episodes we've found three ways to delete this data.
Removing Phantom App Data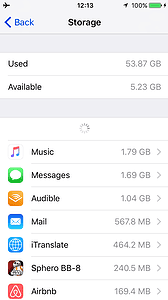 Sometimes you'll visit Settings > General > Storage & iCloud Usage > Manage Storage and you'll see data consumed by an application that's unnamed. This is generally data that was being stored for an application that you deleted. In a perfect world that data should be deleted along with the application, but sometimes it's not. Thankfully Mac Geek Gab listener Bruce taught us this method to remove it:
Reboot your iPhone by holding down the Lock button and swiping to power off. Then power it back on.
Re-download the deleted app from the app store.
Reboot your iPhone again using the same method as step one. This helps to "reattach" the data and the app.
Delete the app.
That should do it. Sure, you could backup and restore your phone, but that takes a lot longer and is a lot less fun.
Flushing Out Your iPhone's Temp Data With Movie Rentals
It's a little-known fact that attempting to rent a movie from the iTunes Store on your iPhone will trigger some temp file cleanup on your iPhone, but it's true, and listener Jeff showed us how. When you go to rent a movie that's larger than the storage you have left, it will clean up what's there and not actually rent the movie. Because of that, this method works best if you're down to about 2GB or less of available storage.
Visit 

Settings > General > Storage & iCloud Usage > Manage Storage

and confirm your free storage is 2GB or less, otherwise you might wind up paying for a movie rental!
Launch the iTunes Store app directly on your affected iPhone or iPad (not on your Mac), and find a big, honking', 3-hour-plus movie available for rental. Tell it to rent it. It'll go through the process and then fail because you don't have enough storage to actually download it for rental.
Visit 

Settings > General > Storage & iCloud Usage > Manage Storage

to see how much storage you gained during the cleanup.
You can repeat this process until you have enough storage to actually download the movie. Then you might actually download and watch it. Caveat emptor.
Flushing Out iTunes' Movie and Music Cache
iTunes can help you free up otherwise untouchable storage, but it can also be the cause of gobbling up that storage. Any time you download a movie or music it's stored in a cache that iTunes manages. Except sometimes it doesn't manage that cache and things fill up with no way of deleting them. Listener Mike comes to the rescue with this tip:
Launch

Settings > iTunes & App Store

Tap on your Apple ID and select Sign Out
Back out to the top of the Settings app and go back in to

iTunes & App Store

and sign in again.
Life is good.
Hopefully one of these three tips helps you out. If it does, share your experience and thank Bruce, Jeff or Mike in the comments below. And if you've got your own tip that helps you free up space, share that with us here, too, so everyone can benefit!