Miggo announced Pictar Pro on Tuesday. This device is part grip and part Bluetooth controller that lets you take pics on your iPhone (or Android device) more like you would on a DSLR. Though the product line is largely ready to go, the company is using Kickstarter for preorders. To that end, the Kickstarter campaign rocketed up to US$45,000 in the opening hours, well past the $25,000 goal.
As of this writing, there are a few Early Bird slots left at $119 that will net a Pictar Pro. Once those are gone, the opening pledge that includes a Pictar Pro jumps to $129.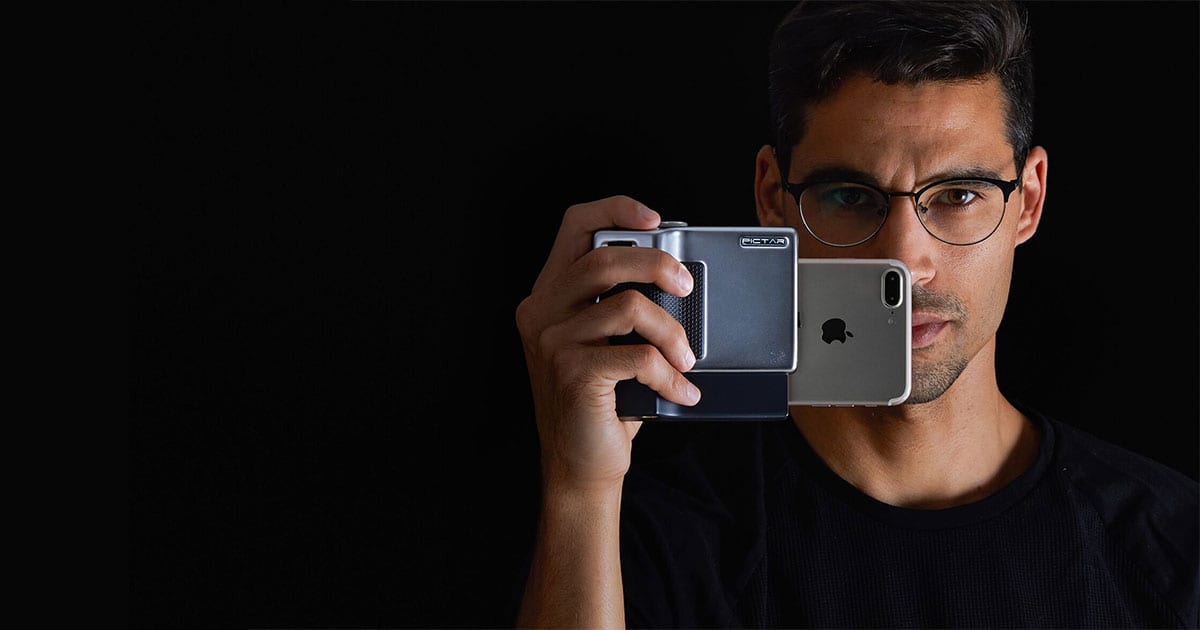 This story started for me with the original Pictar, which we ran as TMO's deal of the day a few weeks ago. I mentioned then that it was the sort of product I'd have mentioned as a Cool Stuff Found if we didn't have a deal on it, and then Miggo pre-briefed me on the new version, Pictar Pro. And the Pictar Pro is even cooler.
A Viewfinder for the Smartphone Age
The number one feature I can't wait to try is the viewfinder, which lets you frame your shot via a camera-like view when using the Pictar app. How, you might ask? Pictar Pro has a viewfinder, and then the app shrinks the screen's image down to match that viewfinder, which is clever solution. I am in luuuuurve with this idea because I prefer framing my shots with a viewfinder—though it might be fairer to say I loathe framing my shots on a screen. And it's not just because I grew up with cameras. Viewfinders block out the rest of the world, making it easier to focus solely on what will be in my image.
Mind you, you can still use your iPhone's screen with Pictar Pro. The viewfinder is just a much-desired (by me) option, and I can't wait to test it.
Sturdier, Bigger Buttons and Knobs
Miggo also said that the buttons and knobs on Pictar Pro are bigger than on the original Pictar, and the device itself is sturdier and heavier. The grip has a sharkskin-like material, and it is ergonomically shaped to be easier to hold. The body is made of brass with a satin finish, and it features four external control wheels and
buttons. Here's what those buttons do:
Exposure compensation wheel for superior control over the exposure and darkness or brightness of the image.
Multi-state Shutter Release button offers two modes: a half-press to lock the focus and exposure, and a full click to shoot.
Rocker Zoom Switch for ease of use and continuous smooth motion of the zoom, even in video shooting. And depress it to change from front-to-back camera for fun selfies.
Smart Wheel – Rotate the wheel left and right to switch between 9 different shooting modes: Auto, Shutter Priority, ISO Priority, Manual, Macro, Video, Selfie, Sport and Filters. Press the wheel to switch between the different flash modes. The button can be easily programmed to change its function via the application.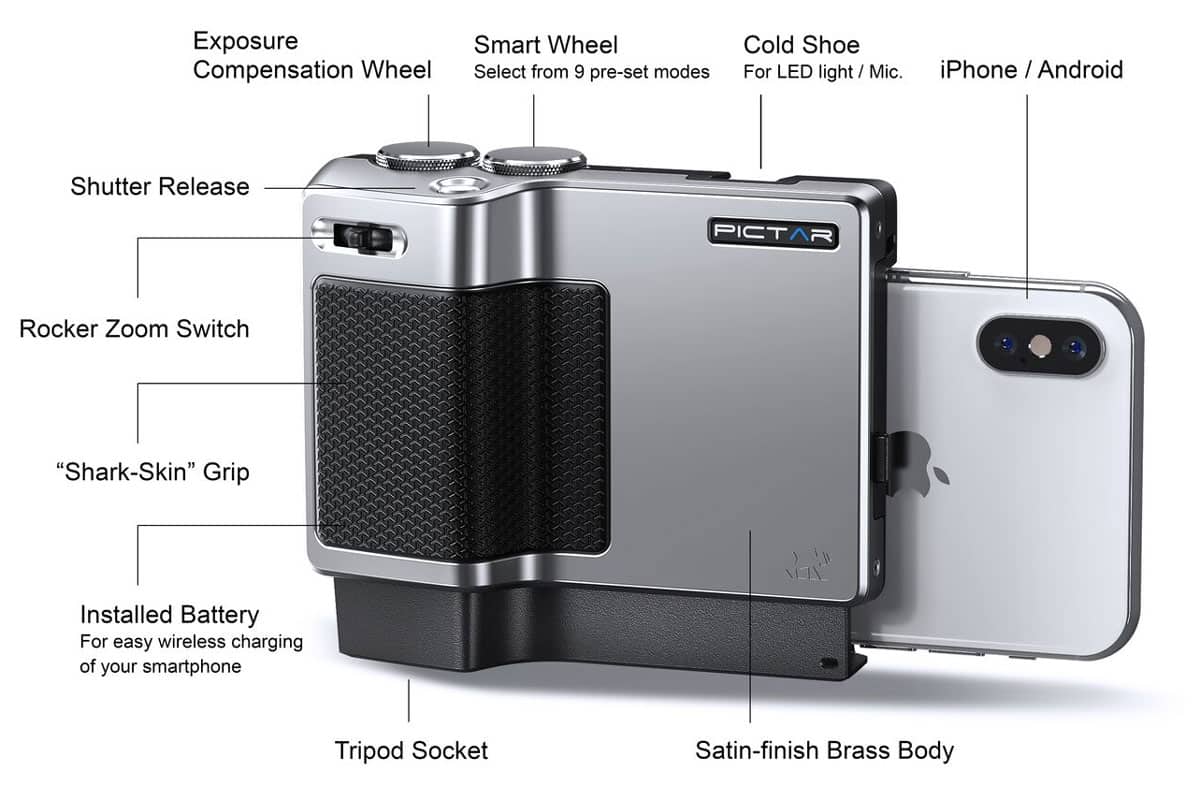 You can also use it whatever third party lenses you might want to use. As you can see from the pic, your iPhone's lenses are clear and out in the open.
Marrying Classic Camera to the Modern Smartphone
Smartphones are the cameras for the rest of us, led by Apple's iPhone. There's no denying it. But, there is something undeniably better about the classic SLR/DSLR form factor. It's more natural to hold and being able to block out the rest of the world while framing your shot is objectively better (again, to me). I fell in love with the Pictar concept when I was first prepping that deal of the day, and Pictar Pro makes it even better. As I mentioned, I can't wait to test it.