HomePod Primer
HomePod is Apple's wireless smart speaker with an A8 processor, seven tweeters, six far-field microphones, a high excursion woofer, and limited Siri support. The speaker dynamically adjusts its audio based on where it's placed in a room to improve audio output and to create a stereo-like sound from a single unit.
You can control your HomeKit devices with your voice through HomePod, and like Apple TV, it serves as the remote connection to your smart home devices when you leave your local network. It also lets you use your voice to control smart home devices, no need to raise your iPhone or Apple Watch to talk. That's a big plus for anyone who wants a completely hands-free voice system for Siri, like we already see with Amazon Echo and Google Home.
As a speaker, HomePod is getting good reviews. Even Dave Hamilton, who knows his audio and is already heavily invested in Sonos, thinks it sounds pretty good.
HomePod vs Apple TV: What if I Have Both?
Let's say you already have an Apple TV and you add a HomePod. Which acts as your HomeKit hub when you're out and about? The short answer is: either. The longer answer is your HomeKit hub devices decide on their own which will serve as the hub, and that can change any time based on device status.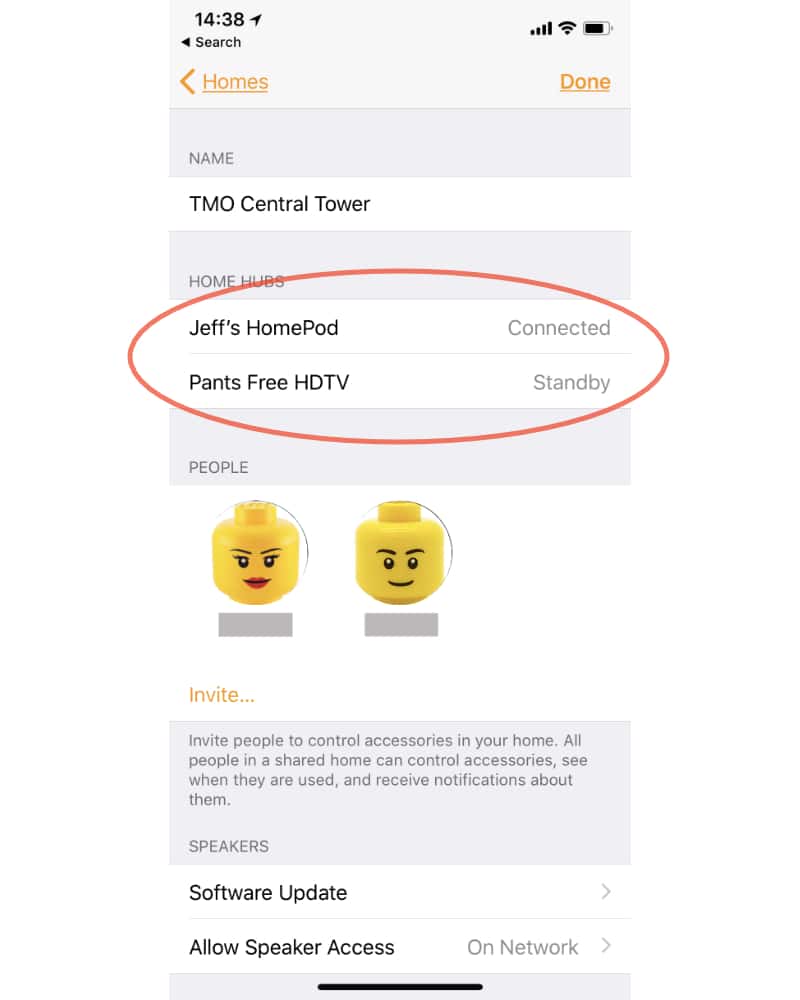 On my network, for example, my Apple TV has served dutifully as my HomeKit hub ever since that was an option. It continued to fill that roll for a couple days, and then my HomePod took over. At some point my Apple TV went into standby mode and when I power cycled my HomePod it took over as the hub. So far it's been just as reliable as my Apple TV.
You can see which device is serving as your hub by launching the Home app on your iPhone or iPad, then tap the location icon in the upper left corner. Now tap Home Settings and select your network. While you can see all of your hub devices, you can't select them, or change their status.
At first that annoyed me because I wanted to set which device served as my hub. Later I started wondering why it matters because what I really need to know is that at least one device is doing the job. Also, if I set a specific device as the hub, and it goes offline when I'm away from home, I couldn't switch to the other because I've lost remote HomeKit access.
What does that mean for your HomeKit hub choice? I'd recommend avoiding using an iPad since you pretty much can't use it for anything else, and you're limited in how many devices it can control. As far as choosing between Apple TV and HomePod, either is fine—or both. Get what fills your other entertainment needs and let HomeKit choose which it wants to use as a hub. If you want to speak to the air and have your HomeKIt devices do your bidding, HomePod is the way to go.