The wait is over: the Apple Card now features a Savings account wherein users can deposit their Daily Cash, in thanks to Goldman Sachs. This new Savings account offers an astounding high-yield APY of 4.15 percent, which is ten times higher than the national average as of March 2023. There's additional benefits too, of course. However, what's important to know is that once a user sets up a Savings account, all future Daily Cash earned by the cardholder will deposit into the account automatically. As if there already weren't enough reasons to check out the Apple Card.
Knowing this, I'm going to explain how a user can go about setting up this Savings account, as well as explore the benefits of opening one. Naturally, before a user goes and sets up the Savings account, there's some things they should consider. I'll go into this information, giving users all the details they need concerning this new account. I'll also go a bit into the new Savings dashboard in Wallet, wherein users can check their balance and interest earned. 
What to Know About the Apple Card Savings Account
Before getting into setting up a Savings account, users should know how it functions. Those that setup a Savings account are agreeing to have their future Daily Cash deposited into the account. Users will then get to accrue interest on the Daily Cash received from Apple Card purchases, which currently has an Annual Percentage Yield, or APY, of 4.15 percent. Additionally, users will also earn interest on their deposits made to Savings that are linked from an external bank account or from Apple Cash.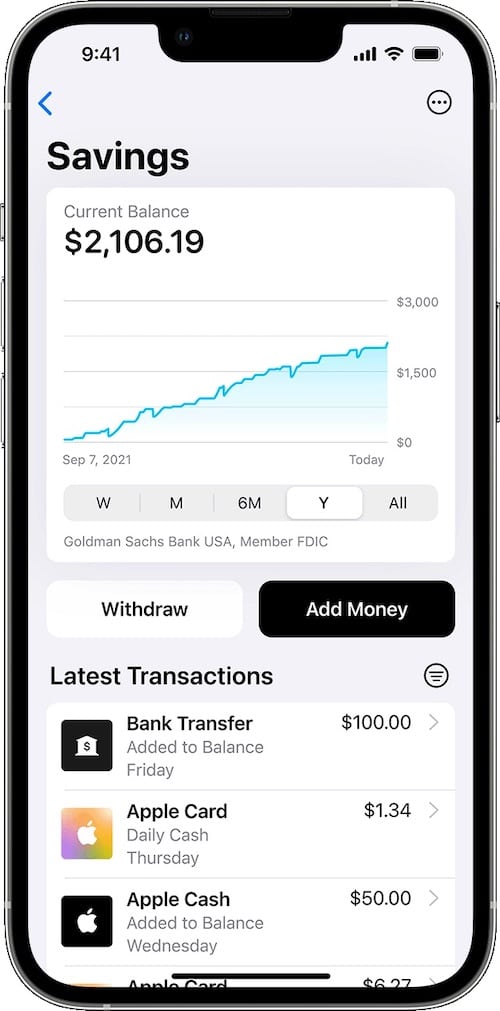 Cardholders should also be aware that there are no fees or minimum balance requirements. Of course, if you haven't signed up for an Apple Card, you can check out how to do so here while also checking the status of your application.
Apple Card and Your Money
In terms of accessing the money, users will not be able to make purchases in Savings directly with Apple Card nor Apple Pay. Rather, users will be able to access their funds via transferring the money from Saving to the Apple Card or a linked external bank account. Users should also know that if you are a member of Apple Card Family, only owners or co-owners can set up an account, and they will only be able to view their own account details and balance in Wallet.  
For those that are interested in opening an account, there's a couple of things that you should know: 
You must be an owner or a co-owner of an Apple Card that is active. Said Apple Card must also be added on your iPhone. 
You must be 18 years or older. 
Users must have a social security number or an individual taxpayer identification number. 
Users must also be a U.S. resident with a physical and valid U.S. address. 
You must have two-factor authentication set up on your Apple ID, and you must have the latest version of iOS on your iPhone. 
Users may also want to take a look at the Deposit Account Agreement to investigate additional terms and conditions. While there is no minimum balance to open an account, users can only have a maximum balance of $250,000. Be sure to check the agreement for more information.
How to Set Up the Apple Card Savings Account
Armed with this knowledge, if you want to set up a high-yield Savings account through Apple Card, you only need to follow a couple of steps. 
Time needed: 1 minute
Setting up an Apple Card is as easy as opening an app.
From your iPhone, navigate to the Wallet app, and then tap Apple Card.
Select the more button (ellipsis) and select Daily Cash. 
From here, select Set Up, located next to Savings. After this, you will be presented with on-screen instructions. 
Be aware that when opening a Savings account, users will be asked if they want to transfer funds from their Apple Cash balance to the new account. This money will then start to earn interest. If users do not wish to transfer money, they can simply hit the Close button. However, if you do want to transfer money, select Transfer Your Apple Cash and follow the instructions that appear on screen. 
Additionally, users should also know that if they have any Daily Cash that is available to redeem as an Apple Card statement credit, the Daily Cash will see a transfer to the new Savings account once Savings is set up. Users should also be aware that if their Apple Card account is locked or restricted, they may not be able to open a new Savings account. Users may also not be able to transfer money from or to Savings. If this is the case, users may want to get in touch with a Savings Support Specialist.
How Do I Deposit Money Into My Apple Card Savings Account?
Of course, if you need or want to deposit money into the Savings account, this is also relatively easy to do. However, whenever a user opens a Savings account, said users agrees that any Daily Cash earned will automatically deposit into the account. Users can also add money via Apple Cash, or by linking to an external bank account.
If you're looking to deposit money into your Savings account, simply follow these steps:
From your iPhone, go to the Wallet app and select Apple Card.
Select Savings account, then choose Add Money. 
Type in the amount you would like to add, then select Add.
You will then need to choose or enter the payment source from which you will add money. 
Finally, double-click the side button on your iPhone to confirm with your passcode, Touch ID or Face ID. 
On the subject of adding money, users should know that any money deposited into Savings begins earning interest the day the transfer sees initiation from the Wallet app. Users should also know that when you transfer money from Apple Cash, the funds are usually instantly available. Though, money you transfer from an external bank account will likely take a couple of days for the funds to become available. 
How Do I View My Apple Card Savings Account?
Naturally, not only are you able to set up a Savings account and make deposits, users are also able to view their accounts as well as check-in on any interest they have earned.
From the Wallet app on your iPhone select your Apple Card.
Select Savings account. You will then be able to view your Current Balance. This balance may include pending depositions and transactions. This means that users may not have the entirety of the balance available to them. 
From here, users can tap the More button, then choose Account Details. This shows the available balance. Users will be able to immediately withdraw this amount. Furthermore, users will also be able to view interest that has been earned for the year as well as the current or APY. 
Get the Most Out of Your Apple Card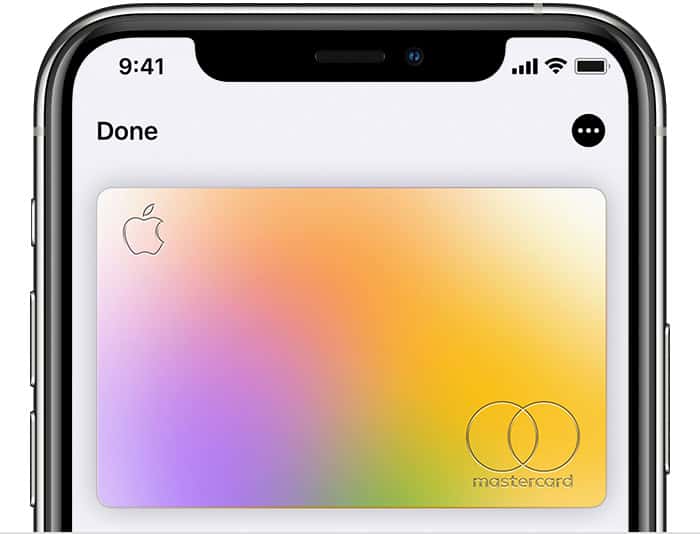 With the new high-yield Apple Card savings account, there's now even more reasons to apply for the card. Not only is receiving money back on certain purchases a fantastic bonus, but being able to accrue interest on said money is even sweeter. Of course, users may also want to know how they can apply their Daily Cash to their Apple Card. There may even be times when a user needs to know what to do if their Apple Card balance isn't updating. 
Those looking for a reliable Credit Card with a lot to offer have likely come to the right place. In addition to the Savings account, Apple Card users always get a percentage Cash Back on their purchases. Not to mention the all-aluminum Apple Card looks rather sleek on its own. See if you qualify, and start earning money you can put toward your Savings right away.