Walkie Talkie is a cool new feature in watchOS 5 that lets you have voice chats with friends through your Apple Watch. It's easy to set up and use. Follow along to learn how.
To use Walkie Talkie you first need to update your Apple Watch to watchOS 5. If you have the original Apple Watch, now known as Apple Watch Series 0, you can't install the new watchOS version.
To set up and use Walkie Talkie on your Apple Watch, do this:
Press the Digital Crown on your Apple Watch to show installed apps and tap the Walkie Talkie icon. It looks sort of like a little camera with an antenna sticking up from the top.
Add someone from your Contacts list by tapping their name. They need an Apple Watch with watchOS 5 installed, too, for Walkie Talkie to work.
Now tap your friend's yellow Walkie Talkie tab to start a chat.

Press and hold the yellow

Talk

button and start talking to your friend. When you're done talking, let go of the

Talk

button.
When your friend starts talking the yellow button turns into bouncing rings. When they're done, the

Talk

button returns.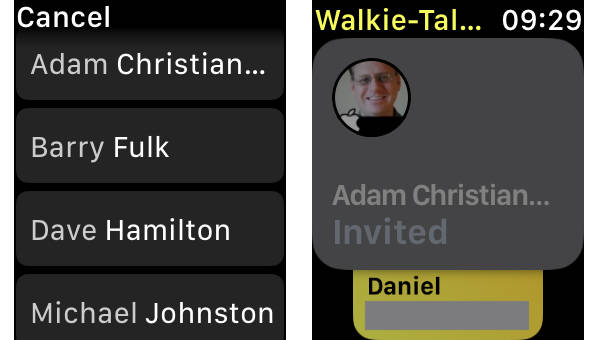 In my tests Walkie Talkie works really well. It's great for quick chats that you'd otherwise have via text in Messages because only one person can talk at a time. If you need a more in depth conversation just make a phone call or use an app designed for real voice chat, like Skype or Discord. Also, you can carry on only one Walkie Talkie chat at a time.
[Apple Watch Adds Walkie Talkie App and New Workout Features in watchOS 5]
Walkie Talkie Available and Unavailable Setting
The friends on your contact list can chat you up any time your Apple Watch is unlocked, so Apple included a sort of do not disturb feature in Walkie Talkie. That way you don't have to worry about surprise chats during meetings or other potentially awkward moments.
To set yourself as Unavailable in Walkie Talkie, do this:
Tap the name of your current Walkie Talkie partner. It's in the upper left corner of the app.
Swipe down from the top of your Apple Watch display to show the

Available

toggle
Switch

Available

off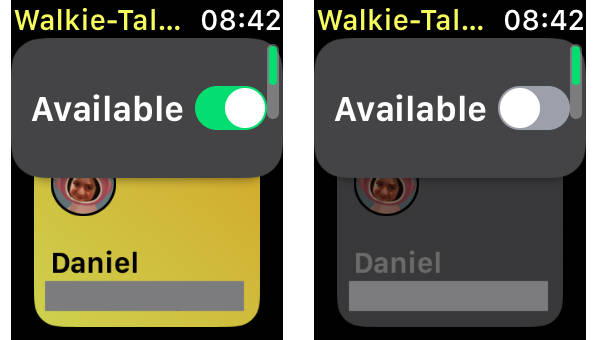 Here's the sort-of confusing part: If you tap on a contact in your list you're immediately set to Available again. As long as you don't tap anything in the Walkie Talkie app you'll stay unavailable.