Apple's promised new iPhone battery-related performance management features made their first appearance in iOS 11.3 developer beta 2. Here's what you can expect when your iPhone battery starts wearing out.
Apple added the new battery health information and management feature to iOS 11.3 in response to customer complaints about the way the company fixed an issue where iPhones with degrading batteries were experiencing unexpected device crashes. The crashes were caused by the processor trying to draw more power than the battery could provide, so Apple spread those intensive tasks over multiple processor cycles. The end result was slower iPhones, which many people interpreted as Apple intentionally hobbling performance to force new phone purchases.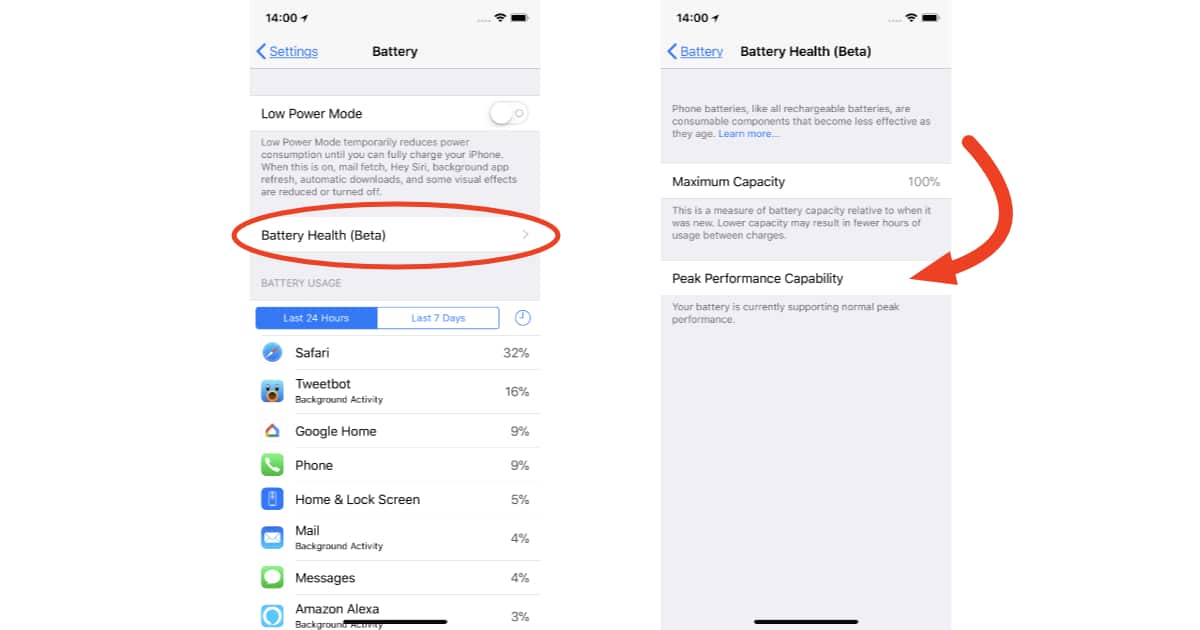 Ironically, Apple's fix was designed to prolong iPhone life and improve stability. The real problem was the company wasn't transparent about what was happening, despite what CEO Tim Cook says.
Cook said we'd see more useful information about iPhone battery health in iOS 11.3, and with the second developer beta we're getting our first look at those changes.
iOS 11.3 Battery Health
To see the new battery information in iOS 11.3 go to Settings > Battery > Battery Health. This is where you'll see your iPhone battery's maximum capacity (100% when your battery is new). As your battery ages and loses the ability to hold the same charge it did when new you'll see the percentage drop. That's showing how much your current full charge capacity is in relation to when the battery was new.
Assuming your iPhone battery is capable of holding enough of a charge to handle peak processor demands you'll see:
Your battery is currently supporting normal peak performance" under Peak Performance Capability.
If your battery is wearing out and can't provide that power level any more you'll see:
This iPhone has experienced an unexpected shutdown because the battery was unable to deliver the necessary peak power. Performance management has been applied to prevent this from happening again.
That's when you're likely you're likely to notice your iPhone performing slower than you expect.
Disabling iPhone Battery Performance Management
iPhone battery performance management is off by default. It turns on automatically if your iPhone detects crashes because of a degrading battery. If you'd rather live with phone crashes and faster performance, you can disable the feature.
You can disable battery performance management on your iPhone by going to Settings > Battery > Battery Health. Now look for the message under Peak Performance Capability letting you know performance management is active. Tap Disable (at the end of the message) to turn performance management off.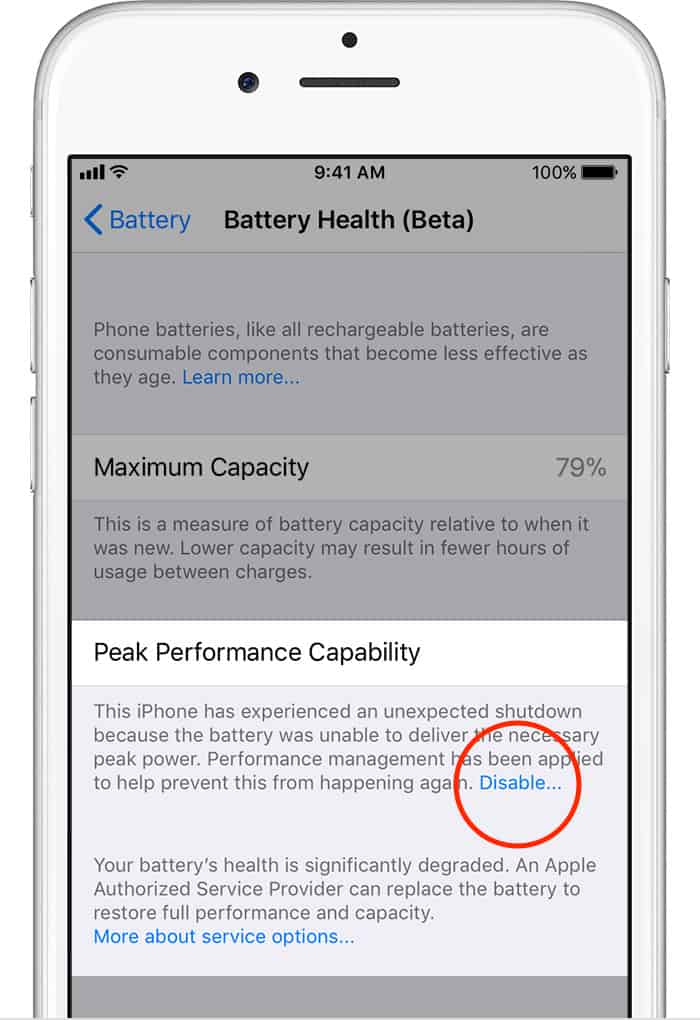 Once disabled, performance management stays off until you explicitly enable it again. Keep in mind you may experience stability issues and unexpected phone crashes. As long as you're OK with that, you can turn off the feature.
When Will Performance Management be Available for Everyone?
Unless you participate in Apple's developer or public beta programs you'll get iOS 11.3 and its battery performance management settings in a free update this spring. You'll also need an iPhone 6 or newer to see the feature even though iOS 11.3 will run on some older iPhone models.