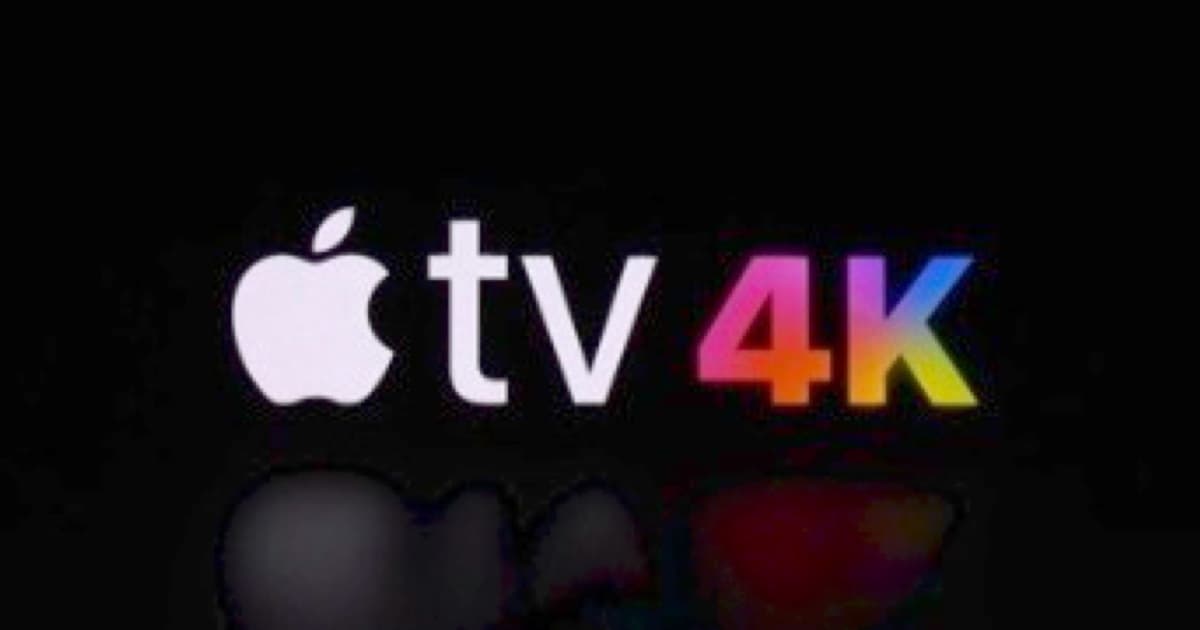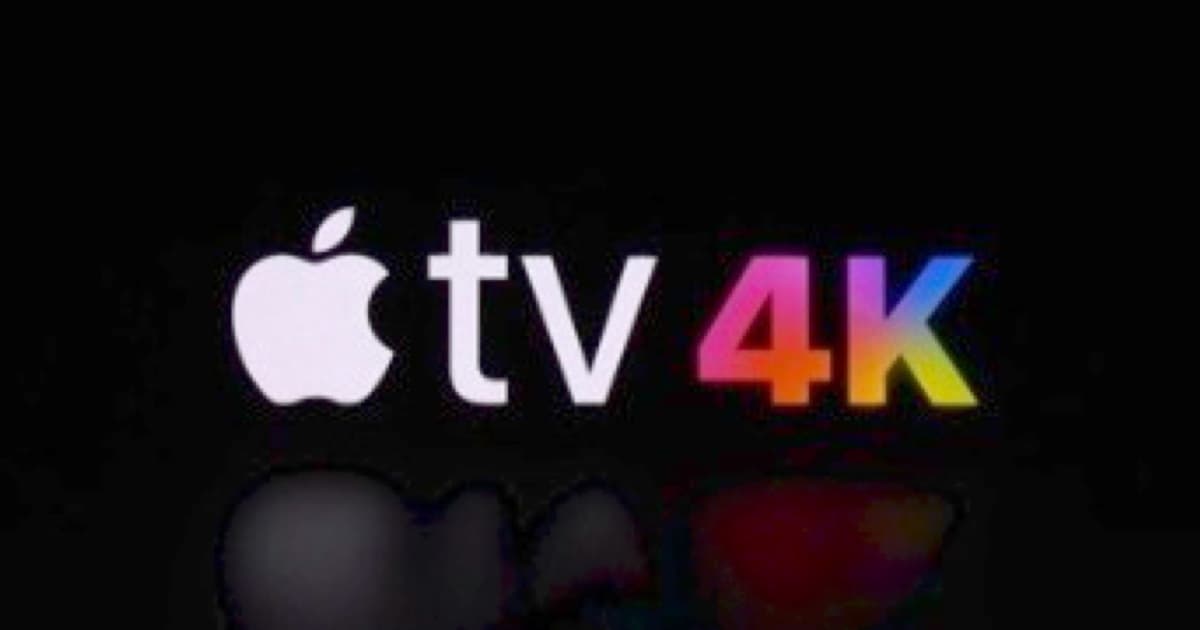 Getting an Apple TV set up and working correctly requires some knowledge of:
Some basic 4K/UHD/HDR notions.
Apple TV connections.
Apple TV set up and settings.
I'll cover each of these below. I suggest reading the entire article before you start unboxing.
Some Basic 4K/UHD Notions
Your Apple TV 4K is capable of receiving and displaying digital video in many resolutions, starting with 480 x 640. The highest resolution is called Ultra High Definition (UHD) and is 2160 x 3840. You're probably reading this because you also have a UHD TV (sometimes, loosely referred to as 4K). But if you do not, and you're still using a standard High Definition (HD) TV that's either 1080 x 1920 or 720 x 1280, your Apple TV will try to connect at the highest possible resolution. If that fails, it will fall back to a lower resolution that your TV supports.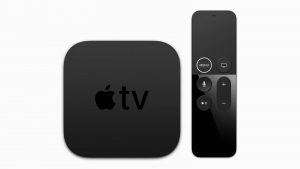 Be sure to watch closely during set up because you will see a display asking if you can see the picture. If you can see it, respond affirmatively with the remote. If the Apple TV doesn't get a response, it will fall back to a lower resolution.
One of the coolest things about the UHD revolution is the introduction of what's called High Dynamic Range (HDR). HDR supports a wider range of colors, luminance and possibly contrast. If your TV supports HDR, the Apple TV 4K will detect that and try to deliver HDR content to it. If not, you'll see 4K, but in what's called Standard Dynamic Range (SDR).
There are two kinds of HDR: 1) HDR10 and 2) Dolby Vision. The later is a more capable version of HDR. There is no obvious way to get an indication on your screen that the content is in HDR except to note the description of the content when you select it. However, Dolby Vision content will display a badge.]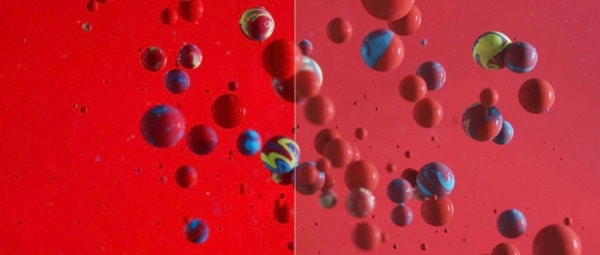 For more information, see: Most Everything to Know About Apple TV 4K
Also, you'll have to make some behind the scenes preparations to watch HDR content on Netflix. See: "How to Get 4K/UHD and HDR Content on Netflix with Apple TV 4K" Netflix told me, for those 200 titles that support HDR: "In the case of Apple TV 4K, users will receive Netflix in Dolby Vision." However, whether the Apple TV 4K can, in turn, actually pass the Dolby Vision content on to the TV depends on whether the TV is enabled to receive it. If not, then the Apple TV will automatically downgrade the picture to HDR10.
Apple TV Connections
Out of the box, you'll note that the Apple TV 4K has three ports. 1) Power, 2) HDMI and 3) Gigabit Ethernet. There is no power switch. It's okay to power up/shut down with a (surged protected) power strip. If you don't have a wired Ethernet connection to your home router, leave the port empty. It will instead try to connect to your home Wi-Fi network. Have your password handy.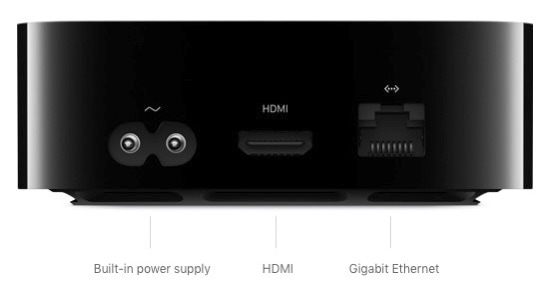 The Apple TV 4K doesn't come with an HDMI cable to connect to your TV. Apple recommends this one: "Belkin Ultra High Speed HDMI Cable" ($30.) Place the Apple TV 4K on a smooth, hard surface to ensure good airflow into the bottom vents.
Note that some UHD/4K TVs may have multiple HDMI inputs, but often, only a few support all the capability the TV has to offer, such as HDR. That's typically HDMI input #2 or #3 on Sony TVs. (Your TV may be different.) Even if you have a UHD AV receiver as an intermediary, it's a good idea to start by connecting the Apple TV 4K directly to the TV first to verify that all is working correctly. Later, if you introduce a receiver into the video stream and there's problem, you'll have isolated the cause.
Apple has an excellent introduction to all this: "About 4K, HDR, and Dolby Vision on your Apple TV 4K." It includes a link to get help directly from Apple.
After you've powered up your TV and the Apple TV, connected the HDMI cable, and (optionally) logged it onto your Wi-Fi network, you're ready to continue with set up. Be sure to tell your TV which HDMI input to use! That's usually the INPUT button on the TV's remote.
Apple TV Set Up and Settings
If you have an iPhone with iOS 9.1 or later, log on and have it handy. During the setup, the Apple TV 4K will invite you to place it very close to the Apple TV so that your Apple ID credentials can be transferred. (If you don't have an Apple ID, you will need to create one first.) This avoids typing in your very long and secure password.
Press the Menu button on the remote (it has a white ring around it), and your remote should connect automatically to the Apple TV 4K.
If you have an account with your local TV provider, you can use those credentials for Single Sign-on. Apple explains here: "Use single sign-on with your iOS device, Apple TV 4K…"
Next, look at Settings > System > Software Updates and make sure you're at tvOS 11.2.1 or later. If not, take a few minutes to update. This is important.
Next, goto to Settings > Video and Audio. Make sure you have "Match Dynamic Range" and "Match Frame Rate" set to "On."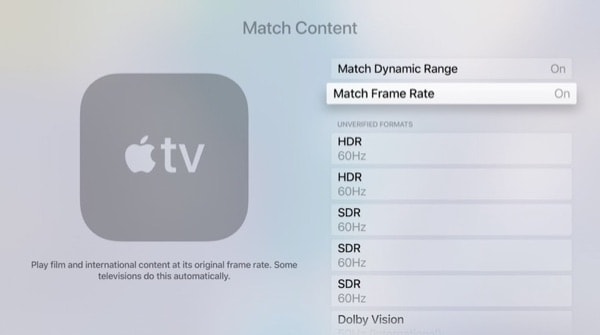 There are some other settings, such as Settings > General > Appearance that you can experiment with at your leisure.
If you're eager to watch 4K/UHD content, you're ready buy or rent, with your Apple TV, movies and TV shows from Apple. Or you can download one of many video streaming apps from the Apple TV App Store. Popular ones are Netflix, Amazon Prime Video, and Hulu. There are many others. Most of them require you to have an account previously set up for billing purposes. For example, Amazon Prime is US$99/year and has oodles of benefits.
Your Apple TV 4K has a scaler and will convert HD content to UHD if you have a UHD TV connected.  While many movies you may watch will be in HD, they'll be scaled up to your UHD TV's resolution, and they'll look pretty good. But there is no HDR support for HD content, and it's not planned by the industry.
Apple Apple has an excellent tutorial on getting started with watching content. "Find and watch movies with 4K, HDR, or Dolby Vision." It includes a mention of the fact that your internet connection should be capable of 25 Mbps for 4K/UHD content.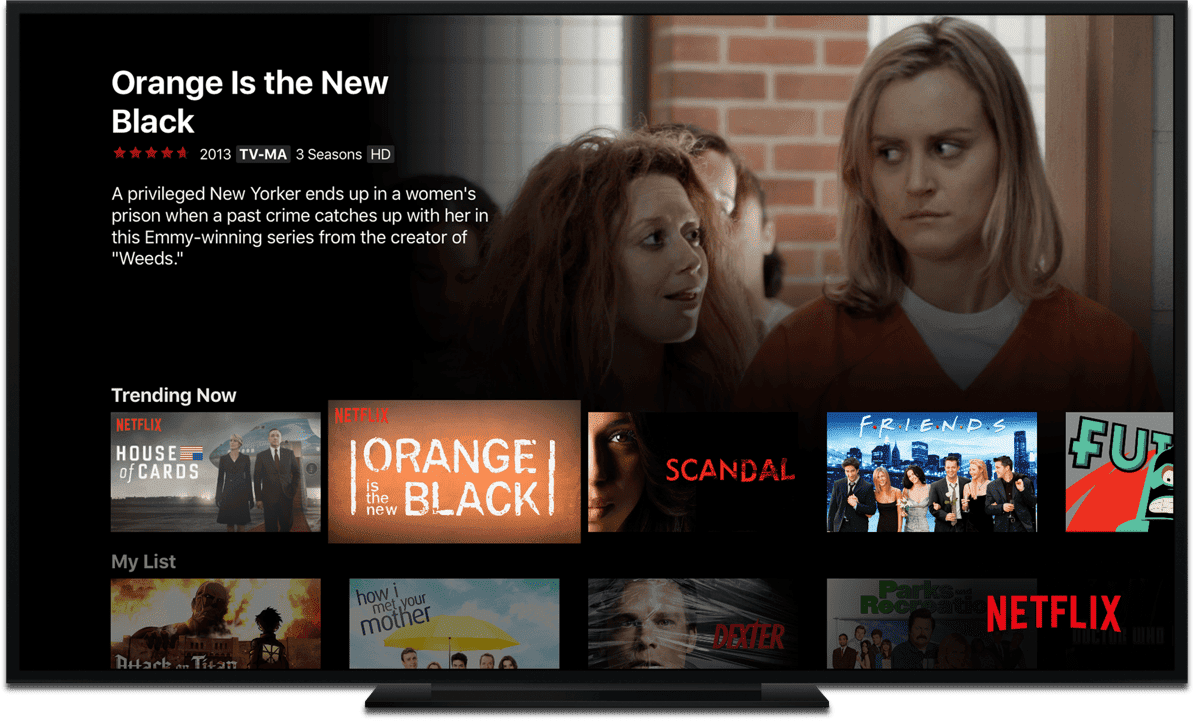 If you have a problem, Apple support is excellent. Have your Apple ID and password handy, and go here: "Contact Apple Support."
Now you're all set up to watch 4K/UHD/HDR content on your new Apple TV 4K. Time for some fun.