When the first Apple Watch was introduced in 2015 Apple—and users—were trying to figure out exactly what the device would be. The device's evolution has followed a path to where we are today: Apple Watch Series 4 is a health and fitness monitor first, and a wrist-top information terminal second. It handles all those tasks well, and in a great looking package, too.
This year's Apple Watch has a bigger and brighter display, new heart sensors, and can detect when you fall. So is it worth the upgrade? Read on to find out.
Apple Watch Series 4 Specifications
Apple Watch Series 4 packs in S4 chip includes a 64-bit dual-core processor with up to double performance compared to previous models. It also includes a new gyroscope that offers twice the dynamic range capable of detecting when someone falls.
The updated heart rate sensors can now give alerts for low heart rate, irregular heart rate, and track electrocardiogram data. Apple says this is the first over-the-counter device that offers ECG tracking with FDA clearance.
The new models offer the same 18-hour battery life as previous models, and activity tracking is less power hungry. I love that Apple managed to keep battery life up even with the bigger and brighter displays, plus the new heart sensors, but it's still too short. Despite the winter sports and hiking fitness tracking features, an 18 hour battery makes Apple Watch an urban fitness watch.
[How to Pick Just the Right Apple Watch Series 4]
Apple needs to figure out how to extend Apple Watch battery life in a significant way. Noting how much technology Apple packed into such a small package is fine, but it doesn't change the fact that Apple Watch is worthless for an overnight backpacking trip, a weekend in the woods, or any activity that takes you away from a power outlet for more than 24 hours.
Apple Watch Series 4 Availability
Apple Watch Series 4 is available now online and in Apple's retail stores. It's also available through other retailers such as Best Buy and Target. The 40mm model is priced starting at US$399 with GPS, and $499 for GPS plus cellular. The 44mm model starts at $429 with GPS, and $529 with GPS plus Cellular.
[Apple Announces Apple Watch Series 4 with Bigger Display, New Watch Faces]
Apple Watch Series 4 Display
The new Apple Watch models look about the same size as previous models, but have substantially larger displays. Instead of 38mm and 42mm sizes, the new models come in 40mm and 44mm. The bezels are also much smaller, so the usable surface area is striking with the new small size watch sporting a bigger display than previous year's large size. Apple managed to pack a screen that's bigger than the Series 3 42mm into a watch that's essentially the size of the 38mm.
The displays are still OLED, and they're about 30% brighter. Numbers are just numbers, so let me put it this way: The display on my Apple Watch Series 4 is markedly easier to see in Colorado's bright afternoon sun. I occasionally had to shade my Series 3 to read the display, but not my Series 4.
The new screen size and brightness is so noticeable that it almost seemed weird at first. It took a bit of getting used to, but don't worry, I quickly adapted and now wonder how I got by with the puny screen on my Series 3 Apple Watch.
If you're holding on to your older model Apple Watch because you don't think the changes in Series 4 are significant enough to warrant the upgrade, you haven't seen the new displays yet. Seriously. These displays are that big of a deal.
Watch Faces and Complications
I'm having something of a dysfunctional relationship with Apple Watch complications. For those of you who're new to Apple's smart watch, complications are the little watch face add-ons that show things like the weather, your fitness rings, and the date.
I love that I can add discreet bits of data to my Apple Watch face, and that I can choose exactly which complications I use—except for when I can't. Not all complications work with every watch face, and the only way you'll know is to start customizing yours and see what's there, and what isn't.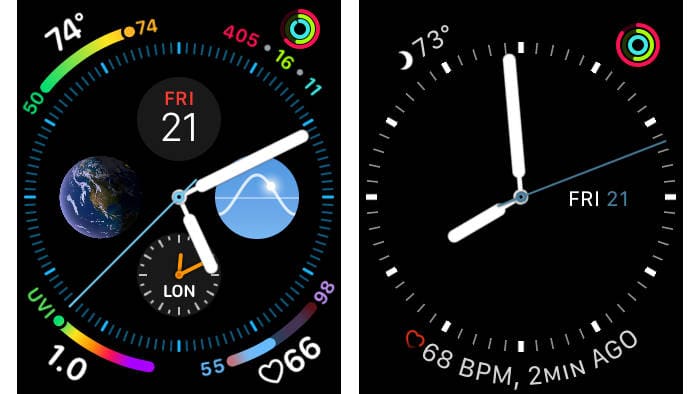 It's also lame that the fancy new complications that can show even more data are available only on the Infograph watch face. That's the face you see in Apple's ads. It holds up to eight complications, so you can make an insanely data-dense watch face if you want.
Infograph is way too, well, complicated, for my taste. I still prefer my customized version of the Utility watch face. I even turned off most of the Infograph complications to match my comfortable and familiar Utility face, but it still feels too garish for me.
I get that a lot of people love the new Infograph face—Bryan Chaffin and I have talked about it more than once on TMO's Apple Context Machine and Daily Observations podcasts—and that's awesome. I love that we have more watch face choices now. It's just too bad we don't have an easy way to tell which complications work with the face you want, or to just use all of them on any watch face.
Apple Watch Speaker and Microphone
Apple did a little rejiggering with the speaker and microphone this time around. The speaker slots are now side by side instead of stacked and still on the side opposite the Digital Crown. The speaker is also louder and sounds clearer compared to my Apple Watch Series 3. In fact, the speaker is so much louder and clearer that I'm now wondering how I managed to get by with the sound in my previous watches.
The microphone moved from the speaker side and now sits between the Digital Crown and long button. That should help avoid audio interference with the speakers. I can tell the difference when chatting via Walkie Talkie with my friends that have Apple Watch Series 2 or 3.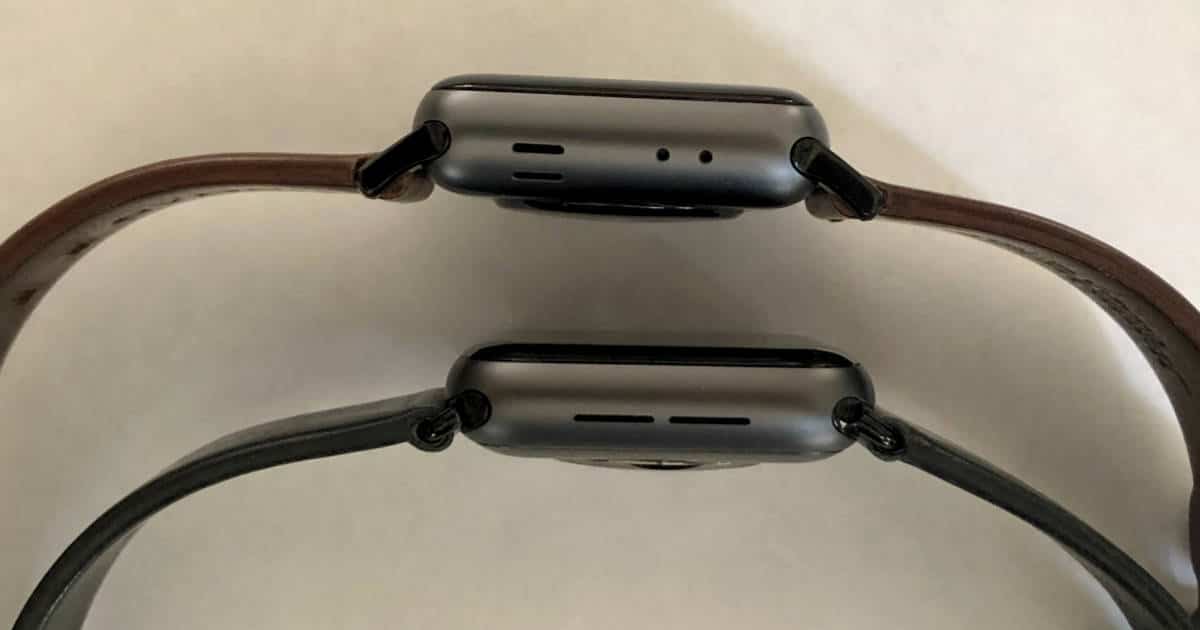 Let's talk quickly about the Taptic Engine, too. That's the thing that makes your watch vibrate and feel like someone is tapping you on the wrist. It's bigger and stronger in Apple Watch Series 4, and you can feel the difference. Instead of a gentle "Hey, maybe check this out" tap, now you get a "Dude! Look at this now."
If you ever felt like you couldn't tell of your watch was alerting you to something, you won't have to wonder any more. This year, the Taptic Engine packs a bigger punch—or more accurately, a bigger tap.
New Apple Watch Features
This year's Apple Watch has more that's new beyond its bigger displays. The body is thinner, but still not as thin as the original model. It's also slightly wider, but not so much that the watch looks any bigger. The ceramic back is one feature you might miss noticing, and the fall and new heart sensors are interesting, too.
Ceramic Back
This year's Apple Watch models have a ceramic back. That's a clever move because it removes a big radio opaque surface, so the built-in antennas should get better reception. In my real world use I haven't noticed any difference. That could mean I'm lucky and always have strong network signals, or maybe it means smashing that ceramic surface against my arm negates any benefits.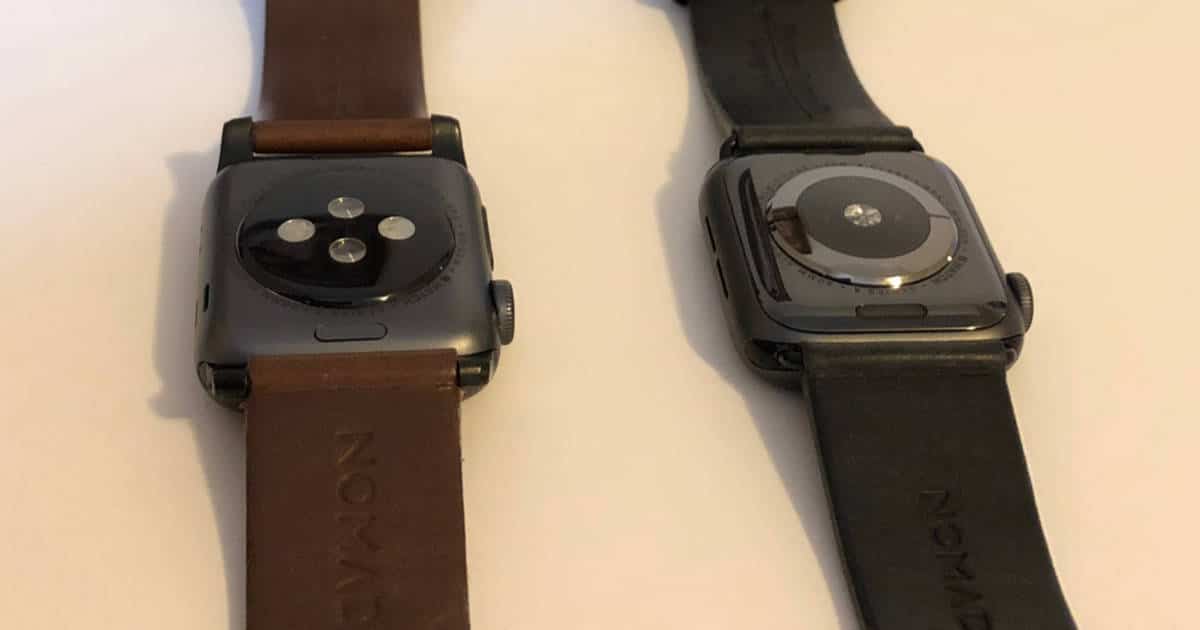 Fall Detection
That fancy new gyroscope is part of the fall detection feature in Apple Watch. When your watch detects that you've fallen it can alert first responders with your location, and send a message to your emergency contact, too. I'd love to see how well this works, but I just can't trick it into thinking I've fallen.
[How to Turn On Fall Detection on Apple Watch Series 4]
That's actually pretty awesome because it means Apple's system for detecting an actual fall is sophisticated enough to know I'm trying to trick it. Alternately, it could mean my Apple Watch may not detect an actual fall, leaving me in a messy pile on the ground without help coming. I'm inclined to think it's the former—for now.
Apple Watch Series 4 heart Sensors
Apple Watch Series 4 heart sensors go beyond detecting blood flow and can now use the electrical impulses you body produces to monitor your heart activity. That's an ECG, or electrocardiogram, and could prove to be literally life saving. It works when the watch is on your wrist and you touch the Digital Crown with your fingertip.
If you were thinking Apple traded the big red dot on the Digital Crown for the red ring as a style choice think again. The ring exposes the Crown's center where you touch during the ECG process. Still, I think the red ring looks a lot nicer than the red dot.
Apple Watch could already alert you to heart rate spikes, but now it can give you low heart rate alerts, too. The fact that Apple is giving us more heart-related data is a sign that the watch is becoming more of an overall health tracker.
[Apple Working to Bring Apple Watch Series 4 ECG to Canada]
[How to Set High and Low Heart Rate Alerts in watchOS 5]
The new heart sensor features have earned FDA clearance, which means they're seen as more than just casual fitness tracking tools. Still, Apple has been clear that the sensors are capable of alerting you to potential heart issues, not that they will. It's an important distinction. Apple Watch Series 4 can alert you when something is wrong, but won't necessarily confirm that your heart is fine.
Unfortunately, I can't test these features right now. While the sensors are in place, Apple has to wait for the FDA clearance process to complete. Once that's done—presumably before the end of the year—Apple will release a software update to enable them.
WatchOS 5
Apple released watchOS 5 a few days ahead of the Apple Watch Series 4 launch. It's worth installing the update, assuming you have an Apple Watch Series 1 or newer. The original Apple Watch doesn't support watchOS 5. This time around we get some new workout types, auto-sensing for starting and stopping workouts, Walkie Talkie for quick voice chats, and Raise to Talk so you don't have to say, "Hey Siri" any more.
[watchOS 5: New Notifications Options and "Deliver Quietly" for Apple Watch]
New Workout Types
I love that Apple added new workout types, including hiking. We also get pace tracking for runners, and auto-start and stop for workouts. That means all those runs where you remembered to start your Apple Watch tracking half way through are in the past. And driving five miles after a run before you remember to stop the workout are gone, too.
Considering how much time I spend in the mountains it's no surprise I'm especially happy to see hiking as a workout type. I'm not, however, pleased with the data I'm seeing. The distances my Apple Watch Series 4 logs are significantly different than my Apple Watch Series 3.
On one of my test hikes, for example, the Series 4 logged 5.14 miles while the Series 3 logged 5.6 miles. I know the hike distance so I know the Series 3 got it right. Seeing a half mile discrepancy on a hike that short is flat-out unacceptable. I have to wonder what's different in distance tracking for the Series 4, and for now I'm taking the distance it logs for every activity as just a guideline, not an accurate data point.
I've also noticed my Series 4 Apple Watch is much more liberal with giving me credit for standing when I get the hourly tap on my wrist. I often get the "You did it" alert for standing when in fact I never got out of my chair. It's possible I'm an overly aggressive typer, but I never got credit for standing when I shouldn't have with my Apple Watch Series 3.
I'm not saying Apple Watch Series 4 is a crap fitness activity tracker. With only two weeks of testing it's not fair to say Apple has a lot of work to do on activity tracking. What I can say is I'll be watching closely to see if activity tracking improves because I expect a lot more from a device that starts at US$400, and because I was so happy with Apple Watch Series 3 fitness tracking accuracy.
Auto-start and Stop for Workouts
One of the reasons I don't write Apple Watch reviews after the first weekend they're available is because of the odd things that crop up. Auto-detecting workout is one of those little things. After the first couple days I would've told you it's crazy awesome. Now I see it as a cool feature that works right often enough to make me happy.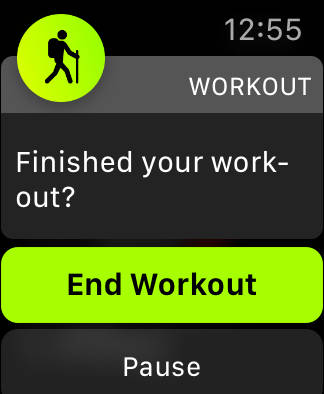 That said, it's a painfully frustrating feature. Picture heading out for a multi-mile hike and getting a tap on your wrist once or twice an hour with a notification asking if you're done with your workout. That quickly became part of my hiking routine, and it's pretty annoying.
To be fair, the constant, "Hey, are you done with your workout" alerts are happening for me only when tracking hikes. Maybe it's just a bug with hikes, or maybe not.
Walkie Talkie
Walkie Talkie lets you use your Apple Watch like a two-way radio for quick voice chats with other Apple Watch users. I've heard plenty of people say it's a stupid gimmick, and I have to disagree.
All of those quick texts that take longer to type than they should, and those fast replies that steal my attention, don't any more—at least with my friends and family who upgraded to watchOS 5.
Here's a scenario: You're picking up your child from school and need to let them know where you are. You fire up Walkie Talkie and say, "I'm pulling up to the school now. I'm parked on the street near the busses." Your kid gets the message and replies, "I see you and I'm walking over now."
[watchOS 5: Here's How to Use Walkie Talkie with your Apple Watch]
That was a seconds-long conversation that didn't require any typing or a phone call. It's fantastic, and already one of my regularly used Apple Watch features.
The part I don't like is adding new contacts to my Walkie Talkie friends list. You get to scroll through all your contacts in a single list—a royal pain if you have a lot of contacts. You can do the fast flick movement, just like we did on the old-school Click Wheel iPod. That pops up an option so you can jump to a specific letter, which cuts out a lot of scrolling when you need to add someone with a last name starting with a "W."
Siri Raise to Talk
Apple Watch Series 4, and Series 3 support watchOS 5's Raise to Talk feature for Siri. That means you can raise your wrist and talk to your watch to invoke Siri commands and queries without saying, "Hey Siri."
[watchOS 5: How to Enable Raise to Speak for Siri on Apple Watch]
Turns out that's actually a surprisingly great improvement. Using Siri with my Apple Watch feels more natural now and I want to do the same with my iPhone and HomePod. I get that the "Hey Siri" trigger is necessary, otherwise my iPhone and HomePod have no way of knowing when I'm using Siri or talking with an actual human. Still, it's great and I find myself using Apple Watch with Siri more now than I did prior to watchOS 5.
The louder speaker in Apple Watch Series 4 is great with Siri, too. It's much easier to hear Siri responses compared to Apple Watch Series 3 in louder environments, like when I'm driving and don't want to look at a display.
Watch Band Compatibility
The new Apple Watch models are marginally bigger than previous years. If you use a protective case, that won't fit any more. If you have extra watch bands, however, those still fit perfectly. I've tested several of Apple's bands, along with third-party bands, and they all fit just as they should.
I have a fairly modest watch band collection compared to some people—less than ten—but I'm still very happy I can still use them all. I imagine people who have serious collections are breathing a big sigh of relief.
Apple Watch is an iPhone Accessory, Except when it Isn't
Apple Watch is, by design, an iPhone accessory; you need an iPhone to set up an Apple Watch and your iPhone is where you control many watch settings, too. Changing settings, like Do Not Disturb, on one mirrors the change on the other. Turning on Airplane Mode on one device mirrors on the other, too
Other settings, however, don't mirror between your iPhone and Apple Watch. Theater mode, for example, is strictly an Apple Watch feature. Turning it on mutes alerts and keeps your display dark until you tap it. It's a great feature, and should apply to your iPhone, too.
These aren't new complaints for me. I've complained on more than one podcast about them, and that apparently isn't ending any time soon.
The Bottom Line
After two weeks with my Apple Watch Series 4 I'm still glad I bought it, and I was upgrading from the very capable Apple Watch Series 3. The big thing for me right now is the larger and brighter display. The stronger haptic feedback and louder speaker are nice plusses, too.
[How to Pair a New Apple Watch When You Also Have a New iPhone]
I love that Apple stepped up its dedication to health monitoring with Fall Detection and the (hopefully) soon to come ECG feature. Adding low heart rate alerts is a nice bonus, too.
My battery doesn't drain as quickly when tracking fitness activities, but it still isn't good enough for even an over night hike and camping trip. I'm also concerned about the distance discrepancies I'm seeing in the new Hiking fitness tracking category. For everything Apple is adding, Apple Watch still feels like an urban fitness tracking device—and a really great one.
If you already have Apple Watch Series 3 and are happy with it, Series 4 isn't a must-have upgrade. That said, the new display may be worth the price. Once you check out the bigger screen your current Apple Watch will feel cramped in comparison.
If you have Apple Watch Series 2 or earlier, Series 4 is the upgrade you've been waiting for. It's everything you wish your old Apple Watch had been, and the speed boost makes your watch seem almost too slow.
Despite my complaints, Apple Watch Series 4 is hands-down the best smart watch on the market. The only reason not to own one is if you refuse to use an iPhone. Seriously. This is the smartwatch to get.