Apple announced a slew of new products during Monday's World Wide Developer Conference (WWDC), a mix of both hardware and software. In addition to a full list of Apple's hardware announcements, we've put together a list of Apple software announcements.
macOS High Sierra
macOS 10.13 High Sierra is fully baked! Apple senior vice president Craig Federighi told us so. It will introduce Apple File System (APFS) to the Mac, boost Safari, block video autoplay, and help prevent intelligent tracking. Other improvements include Mail, support for H.265 video, and more.
Metal 2
Metal 2 is the next generation of Apple's low-level graphics API. It will deployed across macOS, iOS, and tvOS, and dramatically boost graphics performance. It also brings native VR support and support external GPUs on the Mac!
iOS 11
iOS 11 brings improvements to Mail, Music, Photos, Siri, Maps, and Control Center. It will also support multiple speakers in HomeKit. Jeff Butts has done a hands-on piece, as well as a video tour of some of the changes in iOS 11 Developer Beta 1.
Files App
Files is just an app in iOS 11, but it's also much, much more. It gives users access to the files on their iPhones and iPads, including iCloud Drive and third party cloud storage services. This is a first for Apple, and it represents a huge stride forward in iOS usability.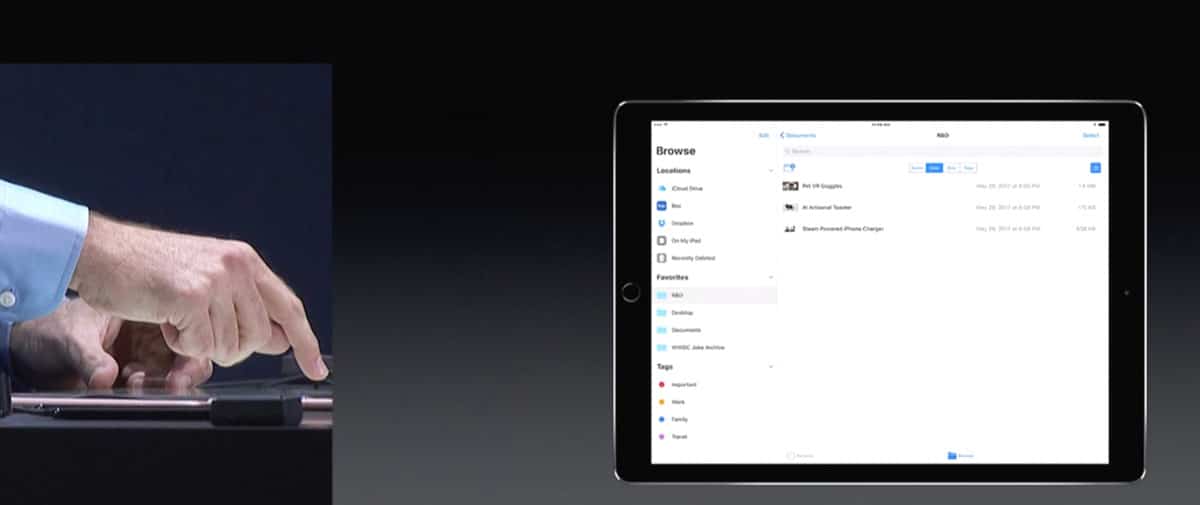 ARKit
I'm presenting this as a subset of iOS 11, but ARKit may end up being one of the most important announcements from WWDC 2017. It's a set of APIs that let developers add the many new augmented reality (AR) tools built into iOS 11.
MusicKit
This set of APIs allows developers to integrate music controls and access to your music library directly in apps. With MusicKit, developers can let users create playlists, add songs to their library, and play music from Apple Music.
App Store Redesign
The App Store is getting redesigned, as Apple works on the hardest problem in online sales: discovery. Features include a new layout, tabs, and new ways to present apps.
Apple Business Chat
This one sneaked past a lot of folks, but Apple announced Apple Business Chat. It allows users and businesses to directly connect through iMessage, which could have big implications for support, sales, and more. We'll get more details from Apple later this week, but Andrew Orr rounded up what we know so far.
watchOS 4
Apple didn't deep into many specifics on watchOS 4, but our takeaway is that Siri is taking a more prominent role on Apple Watch. New features include new watch faces, a new app dock, a flashlight that can also be used as an emergency beacon, improvements to Music app, improved Fitness features, and a lot more.
Apple Pay Cash
Apple is moving into the banking business with Apple Pay Cash. This service will allow people to send one another money through iMessage using the accounts they have in Apple Pay. Transferred money is held in in Apple Pay Cash, which can then be used to make Apple Pay transactions like normal, send it on to someone else, or withdraw it to a bank account. This is a very big deal, and it's a move designed for China and modeled in part after Venmo.
Amazon Prime Video on Apple TV
Amazon Prime Video is coming to Apple TV. This wasn't an Apple product, but it was an important announcement for Apple TV and Apple's broader ecosystem.