Introduction
The famous mathematician Ken Ono has said that behind every successful person is a great story. And that's the story my guests tell.
Each week I interview Apple developers, tech industry executives, scientists, researchers, artists, authors and journalists— usually within the Apple community but sometimes beyond. And we also chat about their views on current tech events.
It's more than a show about what they do; it's about who they are.
How to Listen to Background Mode
Background Mode is published every Monday afternoon at The Mac Observer. (Or Tuesday if Monday is a holiday.) The shows range from 30 to about 40 minutes long.
There are several ways to listen to Background Mode. You can come right here to The Mac Observer on Mondays and play it from the article, just as you do with our other podcasts. You can also subscribe to it from Apple's iOS Podcasts app. Or use the terrific Downcast app.
Archive of Previous Shows
If you've missed a Background Mode podcast, you can access our archive of recent shows.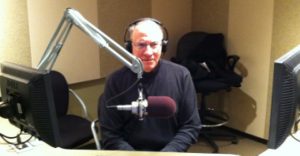 Notable Guests
Every guest on Background Mode has been phenomenal and has had a terrific story to tell about how they arrived where they are today. Often, it's the significant influence from a parent, teacher, employer or mentor that set them on their life's path. Or a special event in their lives. Here's a sampling of previous guests to whet your appetite.
Former Apple Executives & Staff: Mike Bombich, Dan Burcaw, James Dempsey, Michael Gartenberg (1), Michael Gartenberg (2), Jean-Louis Gassée, Alex Grossman, Dr. Bruce Horn, Jordan Hubbard, Skip Levens, Don Melton, Joe Moreno, David Sobotta, James Thomson, Chuq Von Rospach
Developers: Brian Behlendorf, Sander Berents, Keith Blount, Ken Case, John Chaffee, Graham Dawson, Tim DeBenedictis, Daniel Jalkut, Paul Kafasis, Thorsten Lemke, Scott Love, Liz Marley, Howard Oakley, Erica Sadun, Greg Scown, Chuck Shotton, Rich Siegel, Michael Simmons, Andrew Stone, Alf Watt, Chris Wood, Gregorio Zanon.
CEOs and Executives:  Bhavin Asher, Susan Bearden, Christopher Caen, Cindy Cohn, Tonya Engst, Ernesto Falcon, Mark Fuccio, Stacey Hanke, Alykhan Jetha, Jean MacDonald, Larry O'Connor, Patrick O'Neil, Katharine Nester, Naomi Pearce, Max Pedró, Nicholas Smith, Rod Roddenberry, Ben Rudolph, John Uppendahl.
Artists, Podcasters: Victor Cajiao, Adam Christianson, Katie Floyd, Chuck Joiner, John Lunn, Mark Malkoff, John Nastos, Nitrozac (Liza Schmalcel), Rosemary Orchard, David Sparks.
Authors & Journalists: Victor Agreda, Eddie Alterman, Michel Benson, Darren Beyer, Steven Brust, Serenity Caldwell, Steve Carper, Bradley Chambers, Jacqui Cheng, Josh Centers (1), Josh Centers (2), Kyle Clark, Peter Cohen, Elizabeth Craig, Philip Elmer DeWitt,  Mike Elgan, Jonny Evans, Ryan Faas, Glenn Fleishman, Anthony Frausto-Robledo, Lauren Goode, David Greelish, Kelly Guimont, Mark Gurman, Amy Harder, Russell Holly, Leander Kahney, David Katzmaier, John Kirk, Joe Kissell, Maria Langer, Bob LeVitus, John Markoff, Don McAllister, Kirk McElhearn, Maryn McKenna, Rich Mogull, Christopher Moore, Dan Moren, Alec Nevala-Lee, Jennifer Ouellette, Rob Pegoraro, Rocco Pendola, Joanna Penn, Jason Perlow,  Ken Ray, Tim Robertson, Michael T. Rose, Steve Sande, Doc Searls, Sascha Segan, Dennis Sellers, Dwight Silverman, Dr. Gina Smith, Jason Snell, Stephanie Stricklen, Jim Tanous, Shara Tibken, Lance Ulanoff, Christina Warren, John Welch, Carter Wilson, Gregory Zuckerman.
Physicists/Astronomers/Astrophysicists: Dr. John Barentine, Dr. David Brin, Dr./Br. Guy Consolmagno, Dr. Jo Dunkley, Dr. Andrew Friedman, Dr. Jim Gates, Dr. Kelly Holley-Bockelmann, Dr. Dan Hooper, Dr. Brian Keating, Dr. Gaurav Khanna, Dr. Chiara Mingarelli, Dr. Christine Corbett Moran, Dr. Catherine Pilachowski, Dr. Phil Plait, Dr. Clay Sherrod, Dr. Ethan Siegel, Dr. Paul Steinhardt, Dr. Jill Tarter.
Scientists, Professors, Researchers, Analysts:  Dr. Robert Carter, Jan Dawson, Dr. Genevieve Guenther, Dr. John Gustafson, Dr. Katharine Hayhoe, Dr. Craig Hunter, Dr. Ayanna Howard, Dr. Steven Lamm, Dr. Pascal Lee (1), Dr. Pascal Lee (2), Dr. Joanne Manaster, Gene Munster, Dr. Sarah Parcak, Dr. Kiki Sanford (1), Dr. Kiki Sanford (2), Dr. Joel Sercel, Dr. Michael Shermer, Dr. Chris Soghoian, Dr. George Sowers, Dr. Matt Stanley, Dr. Alan Stern. Mike Weasner.
I have plans to interview some awesome guests in the future.  So remember to look for my Background Mode podcast every Monday and become a subscriber.
If you have feedback or a guest suggestion, you can send your comments or requests to either [email protected]  or directly to [email protected]
I hope you're enjoying this amazing podcast in the TMO family as my virtual fireside chats introduce you to some very special people in the Apple community and beyond.